We all know there's nothing quite like listening to vinyl, but what can you do in those rare moments when you're not spinning records? How about…reading about vinyl!
In fact, the beauty about reading about vinyl is you can even do it as the records are spinning! There are loads of vinyl books out there to choose from so to help you out we've picked seven of our favourite that, we feel, feature a wide spread of different topics on vinyl from the history of records, to interviews with record collectors, to a look at album artwork and record stores around the world. So, without further ado, scroll down for our top 7 books about vinyl!
Author: Jennifer Otter Bickerdike
Publisher: ACC Art Books
Why Vinyl Matters is a fantastic read that features interviews with musicians, celebrities, authors, people in the music industry and more. Otter Bickerdike's interviews are based around the title of the book – why vinyl matters – and she has a real knack for finding a good story behind the records being discussed (something we love at Vinyl Chapters). She really manages to dig into the interviewee's relationship with vinyl, what they think of the format, favourite albums, and more. Spoiler alert: Supergrass frontman Gaz Coombes grew up listening to The Carpenters and The Muppets…
Featuring high-quality photos and vivid imagery throughout, the book is presented in a coffee table format, so perfect to pick up and flick through when you're listening to your records.
Author: Eilon Paz
Publisher: Ten Speed Press
We love this book over at Vinyl Chapters HQ. Dust and Grooves takes a more photographic approach to vinyl, with author Eilon Paz diving into the "self-inflicted pleasurable pain of record collecting."
Through photos taken of record collectors around the world, this is one of those vinyl books that dives headfirst into the obsession with the format, why the people photographed love records, and short quotes about their collection or a specific record. Amongst normal people with record collections, Eilon speaks to DJs and other musicians in over 150 interviews. It took him five years to compile all the photos and interviews and his passion and love of vinyl are matched by the people he talks to throughout his journey.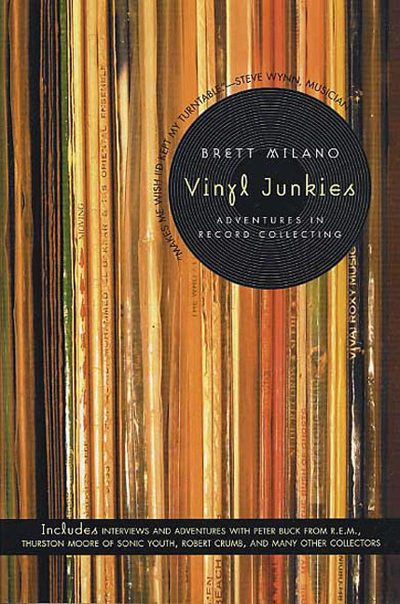 Author: Brett Milano
Publisher: St Martins Press
A deep dive into the fascinating subculture of record collecting. This book is about vinyl fans who take their collecting to the next level, the ones that would travel halfway across the country for a first pressing and have 20 different copies of their favourite album. Milano travelled the breadth and depth of America to talk to some of these hardcore vinyl collectors to find out what makes them tick and why vinyl collecting means so much to them.
The book also includes fascinating talks with musicians Thurston More of Sonic Youth and Peter Buck from R.E.M which adds a little colour and depth to the read. As it should with any good book on vinyl, you can really feel the passion for collecting jump off the pages, even though this is more of an actual book than a photo-laden coffee table offering. A great read for any record fan.
Author: Mike Evans
Publisher: Aurum Press
Back to a coffee table vinyl books! Vinyl: The Art of Making Records not only dives into how records are made but recounts their history right up to the resurgence we are experiencing today. From focussing on specific labels to big releases by artists throughout the years such as The Beatles, The Rolling Stones, Pink Floyd and Pearl Jam, the book is beautifully illustrated with charts, infographics, photos and album art. There's also a great insight into the design and packaging of vinyl and a deep dive into the world of reissues, production techniques and why vinyl is here to stay.
Every page will offer you something different and it's one of those books that is just easy to pick up when you have a spare 5 minutes. Be careful though, you might suddenly find yourself reading it for hours…
Author: Marcus Barnes
Publisher: Dog 'n' Bone Press
Any vinyl enthusiast worth their salt loves a record store, and Marcus Barnes' account of 80 worldwide record stores is a fabulous read. If you're a traveler or want to sneak off whilst on holiday to pick up some records, then this book is for you. For each shop that is featured, you get photos, an address, the genres the record store stocks, and a bit of history about the venue. I would say it's more aimed at the techno/electronic market but it's still a great read for any vinyl aficionado.
Barnes manages to present the information in an unpretentious way and also feature both well-known stores and hidden gems throughout. Like any book of this type, especially with the pandemic, always check that the stores are still open before attempting to visit to avoid disappointment.
Author: Tom Greig
Publisher: ACC Art
Another record store focussed book, this one centered on independent stores in the city of London. Featuring 60 of London's best record stores, the book once again gives you locations, genres, and full-colour photos of each record store, as well as website details and opening times. Following the resurgence of vinyl, London has once again become a hub for vinyl collectors to congregate and search out those new releases or records missing from their collection, with this book the perfect companion to find them. 
Whether you live in the city or visiting soon, Vinyl London is a great, practical guide that gives you a bit of information and history for each store and contains the main areas of London where the best record stores can be found. As mentioned above, check the store is still open before visiting.
Author: Michael Ochs
Publisher: Taschen
Exactly what it says on the tin. Featuring 1000 rock album covers from author/DJ/Journalist Michael Ochs' personal collection, the book covers a period from the 60s to the 90s which will be a fun trip down memory lane for many music fans. The book really focuses on the artwork instead of any stories or info behind the actual music, so it's more a book to concentrate on the visual side of things which sometimes you really do just want. With high-quality photos of album covers throughout, it's pretty fascinating to see the trends in artwork unfold as the years move on and the perfect companion when listening to records.
Are there any more vinyl books you think are worth mentioning? If so, let us know in the comments below!
**Occasionally, we may include links to online retail stores. If you click on one and purchase something we may receive a small commission. Our opinions and suggestions are always completely unbiased. For more information, read our affiliate policy.**