Vinyl Chapters writer Michael Sumsion pores over REM's catalogue and delivers his verdict on the band's Top Ten albums.
R.E.M. and their seismic career can be divided into three distinct phases or acts: the arty college-rock darlings of the alternative 80's underground, the supernova crossover pop star era and then the epoch where these elder statesmen came to terms with fame and worked out what to do with it. From the elliptical jangle of Chronic Town to their elegiac farewell single, We All Go Back To Where We Belong, there's a wealth of gems embedded in an oeuvre which contained more mercurial, generation-defining highs than an act of their longevity can ever expect to produce, as well as failed experiments and middling cast-offs. The common thread throughout was an assured economy and a gift for infectious melody.
10. Monster (1994)
Conceived as a riposte to both the baroque acoustics and lyrical directness of their previous two albums (the all-conquering Automatic For The People and Out Of Time), Monster is relatively underwhelming overall, bearing the hallmarks of a relatively conventional noisy guitar rock band, albeit one cloaked in scuzzy grunge textures and touches of 70's glam. It also explores the group's reaction to the life of 'celebrity', with Stipe choosing to write in character, and features his plea to the troubled Kurt Cobain, Let Me In. Stand-out ballad, Strange Currencies, and lead single, What's The Frequency, Kenneth? provide ballast and urgency, while the driving Star 69 evokes the group's Green album. A pleasant enough curio which retains traces of a more 'mainstream' outfit but palls in comparison to its shape-shifting predecessors.
9. Reveal (2001)
In some ways, Reveal is the archetypal R.E.M. album, a record which seeks to comfort the listener with its effortless triggering of their familiar motifs and stylistic touches; the problem is that it's a record of lovely moments that don't add up to much more than a superficial rehashing of past glories. There's a certain suspicion of trying too hard or bending too consciously towards the obvious or the hackneyed. Here they dip their enigmatic mid-tempo meditations in burbling synths, which adds an element of novelty, but the material itself is uneven. For every gorgeous minor-key ballad like the Jimmy Webb-inflected All The Way To Reno or Brian Wilson-like Summer Turns To High, there's a smattering of forgettable plodders which outstay their welcome, stay in second gear or run out of steam. 
8. Up (1998)
There are some fine tracks on this erratic and overlong album, the first since Bill Berry's departure. The likes of You're In The Air, Daysleeper, Falls To Climb and the sumptuous Beach Boys pastiches, At My Most Beautiful and Why Not Smile, radiate class and melodic wonder. On suffocating synth-pop chugger, Hope, and the gentle ambient whisper of Airportman (surely the most low-key album opener by any major league rock act,) there's even an attempt to merge yearning indie rock with giddy electronics. Muddled, flawed but flecked with moments of disarming loveliness.
7. Life's Rich Pageant (1986)
Much like Document, Life's Rich Pageant feels like an incomplete, sketchy record pitched somewhere between the invigorating, opaque jangle of the early albums and the sinewy swagger of their peak years. Yet there are pearls of emotional gravity scattered amongst the throw-away flippancy: the magnificent acid rain ballad Fall On Me, the bewitching Civil War reverie of Swan Swan H, the parched languor of The Flowers Of Guatemala, the beguiling folk-rock of Cuyahoga. Stipe's baritone is now a full-throated and primal instrument, coaxing a surging, hectic chatter from his cohorts.
6. Green (1988)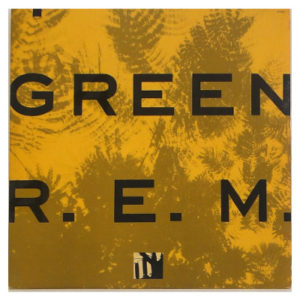 R.E.M.'s major-label debut captured the band in transition, on the cusp of global stadium stardom and effectively enjoying their final outing as a cultish concern. Scott Litt's crisp and lucid production amplifies the gleeful stomp of wide-eyed bubblegum pop like Stand and Pop Song '89, whilst You Are The Everything, Hairshirt and The Wrong Child figure amongst their finest and most wistful ballads. The visceral glam grind of Turn You Inside Out seems to anticipate the Monster era and the strings-adorned World Leader Pretend sounds like a solemn precursor to Losing My Religion as it tackles the detachment of political elites. Stipe's diction is becoming more pronounced throughout and the anthemic Orange Crush packs a punch with its megaphone boom.   
5. Reckoning (1984)
R.E.M.'s follow-up to the unfathomable and inscrutable Murmur contains some of the best music they committed to tape: the pristine jangle-pop of Pretty Persuasion and So Central Rain, the lambent, Velvet Underground-like marching band lament of Time After Time and the homespun, country-flecked hoedown of (Don't Go Back To) Rockville for starters. The peppy Harborcoat is a gloriously urgent opener, all snappy percussion, clear-as-a-bell guitars and hook-laden choruses. Throughout this consistently satisfying and engaging sophomore record, Buck demonstrates a consummate mastery of guitar moods and styles, from bucolic finger-picking and Byrdsian shimmers to sheets of furious up-strumming. His warm, crystalline keyboards work is also impressive, most notably on 7 Chinese Brothers and So Central Rain. 
4. Fables Of The Reconstruction (1985)
The band's fourth, Joe Boyd-produced album unfolds as a murky series of snapshots of Southern Gothic pastoral delivered with compassion and an elegant menace. Fading, sepia-tinted memories of the American South and oddball characters such as Old Man Kensey and Wendell Gee are rendered with a trippy and eerie small-hours melancholy. This isn't music that's transported with bombast but harbours something quietly emotive and poetic. The hallucinatory ache of Feeling Gravity's Pull ranks as one of their finest curveball openers, Driver 8 is quintessential imperious period R.E.M. and Good Advices is heart-stoppingly enchanting. A rich, subtle comfort blanket of an album, an exhilarating masterpiece whose quietist depths unfurl with each listen.
3. Murmur (1983)
Like Tindersticks' ravishing debut, the enigmatic Murmur was one of those releases which took your breath away and presented a fully-formed, sure-handed signature tone from its opening seconds. Built around Peter Buck's nagging Byrdsian chimes and Stipe's cryptic croon, Murmur is intoxicating and elusive in its astute and organic amalgamation of new wave, post-punk and pretty folk-rock stylings. Taut, ineffably melodic tunes like Talk About The Passion, Pilgrimage, Sitting Still, Laughing and the brooding Perfect Circle paint intensely evocative vistas and make this an essential set text. 
2. Out Of Time (1991)
Ushered in by the global smash hit single, Losing My Religion and garnering three Grammys, Out Of Time is the band's turning point and most eclectic and adventurous recording, awash with plangent string arrangements, ornate harpsichords and mournful mandolins. The vertiginous Near Wild Heaven is peppered with lush, blissful harmonies, the beautiful Half A World Away and Me In Honey display masterful Stipe vocal performances and the baroque Texarkana is an enchanting magic carpet ride. The preposterous indie-disco staple, Shiny Happy People, is the only mis-step. 
1. Automatic For The People (1992)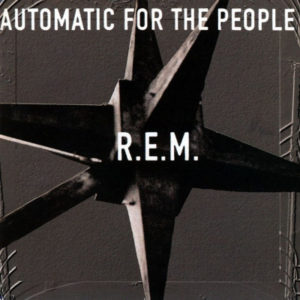 By 1992, R.E.M. had cemented their place in the canon and had become the biggest rock outfit in America. Arriving only eighteen months after the ubiquitous, multi-platinum Out Of Time, Automatic is an elegiac album whose soulful, introspective evocation of loss, memory and mortality feels ever more poignant with the passing of time. From the hushed, cautionary tale of Drive and stately blue-eyed soul of Everybody Hurts to the sun-lit, skinny-dipping nostalgia and pastoral catharsis of Nightswimming and Find The River, the Athens quartet summon a sombre, rustic mood of darkness and anxiety which unwinds with a lump-in-the-throat majesty.