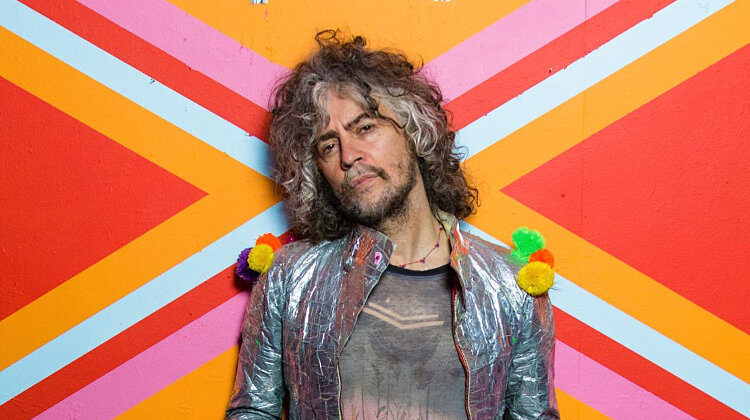 Veteran psych-rockers The Flaming Lips' hallucinogenic new opus documents lead singer Wayne Coyne's adolescence via a tribute to Tom Petty's pre-Heartbreakers outfit, garlanding its trippy reminiscences with lavish orchestrations and a dreamy haze.
Arriving only a year after 2019's sublime King's Mouth, the brand new offering by Oklahoma's premier purveyors of psych-pop fantasia, The Flaming Lips, lands with much critical fanfare: American Head is both lyrically reflective and sonically euphoric. Produced by long-time henchman Dave Friedmann and boasting the textural counterpoint of airy vocal contributions from Kacey Musgraves, its finely attuned cosmic sweep and homesick sorrow constitute the band's prettiest and most compelling recording in years. 
The Lips love an overarching, outlandish concept, and the one draped around 'American Head' serves up a bravura act of empathy: just imagine if Tom Petty's nascent, pre-fame band had hooked up with Wayne Coyne and his trouble-making band of pill-popping brothers in early 1970's Tulsa. The coherently linked tunes proceed from this gonzo premise to explore the familiar ethereal melancholy, ambling psychedelia and plaintive Americana that have powered the group's finest creations.
Copious references to chemical ingestion abound on numerous tracks, namely Mother, I've Taken LSD, At The Movies on Quaaludes, You 'N' Me Selling Weed, Will You Return/When You Come Down and When We Die When We're High. These stately slices of suburban life radiate both a flair for poignant vignette and deft composition, with quivering-voiced frontman Coyne and pals adroitly marshalling the euphoric sweep of prime Neil Young, The Beatles, and David Bowie into wide-eyed, interstellar ballads of dreamy, wistful elegance.
Opening track, Will You Return/When You Come Down lays down an irresistible marker, a crestfallen lullaby strum cut from a similar cloth to the majestic Feeling Yourself Disintegrate from their epochal, turn-of-the-century masterwork, The Soft Bulletin. Mesmerising harmonies, languid guitars, purring keyboards, honeyed mellotron and succulent xylophone chimes dovetail majestically around the lead singer's trademark helium-high croon to tear-inducing effect: "What went wrong?/Now all your friends are gone." 
The weepy At The Movies on Quaaludes is even lovelier, shivering with gorgeous mellotron swells, staccato piano and celestial harmonies as Coyne muses on a misspent youth: "As we destroy our brains/Till we believe we're dead/It's the American Dream/In the American head." 
At this point, many acts would be content to kick back and drop in some padding, but here the Lips up the ante with a pair of exquisite and graceful ballads which raise the gravitas by a few notches and will surely join the combo's pantheon of greats. The mournful, orchestral psychedelia of Mother, I've Taken LSD comes on like a whacked-out cousin of Space Oddity, whilst the captivating Mother Please Don't Be Sad, a stunning account of an armed robbery he experienced as a teenager, is so pristine that it could be lifted from The Beatles' Abbey Road or Young's After The Goldrush, all ascending piano, homespun string lift-offs and liquid guitar. 
This record exudes a palpable self-confidence and tonal mastery which frequently manifests itself in its subtle cross-pollination, as typified by the delicious homage to Pink Floyd's Great Gig In The Sky on the Musgraves-bolstered Watching The Lightbugs Glow, her affecting duet with Coyne on the spaghetti western-tinged God and the Policeman and the divine segue into gathering storm clouds on When We Die When We're High, a glorious coda of breakbeats and twinkling vibraphone melody that could be pulled from a Warp Records release. 
"Now I see the sadness in the world/I'm sorry I didn't see it before," Coyne confides with naked tenderness on Mother, I've Taken LSD, and this sentiment touches a raw nerve in 2020 as the world frazzles from unrest, inequality and the existential uncertainty of Covid-19.
American Head is a resounding triumph, representing both a most satisfying homecoming for grizzled veterans about to enter their fourth decade as a band and their most dazzlingly consistent product since the early 2000's. With this, their third album in their own right in four years, the Flaming Lips appear to be accelerating rather than easing their way into their final act: it is simply awe-inducing.
Score: 5/5