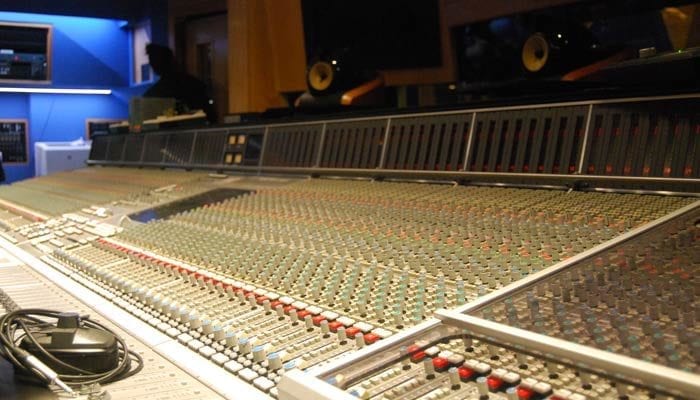 Vinyl Chapters gets an invite to the legendary Abbey Road Studios to listen to the new half-speed remastered recordings of Brian Eno's early works. Of course we said yes!
As I walk past the myriad of tourists waltzing along the zebra crossing trying to recreate the classic Beatles album cover, and then look over to music fans scrawling their band names and love messages onto the walls outside Abbey Road Studios, it's easy to see how much this place means to people. It's a pilgrimage for some, a place of work for others, and somewhere a hell of a lot of great music's been recorded. Vinyl Chapters was invited to enjoy the album playback of Brian Eno's early works that have been remastered at half-speed, and with it learn more about these seminal records and the process used to arguably make them sound the best they can.
Stepping through the giant front doors and into the Abbey Road reception, it's easy to feel intimidated by the shiny and minimalist look of the place. Having only been in mostly grotty, patched together studios beforehand, this was a completely new experience of luxury, attention to detail and fulfilment. And this feeling is echoed as myself and the other guests are led into the listening room for the evening: one of the many mixing studios in the venue.
As we take our seats, it's impossible not to revel in the beauty and extravagant equipment littered around. You've got the huge mixing desk with hundreds of sliders, switches and dials. Countless different pieces of audio equipment, and, of course, speakers to listen back to everything in the highest of quality. In this case, they are Bowers and Wilkins 800 Diamonds, which would probably set you back around £20,000 for a pair if you were in the market for some. Ouch. Amongst all this high-end equipment, sitting on the edge of a table is a humble Technics turntable on which we'll be listening to the new Brian Eno remastered albums. This is what I love about vinyl; it's not showy, it just sits there safe in the knowledge that it's loved by many and stood the test of time.
Who would have thought that a technology about 100 years old would still be used in conjunction with equipment on the forefront of what's technically possible, and would still have so much presence in today's world? Well, it does, and as our hosts take to the front of the studio, we settle in for a brief introduction before delving into the music. The evening is hosted by UNCUT Magazine's Associate Editor, Michael Bonner, who brings a wealth of knowledge to proceedings and introduces each track whilst they're being cued up by the Abbey Road engineer who mastered the albums himself, Miles Showell. Miles is a stalwart of the mastering industry, and his work on half-speed recordings is some of the best in the world. He explains, without going into too much of the in-depth technicalities, that recording at half-speed gives the cutting stylus, as well as the whole system, time to record the music in more detail. Although, as he goes onto explain, recording at half-speed isn't always fun. It's a long process, and hard to find mistakes because the tracks sound all distorted and almost unlistenable at half-speed. If you're recording a live album, the cheers will actually sound like boos, accompanied by slow, almost sarcastic claps from the crowd when the songs over. But, he still loves the process for the brilliant results created from it, and affectionately refers to Abbey Road as 'the home of half-speed'.
Now, let's get down to the music. As with much of Eno's work, it was a precursor for what was to come in the music industry. His early solo work took the task of bringing together flavours of punk, off-key vocals and little intricacies that other bands would develop and manipulate within their own music in years to come. The four albums that have been remastered are from Eno's discography between 1973 -1977, namely Here Come the Warm Jets, Taking Tiger Mountain (By Strategy), Another Green World, and Before and After Science. Starting off with an almost punk feel on Warm Jets, later albums start to feel more melancholy, which in the end, leads onto Eno's critically acclaimed ambient music.
We were to be treated to two or three chosen tracks from each record to give us a flavour of the new remasters. Miles unwraps the first brand new recording of Here Come the Warm Jets, places it on the platter and drops the needle. The first track chosen is album opener Needles in the Camels Eye, and it hits like a freight train. The sound is all-encompassing, the rhythm throws you along, and it's never sounded so good to my ears. This might be because of the fact we're listening through £20,000 speakers, but none the less these remasters sound terrific. This is backed up by some of the hardcore fans in the room. One mentions that they've never heard the small piano part on previous copies of the record before, and this half-speed mastering process has somehow brought it out into the open.
Taking Tiger Mountain (By Strategy) sounds just as good as we open with track China My China. Michael Bonner instructs us to listen out for the typewriter solo halfway through, being accompanied before and after by Eno's signature erratic vocals dancing around the melody. Again, the record screams quality and produces transience I've not heard before. We then move on to his third album in the series, Another Green World. As we listen to the title track's gentle build-up you can hear it as a precursor to the later music of Eno, being both atmospheric and all-encompassing.
We finish off with Before And After Science and its guest-laden eclectic mix of the soft and tarnished. Phil Manzanera (Roxy Music), Robert Fripp (King Crimson) and Phil Collins are just a few of the names making an appearance on this transitional record. We listen to Golden Hours and are immediately transported back to the 70s when Bowie was King and new ideas were rife. Eno contributed to Bowie's album Low in the same year, and you can really hear the similarities and use of sound throughout Before and After Science, with this half-speed master seemingly bringing out the atmosphere of peace and serenity.
With the amount of musical knowledge in the room from fans, journalists and technicians, these recordings were under heavy scrutiny… and they passed with flying colours. The fact that these music connoisseurs could hear subtle differences and were impressed by the rich and varied sound shows what a great job Miles has done. At the time these albums were originally recorded, experimentation was prevalent and the sound of music was changing. These four records take the listener on a transitional journey through Eno's early career and lay the path for his later ambient works. If you want to listen to these records in the best way possible, give these half-speed masters a go and enjoy the sound of a production process that's really taking off.
By Jamie Parmenter