In which Oklahoma's frazzled psychedelic explorers raid and hone the more cohesive, melodic and accessible strand of their oeuvre for an album that wields genuine emotional clout.
The Flaming Lips' fifteenth studio album, King's Mouth, marks two decades since the Oklahoma stoner trio's leap into the big time with their ecstatically received The Soft Bulletin opus, a record which harnessed the hitherto niche group's widescreen dynamics and grasp of melody and hasn't shown any sign of dating. Its follow-up, Yoshimi Battles the Pink Robots, was cut from a similar cloth and confounded expectations by becoming their biggest seller and picking up a Grammy. Since then, this sporadically brilliant but often flaky band have dabbled in a diverse, head-spinning and wacky array of experimental and frequently aimless endeavours which have tested the patience and good will of even their most fervent fans, with each new release seemingly a wilfully contrary reaction to the previous.
King's Mouth, a playful concept album structured around the fantasy of a benevolent monarch with a giant head containing the contents of the cosmos, luxuriates in some of the same magic space dust that permeated The Soft Bulletin and Yoshimi…. Brimming with fluttering candy-floss orchestrations, dreamy and heartfelt melodies, cavernous electronics and an authoritative conviction, it shares those albums' dappled vision and childlike wonder, compressing lavish and bonkers ideas into spacey, layered essays in swirling psych-pop. The loopy fairy-tale story is tied together by the dry narration of The Clash legend Mick Jones, who performs a similar spoken-word function to that of Stanley Unwin on The Small Faces' Ogden's Nut Gone Flake.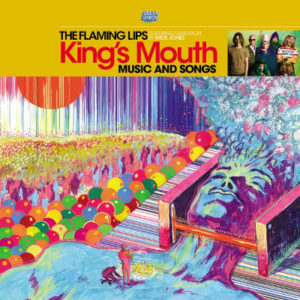 At the heart of King's Mouth resides a renewed thirst for the heady rush of indelible melody, witness the swelling choral trip-hop of The Sparrow, the acoustic strum and synth burbles of How Many Times, the weightless lullaby of Giant Baby and Mouth Of The King's heart-wrenching evocation of loss. Free-floating ambient interludes such as Electric Fire and Mother Universe evoke the cosmic segues of Dark Side of The Moon, an album which they themselves have covered. 
At its best, the eggshell croon of singer Wayne Coyne can raise goosebumps on your skin like no other vocalist, and here his quivering, helium-high vocals are deployed to the same eye-swelling effect as on Lips evergreens like Waitin' For Superman, Do You Realize? and Feeling Yourself Disintegrate. Filtering familiar lyrical themes such as the vastness of the universe and the sadness and impermanence of existence through ethereal robo-funk and stately sci-fi reveries, this most un-technical yet immensely affecting of singers carries a genuine emotional charge. 
The album's poignant closing ballad, How Can A Head, embodies all that's great about The Flaming Lips: its wide-eyed, sagacious sprawl unfurls like a transcendent reaffirmation of the strangeness of life, decorated by a warm, lived-in performance from Coyne. 
King's Mouth signals a welcome return to form, an engaging, meticulously arranged and grandiose set of fantasias that doesn't sacrifice their natural inclinations towards eccentric whimsy, infinite wonder and instrumental intricacy.
Score: 4/5