We take a look at our top ten vinyl releases of 2016, picking out the best music, the best features and the best soundtracks to keep you going before we enter the new year.
What a year 2016 has been eh? We've watched sporting heroes participate in the Rio Olympics, a marmite President is entering the White House, and the Mannequin challenge craze took over our social media feeds. On top of all of this, we've had some quite fantastic music. We therefore bring you our top ten vinyl releases of the year. This list includes both new music and reissues, and the records don't always make the list solely on the music, but the sleeve art or special features playing a part.
So, in no particular order:
Trainspotting – Soundtrack
Reissued this year on Orange vinyl, the record brings back memories of the indie-filled charts of the 90s. The film was a classic and the music features some fantastic songs such as Iggy Pop's Lust For Life and Underworld's Born Slippy. Slide this onto your deck and be prepared for some hedonistic indie-dance fun.
The Kills – Ash & Ice
The special addition is beautiful in design, featuring the album spread over light pink and light blue see-through vinyl, with a raised gold emblem on completely black sleeve for the cover. The music is a return to form for the duo, featuring catchy guitar, deep drums and impressive vocals. Guitarist Jamie Hince had to even re-learn to play guitar for this record due to a hand injury. Impressive.
Blossoms – Blossoms
2016 has also been a year for new bands. Blossoms fit this bill, and reinvigorate that sense of youth that Catfish and the Bottlemen did in 2015, but this time with an 80s Duran Duran vibe. The hooks are strong, the synths are loud and unapologetic, and the music is perfect for listening to before a night out. Great debut.
Star Wars: The Force Awakens – Soundtrack
Our second soundtrack on the list. We all know what to expect from a John Williams star wars soundtrack; plenty of lift, plenty of drive and some beautiful orchestral fun. This, however, is accompanied on the vinyl release by a tie fighter hologram that raises out of the record as it spins. That's right, and it's awesome. A must-buy for any Star Wars fan.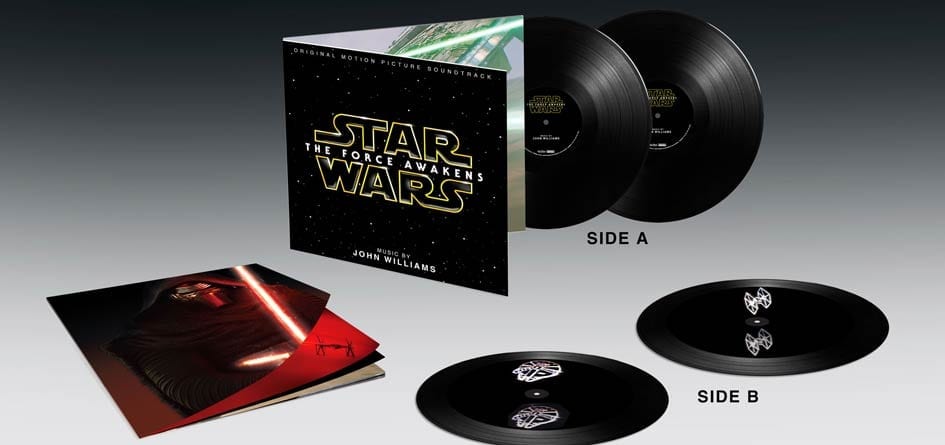 Conor Oberst – Ruminations
The Bright Eye's front man returns with his next solo effort in the form of Ruminations. Very stripped back compared to earlier solo records, Conor prompts for just piano, guitar and harmonica. His juddering vocals are in fine form as he sings his heart out over strong melodies with his usual visually significant lyrics. A great record and sounds nice and warm on vinyl.
Gremlins – Soundtrack
You get the sleeve wet and little gremlins appear. You expose it to direct sunlight and a Mogwai shows up. Oh, and the music's not bad either.
The Rolling Stones – Blue and Lonesome
The Stones go back to their blues roots whilst featuring covers of greats such as Howlin' Wolf and Jimmy Reed. Some say it's the best they've produced for years, and I tend to agree. If you're willing to fork out for the 'super-deluxe' vinyl version, you get a 2 LP gatefold on heavyweight vinyl with mini-book and postcards. One for the collectors out there.
Jack White – Acoustic Recordings 1998 – 2016
A beautiful collection of acoustic (and not so acoustic) songs from Jack's career including his many bands and solo material. It truly shows what a great songwriter the man is, and sounds wonderful on the 180 gram black vinyl. You'd expect nothing less from Third Man Records.
Beyonce – Lemonade
A surprise album from the singer for 2016. Assembling a stellar cast of contributors, producers and writers, no wonder the record came out so good. Beats drop, lyrics fly and vocals are on fine form. Even Jack White makes an appearance on track Don't Hurt Yourself, which is actually an album highlight along with the country-laden Daddy Lessons. Well worth a listen, even if you've never bought a Beyonce album before, as there's something there for everyone.
David Bowie – Black Star
This had to be on the list. Bowie has given us so much over the years, and he signs off with a cracker of an album, highlighting his invention, chameleon like qualities, and why he's always been at the cutting-edge of music. We lost a true great in 2016 but he's left us with a piece of himself in Black Star. The vinyl edition also has hidden features, such as the sleeve showing stars when left in the sunlight, and apparently there's still more secrets to the record that haven't been found.
If you feel we've missed anything, let us know in the comments below. We'd love to hear what your favourites of 2016 have been!