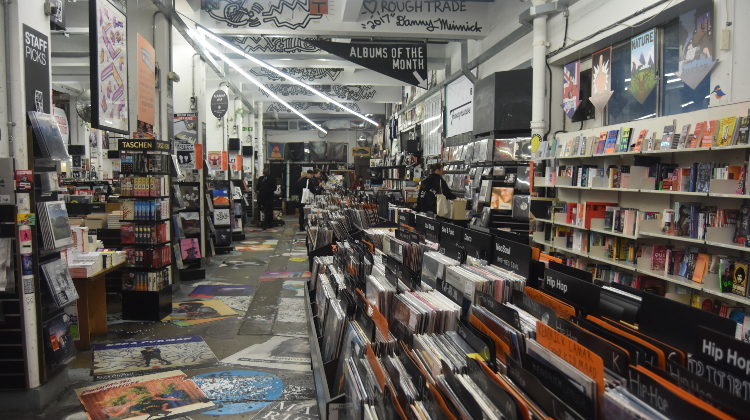 Entering the Rough Trade East store at London's Brick Lane is an adventure for any music lover. For such a large place it has a warm and welcoming atmosphere that you're unlikely to find in many shops of similar size with friendly staff that are always on hand to help. Sofas and a cafe area at the front act as a chill space, everything is light and airy, and records are stacked out as far as the eye can see. The records also have little labels on each one, telling you what to expect from the artist and music within. It's these little touches and the generally bright and breezy nature of the Rough Trade stores that have always made them stand out amongst the crowd. Vinyl Chapters sat down with one of the owners, Nigel House, to discuss the appeal of the stores, how he came to be in the industry and what we can expect from Rough Trade going forward.

Nigel has been in and around the stores for over 40 years. With this wealth of experience, he's managed to build a knowledge of what customers want and has seen first hand the way music retail has changed. He takes us back to the very beginning:

"I came to London in 1977. I'd always been obsessed with music; I loved it from when I was a kid in Somerset. In 1976 I finished my A levels and all I wanted to do was to come to London where there was Punk rock. I chose my University course just to be in London – I'd have done anything to be there. I was a customer in the first Rough Trade shop when I arrived in about 1981. After I graduated, I was doing a postgrad in landscape architecture and the original shop on Kingston Park Road needed somebody to work there, that was where it started. It was perfect.
It makes me feel very lucky. I've loved every minute of it, you know. Well… almost every minute! Sometimes, running record shops can be really hard. It's not always a way to make money, but it's a way to have a great time. All the bands I've seen, all the records I've heard, all the people I've met, I've been really lucky. I'm doing something I love and it's fantastic."

One of the appeals about music is the youth culture that surrounds it and how this is built on throughout your life. Nigel goes on to explain how this has had a big impact on him, and also on everyone who visits the stores:

"When you're young, the time you're young is your favourite time for music. I don't want to sound like I'm saying "It was all better back then", I mean, it was better in some ways, but in other ways, the music is amazing now; it depends on the person. For me, Punk changed my life completely. The post-punky sort of time is probably my favourite period. I still see bands now that I love as much as I did at the time. I love Joy Division or The [Sex] Pistols…It's just about what you love in music. I just hope that the music kids listen to today is as important to them as it was for me, that they listen to the same tracks again and again and again and they see the same band again, and again. I really hope that's still there."

Something the current generation may struggle to understand is how listening to music was without technologies such as streaming and the internet making access to fast and easy. The world is different today, and so ways of consuming music have changed drastically. Nigel goes on to discuss the impact technology has had on consumers, bands and ultimately, the store:

"At the moment, I just think the internet makes things too easy. I think it's hard for a band to be underground. Things happen too fast. Sometimes there would be this great band and people write about them, they're on the internet, everyone can see them and people check them out for 30 seconds and can go "That's really boring, I've heard all I need." They don't give them a chance. I feel sorry for bands like that. If we could give them a bit of time to develop and become something before it's all available, it would also keep that excitement as well. If things are too easy to find it loses that 'Underground cool'.

In the digital world, we see so much change. In retail, you just have to kind of go with it and use it to your best advantage. If people can listen to something online first, that's great – you can have a listen and think, "I'm going to buy this". It's the same as ever but for a different generation. In the old days, you'd hear something on the radio and then decided to go and get it if you liked it. Nowadays, it's easier to find what you want. There might be a single you can listen to for three weeks and then forget about, but other times you might say "Yeah, I really like this, I'm going to buy it on vinyl".

I still think a lot of people want the physical product and they're after a complete package. That's our customers. But for others, and some artists, streaming really works. I was talking to somebody the other day about D-Block Europe, they're kind of a grimy, hip-hop group from London, and they get like a zillion streams. It's crazy. This helped them sell out two nights at Ally Pally in about six minutes or something! Those two worlds are quite different, so we're thinking about doing something physical with them and see how that goes."

Vinyl is currently Rough Trade Records' top seller and holds a prominent and dominating presence in the store. We continued to speak to Nigel about the format, why it does so well, and where he thought it would go next:

"Vinyl is the kind of antithesis to this digital or streaming world, isn't it? I think people do still want CDs as we still sell a lot of them, but at the moment we just sell tons of vinyl. It's a lovely format. 12-inch records with a sleeve where you can read all about the music within, it's just great. They definitely sound better than streaming if you play it on a half-way decent system. It definitely has more depth than streaming.

For me, I think vinyl sales are going to carry on growing. It does worry me if it becomes too fashionable, as things come into fashion and then go out of fashion. As long as vinyl stays at a good price, at the end of the day you just want people to keep buying great music. We do offers for value price vinyl records called 'Going For A Song', albums like Nevermind by Nirvana, Nick Drake, Portishead, stuff like that for £12.99, so a kid coming into the shop, instead of being able to buy one album, can buy two albums and discover music they might have missed. We try to offer value for classics as well as new music, so it varies over time."

What is apparent from the moment you step into one of the Rough Trade stores, especially Rough Trade East, is its community feel. It has a welcoming atmosphere and everything just feels 'right'. Nigel goes on to tell us how the store layout, working with the clientele and changing with the times have all played important parts in building this atmosphere:

"One thing that we've always done is have records set out in genres rather than pure alphabetical order. If you're going into a shop organised in alphabetical and you're looking for, say, Rolling Stones, that's all you'll ever find. You won't find something else in the same genre that you might like. I remember I went to HMV once and they had The Pogues, then Pointer Sisters, then Poison in succession! If we had an Irish section, we'd have The Pogues, Fontaines D.C, Thin Lizzy, and then it kind of makes sense. So we tend to try and put things together, like having Lou Reed in The Velvet Underground Section, and The Doors and The Who in the 60s section. This helps people to discover new things. Some people don't like it but it does make it a lot more interesting. It's great when someone comes into a shop and leaves with something they didn't expect to buy. This is always what we want to try and do.

The good thing about our customers is the symbiotic relationship. We have four shops in the UK and they're all slightly different. The headliners are always the same, so for example, the album of the month at the moment is The Big Moon, so it will be The Big Moon everywhere in each store. Then below that, in Bristol, they might sell a bit more reggae and soul, in Nottingham, metal, but it's not necessarily always the case. You need to reflect on what your customers want but also need to guide them towards things they might not have known existed.

The great thing about the stores is that they're always evolving. Partly because what stock is around or isn't around. Also, formats change so much. When I first started it was only vinyl and cassette. And then of course CDs came in and that changed the layout again. We've always sold vinyl, though. People have always wanted it. I remember when CDs first came in, some shops were saying "Right let's get rid of vinyl, nobody wants this anymore." That's crazy, it doesn't just disappear! I can see the same thing happening now though, there are shops opening that don't sell CD's and I just think "You're a record shop, why are you limiting yourself!" I really don't understand it. It's a declining format but you just have to satisfy what people want. At the moment the CD sections are shrinking and the vinyl sections are growing. The same thing happens with genres; genres come in and out of fashion. At the moment, Jazz is really popular so we're stocking up on classic Blue Note and Impulse titles, as well as new Jazz. And again, it's laid out so you can discover different types of Jazz, old and new."

Rough Trade stores aren't just for ordinary punters wanting to buy music, however. Visit on the right day, or join in on one of their pre-order offers, and you could find yourself enjoying a gig played to only a handful of people or bumping into a famous face…

"Elton John goes to the West London shop. He is such a nice man. He buys records and he loves it. He tells us what to check out! He listens to everything. Simon Draper who started Virgin with Richard Branson, he still comes in the shop and he's exactly the same, he'll just buy a big stack and say "Track four on this album is amazing, check it out". When you have that love of music, you have it forever. Over the years, I've met so many people. When musicians come in it's fantastic. I can talk to them about music all day long.

We also have gigs all the time. We had Radiohead once, they were supposed to play in the shop but the council closed the gig down so they had to play just around the corner! That was amazing. PJ Harvey has played and was great, and The Beastie Boys – that was when Paul's Boutique came out. There's so many. Up there with them is The Big Moon who played last week, that was fantastic. You can fit about 250 people standing in Rough Trade East. In the West London store we had Pine Grove play last week and that was to 40 people, that's all you can get in. The Bristol and Nottingham stores hold about 150 and we have amazing gigs there as well. You usually have to buy the record to get in, but people are fine as you get to see a great show with a great sound system in a small venue."

As always, the future of Rough Trade is wide open. Nigel has been in the industry for forty years and knows that if you get the basics right, good things will follow:

"We always strive to be the best record shop in the world, the best record shop we can be. It's about customer service, it's about price, it's about selection, it's just getting all those things right. We just sell music to people in the best ways that we possibly can. Whether it's instore or online we just want to make it an exciting experience. You have to get all those things in a row and to do that, it's hard work. You can't rest on your laurels because there are always people wanting to do things better than you. You need to work with people to just try and make it as good as possible and have things that people actually want to buy."
Rough Trade East can be found at 91 Old Truman Brewery, just off of London's Brick Lane. You can check out more info on their website including details of any upcoming events.