We take a look at the differences between colored vinyl and black vinyl, what affects the sound quality, and why one may sound worse than the other.
Colored vinyl has become extremely popular over the last decade. From solid primary colors to transparent opaque designs to multi-colored splatter records, it's like a whole rainbow of vinyl has opened up. Musicians can now not only express themselves through their music and album artwork but also through the vinyl itself. 
Although colored vinyl has been around for decades, in the past it was pretty much seen as a novelty. People unanimously agreed it sounded a lot worse than black vinyl and most music fans steered clear, preferring to benefit from better audio quality. These days, however, colored vinyl has made a huge comeback. Many audiophiles admit they can rarely hear a difference between black and colored vinyl on more recently produced records.
So, do newer pressings of colored vinyl actually sound just as good as black vinyl? Below, we'll take an in-depth look at this question, what could affect the sound quality of colored vinyl and whether or not colored records are right for you.
Let's Start At The Beginning
First of all, to understand why black and colored vinyl may sound different from each other, we need to look at what vinyl is actually made of and how records are produced.
Records are made of PVC (Polyvinyl Chloride) which comes from refined oil. For record production, it comes in the form of pellets that are heated and then stamped into records using special machinery. This is a very basic account, but for more details, you can check out our article on how long vinyl records last or the video below which shows the process in full.
So, why does this matter? Because depending on what the PVC is mixed with during the production process determines the color of the record. This, in turn, can also determine the sound quality. First of all, let's look at the most common type of record, black vinyl:
Black Vinyl
Whenever anyone thinks of vinyl, black is the color that comes to mind. It's the color of the majority of records on the market and in people's homes. However, the natural color of vinyl, with no other color agents added, is actually colorless with a slightly translucent white tinge. In order to make records black, vinyl is mixed with another ingredient, black carbon.
So why do they change the color of vinyl to black? There are actually a few reasons:
Vinyl Strength
Black carbon not only gives records that beautiful black sheen, but it also strengthens the vinyl when mixed in with the PVC pellets. The rigidity of the end product is a lot stronger and likely to last a lot longer. If dyes are used to change the color, it arguably doesn't strengthen the record as much and may not last as long. 
Production Costs
Because many record production plants are set up to normally create black vinyl, it's just cheaper and easier for the plants to produce them. Processing plants buy the ingredients for black vinyl in bulk. If they make colored vinyl, they have to account for the added cost of materials and production, therefore charging more. 
Vinyl Quality Control
Another big reason is quality checking. Black vinyl is much easier to quality check than naturally clear records or records sporting different colors. Also, black vinyl has been produced from the very first record sold. The skill base in the industry knows how to deal with black vinyl in a better way than any other variants. discrepancies or faults within black vinyl can be caught a lot easier.
The Rise of Colored Vinyl
So why has colored vinyl risen in popularity? Since the resurgence of vinyl, it still feels, to many, like a special way to listen to music. You could listen to everything on streaming services like Spotify, or you can feel more connected to music by listening to it physically on vinyl. 
This connection makes some music fans care more about what the whole physical package of their music. Record companies have seen this interest and expanded the market for it. 
Vinyl is more of a niche than it used to be decades ago, so to keep consumers interested more limited edition records are being created with color to sweeten the deal. The color combinations are endless. Red, blue, green, gold, orange, multi-colored, splatter design; you name it, there's probably a record out there designed like it. But do they sound just as good as plain old black vinyl? Let's now look at why colored vinyl can sound different.
She Comes In Colors Everywhere!
So why does color vinyl have this reputation for sounding worse than black vinyl? There are a few reasons, actually.
Ingredients used
Instead of black carbon, colored records are created using different colored dyes mixed with the PVC as part of the manufacturing process. It's this process of mixing different ingredients that can, potentially, make the record sound different. 
Certain colors can even sound better than others. Many record enthusiasts or production plant workers would argue that translucent records with a hint of color generally sound good. However, the same people could argue that white records usually don't have as clean of a sound.
Some would say that opaque or pastel-colored records sound bad compared to black vinyl. This makes sense because this would involve the mixing of at least two different colors. More materials being added to the mix would affect the sound even more.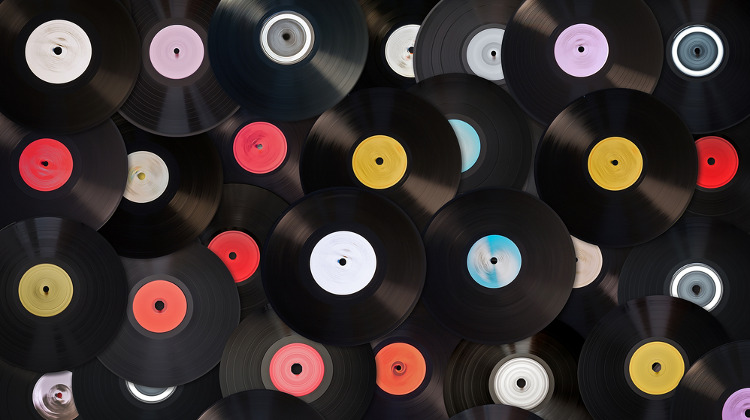 The Source Of The Color
Another factor that can affect the sound of color records is where they are produced. Like with the different ingredients mentioned earlier, different vinyl production plants will have different methods of creating records.
Like any product, quality matters. Some plants might have more experience in making colored variant vinyl, or their overall processes and quality checks may be better than others. Staff at one pressing plant may be more skilled than another. All these factors would not only affect the clarity and sound of music on colored vinyl but also on their vinyl output in general. 
The Age Of The Colored Vinyl
This is another biggie that could affect the amount of quality you get from a colored record. It comes down to two reasons. The first is how they're produced. 
With colored records becoming so popular, the skill at creating them and the technology and materials to do so have improved. This means that a colored record that was produced in the last 5 years would sound better than one produced 20 years ago. This is even if both of those records have never been used.
Time can also be a factor. The lifespan of colored records tends to be less than black vinyl. This is partly down to the fact that the carbon in black records increases the longevity of records. Black carbon makes the records more rigid and also holds more life-extending properties than the dyes used for colored records. Although, if you look after and cleaning your records regularly, whether they're black or colored, they will last a long time.
Splatter And Multi-colored Vinyl
Splatter vinyl and multi-colored vinyl have become extremely popular over the last decade, with designs and color schemes becoming surprisingly unique. They can almost an art form within themselves. 
Artists could pick colors that say something about the music within, such as an orange splatter disc for No Doubt's Tragic Kingdom. This colored record focuses on the album design and the band's native Orange County roots. They could go another way and focus on the band themselves, as seen with the White Stripes affiliation with red and white. Their vinyl releases include a plethora of variations based on those colors.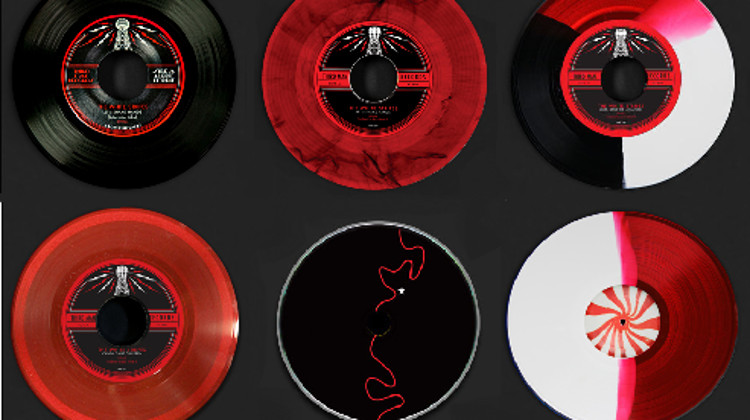 As for the sound quality of splatter vinyl and multi-colored records, mixing colors is bound to make a slight difference to the quality compared to black vinyl. The processes of creating color vinyl have become better in recent years, so the sound quality is A LOT better than it used to be, but some audiophiles would be still able to hear the difference.
By the way, the process of creating splatter vinyl is pretty mesmerising. Check out the video below.
Picture Discs
I think pretty much everyone would be in agreement that picture discs sound worse than other vinyl pressings, even if they look pretty awesome. But why is this?
It's simply to do with the process of creating them. This is completely different and less effective at playing back audio in a decent quality. 
To create a picture disc, it's easy to think of it as a 'record sandwich'. The first layer is usually a thin layer of polyethylene plastic. On top of this would sit the actual picture disc image which is usually printed on paper. The third layer is the actual vinyl, with another picture printed on paper sitting on the other side. You then finish off with another layer of clear plastic for the other side of the record. 
This concoction is then sandwiched together using a vinyl press. The actual music grooves are transferred onto the plastic layers. 
Due to the thinness of the plastic on which the grooves are pressed, this is the main reason why they sound worse. It's thinner and not as durable as on black vinyl, or even colored vinyl. You're basically paying for the look of the record rather than the sound and that's what you get. 
So why do people buy picture discs? They're more for collectors who want to display them or have a special edition of their favorite album. Some people do play them, but if it's an album you truly love and want a decent sound, we recommend buying a normal edition. 
Should I Buy Colored Vinyl?
So, should you buy colored vinyl, and do they sound worse than black vinyl? As with many things in life, it all comes down to individual preference. Some people won't be able to tell the difference in sound quality between a colored edition and a black edition record. Many would be perfectly happy to have the cool-looking colored vinyl over the black version. Audiophiles would usually much rather have a black version of an album to listen to because they feel it has a slightly superior sound.
Some single-colored vinyl records are likely to sound just as good as their black counterparts. They can even sound better, taking into account some of the factors above such as where the pressing was made, how it was made, and the materials used. But if you want to play it safe, then black vinyl may be the way forward.
Whatever side of the fence you sit on, the appeal of colored vinyl is there for all to see. It's obvious why they've become so popular and why many a collector is willing to pay top dollar for a special colored edition record. Although at times they may sound worse than black vinyl, they are still beautiful to look at when spinning on your turntable and have unique collectibility which, let's face it, is something that us record enthusiasts love.
What are your thoughts on coloured vinyl? What colored records do you own? Feel free to discuss in the comments below!