You may have seen record players with two or more tonearms. If you're not sure why this is or you want to learn about why you might consider more than one tonearm, this article aims to answer your questions and give you a little background on the subject.
First of all, a couple of things: Dual or multiple tonearms are more for vinyl aficionados, those who are really into their records and have thrown a lot of money and time into them. That's not to say you can't benefit if you're just getting into records, but it's not necessary if you're a casual listener or happy with your setup.
The second point…no, you don't use both tonearms at the same time! Each one would be used separately to avoid an assault of the ears – it wouldn't be pleasant. 
Now that's out the way, there are actually quite a few reasons why someone would choose to add a second tonearm to their turntable setup. From different sounds to different qualities to different formats, all of this will be discussed below as well as ease of setup, tonearm pods, and what could suit your current turntable.
Starting With The Basics: What Does A Tonearm Do?
To understand why you might feel the need to upgrade to two or more tonearms, let's briefly remind ourselves what a tonearm does.
In its most basic terms, a tonearm allows you to move a needle over to a record and lower it down onto the record grooves. A tonearm has a turntable cartridge at one end which includes the stylus (needle). This is what drops onto the record and reads those grooves to create the sound. 
At the other end is a counterweight. This balances the tonearm. It allows you to choose the amount of force the stylus applies to the record grooves when it is lowered. Each record player needs a certain force set for optimal playback.
With a basic understanding of what a tonearm does and the functions of a cartridge, you can now begin to understand why more than one tonearm can come in handy for turntable enthusiasts.
Reasons For Using Multiple Tonearms
The main reason for having two tonearms or more in your setup is to make it less hassle in switching up cartridges. If you're a beginner, you're not likely to need different cartridges. But the more you get into records, the more reasons you might have for buying more than one cartridge for specific records. 
To save time switching these cartridges over, having more than one tonearm means that you can easily change from one to the other. This would take seconds instead of the hassle of taking a cartridge off your only tonearm and attaching another. 
In what instances could you need different cartridges? The reasons are discussed below:
Old And New Records
If you have an expensive cartridge with a specialised stylus, you might only want to use this on newer, cleaner records.
If you use it on used or old records that are slightly worn, there is a potential to damage your expensive cartridge or wear it out more quickly. Some people, therefore, have one tonearm with an expensive cartridge to use for those pristine or special records, and another, less expensive cartridge on another tonearm to use on used or damaged records. 
Different Cartridges For Different Types Of Music
Different cartridges can bring out different tones and features in the music being played. This is why some people have a dual tonearm setup so they are able to use specific cartridges for specific types of music.
Some vinyl enthusiasts will, for example, use one cartridge for music with vocals and another for piano music and symphonies. If their music collection is pretty evenly split between these types of music, it may be easier to have two tonearms. This will save time switching over cartridges to get the best sound.
Others may feel that '60s music sounds better on one type of cartridge and '70s music on another. Again, they would have two cartridges set up on two tonearms for this reason. 
Stereo And Mono Cartridges
If you like a mix of the old and the new, two tonearms – one with a mono cartridge and one with a stereo cartridge – may be for you.
Up until the late 1950s, commercial music was released in mono. Music was recorded and transmitted in one channel only, and thus the sound emitting from each speaker was the same. Only lateral grooves are contained in the vinyl records to create this.
A stereo record, which is able to output two different channels, can allow different sounds to arise from each speaker. On a stereo vinyl record, separate left and right channels contain information in a more complicated shape to that of a mono record.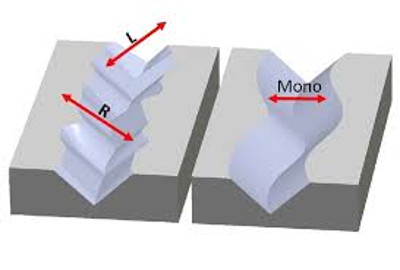 For this reason, some records that were released in mono were reproduced in stereo. The original mono recordings, which really can sound very different and some would say better, were sometimes forgotten about. Some people enjoy seeking these out and prefer them over the stereo mixes. 
Some recordings are even re-released in their original mono state, such as Bob Dylan's Original Mono Recordings which was released in 2010.
A standard stereo cartridge can play mono recordings but it won't sound as good or be able to pick up everything as well as a designated mono cartridge. This is the reason, some people may have a dual tonearm set up – one with a mono cartridge and one with a stereo cartridge.
If You Play Shellac 78's As Well As Vinyl Records
If you're an oldschool shellac user but also enjoy vinyl, you may be a candidate for two tonearms.
Shellac records spin at 78RPM so, as well as a special cartridge, your record player will have to have a 78RPM setting. With shellac records, due to the different material that the needle is dropped onto, they need their own special cartridge to use. 
They are also likely to need a heavier tracking force than a vinyl cartridge. If you use both, it's a good idea to have two tonearms to save you resetting the tracking force each time you change between the two formats.
Different Length Tonearms 
We're getting really deep now. This one is for the hardcore record enthusiasts! Some people may install two different sized tonearms on one platter. 
The reason? Without going into too much detail, longer tonearms have a larger tracking radius and therefore less deviation. What does this mean? Not too much unless you're a vinyl perfectionist, but a longer tonearm would be less susceptible to distortion on the inner grooves.
Longer tonearms can also create a lower tracking distortion with higher effective mass. Shorter tonearms, although having a smaller tracking radius, can have higher tracking distortion but lower mass. 
Some cartridges may work better with shorter arms, others with longer arms. It's all a matter of research. But this is another reason why some people may have two tonearms; one long and one short.  
Can I Add Another Tonearm to My Turntable?
It depends. Do you think any of the reasons above mean you would like to add another tonearm to your turntable?
The easiest way is to buy a turntable with dual tonearm capabilities. These, however, are usually more expensive audiophile turntables which will set you back a pretty penny.
Although it's not too difficult to replace one tonearm with another, adding a second tonearm to a turntable is a different story altogether.
Most normal turntables these days don't allow for adding tonearms. However, if you have room on your plinth, you may be able to add one yourself.
You have to really know what you're doing though, and make sure that you not only have enough room on the plinth, but you have enough space to make sure the geometry is correct. This tonearm geometry calculator can help out with the geometry. The path of the tonearm over the record allows the needle to flow in the appropriate way which is very important. 
You'll also have to do a bit of wiring to feed the signals from the cartridge through to your amplifier.
Here's an example of someone who has created their own DIY turntable set up with a little maths and knowhow.
What Are Tonearm Pods? 
Another option if you don't have room on the plinth of your record player setup is to add a tonearm pod. Tonearm pods are usually only used with high-end turntables, but they are an easy (yet once again, expensive…) way of adding another tonearm to your turntable. 
Separate from the plinth, you don't need to make sure you have room on the plinth to add a tonearm pod. Unless you are trying to design one yourself, they are usually specially made for use with specific high-end turntables. 
Because they are separate from the plinth the sound is often quieter and more transparent with less vibration. Also, they can be easily placed in multiple positions to find the right geometry for your setup.
If you don't want to upgrade and you don't have room for another tonearm on your plinth, there are other options. You could take the bold step of trying to make your own DIY tonearm pod. Once again, it might be a lot of work and maths, but there are videos and guides out there (this crazy one includes a dumbbell base!) that can help you along. If you're brave enough. 
I hope you've learned a bit more about why some record enthusiasts have dual tonearm setups for record players and now understand the different reasons why you may opt for two, or multiple, tonearms. 
If you have any more questions, or decide to attempt a bit of a DIY solution let us know how it goes in the comments below!