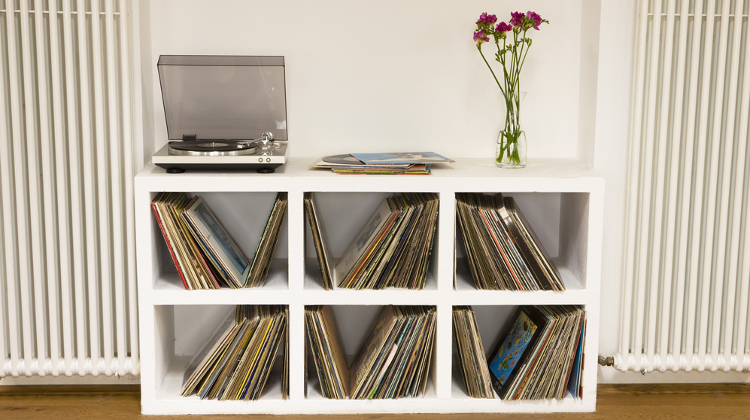 You might have the best record player and speakers in the world but if they are not positioned and set up correctly, you're not going to get the best sound or quality from your system. Whether you're a beginner or in need of a refresher course, the following tips and set up instructions for record player and speaker placement will help you get the optimum sound from your set up.
Turntable Placement
Let's start at the beginning with the main component, the turntable. Getting this right from the start can save a lot of hassle and continuously having to move things around your room, so follow the below advice to save on any unnecessary complications.
Stability Is Key
First off, you need to find a stable, heavy, and flat surface to put your record player on. It's vital to place your turntable on a flat and level surface to prevent any tracking issues when your records are spinning and also prevent tonearm friction. This means your records and record player components will last much longer and also benefit from improved sound.
The reason why a stable and heavy surface is important is to lessen the impact of vibrations and anything else that can affect the sound quality. Having a sturdy surface means your record player and tonearm – which is designed to pick up vibrations from the record when spinning – will be less inclined to pick up unwanted vibrations from whatever the record player is on. A good example of a great surface is something like a kallax unit from Ikea, which also doubles as the perfect piece of furniture to store your vinyl.
Bad Vibrations
It's not just vibrations from a flimsy surface that can affect your record player, it's also important to make sure the record player itself isn't causing any issues. Most record players away from a basic range use their own suspension and mass to counteract unwanted vibrations. The mass helps keep the record player itself nice and sturdy and in one place, the suspension allows a limited amount of movement to stop unwanted vibrations getting through to the music.
If you want, you can further improve the stability of your record player to the surface it sits on by incorporating isolation feet if your record player doesn't already have them. These are usually metal spiked or rubber discs that you can place underneath the four corners of your record player to improve stability against vibrations.
Speaker Placement
Right, we have your record player set up in the best possible way, great! But what about speakers? Speaker placement is even more important than record player placement if you're after optimum sound quality. You also need to make sure that both speakers and record player don't interact with each other too much to get the best sound…
Shared Vibrations
It's best if your speakers and record player don't share the same surface to avoid the passing of vibrations from the speakers though to your turntable. Speakers are the most significant source of vibrations in your setup and if these vibrations reach your player, it can compromise the sound of your setup. Therefore, the best option is to put your speakers on a completely different playing surface.
Securing Speakers
If you have bookcase speakers, one of the best options is to use them with speaker stands to isolate the vibrations. Floorstanding speakers can obviously sit on the floor, but just like when using speaker stands, you also need to think about the connection between the floor and the speaker.
Many speakers come with specially designed spikes that you can screw in to limit vibrations, but these could damage the floor if you have a hard surface, and also, there are whisperings that this method doesn't always produce the best sound. Another option, especially if you're sans carpet, are rubber speaker isolation pads with some even able to direct the speaker at a certain angle for more clarity.
Speaker positioning
Speaker positioning is important and can really improve the sound of your setup. As a rule of thumb, speakers should be roughly ear height from your chosen listening position. If you're sitting on the sofa, your speakers should be around the height of your ears when sat down. You should also make sure that your speakers are not flush against the wall and diverted inwards a little to create a kind of 'listening triangle' (see pic).
Speaking of a listening triangle, you should also make sure that your speakers are far enough apart to benefit from the stereo effect, if possible, by at least two metres. If you want a rule and it's possible in your chosen room, try and make the speaker distance from your listening position and each other as equal as possible so it forms an equilateral triangle shape.
As for the exact distance speakers should be from the wall and how far they should be turned inwards, it all comes down to personal preference. As a guide, they should be at least 10 cm away from the wall so start there, test them from your listening position and try further out and at different angles until you find a sweet spot where the sound feels right for you. Try a few different records when using this process to make sure you're happy with the overall sound.
Room Layout
The actual room you choose to set up your record player in can also have a big effect on the sound, but it's not only the sound you have to think of. Will the room be designated for music only? Will it be in your living room which you share with other members of the household? We're not all lucky enough to have a designated turntable room, so we may have to work with what we have. Here are some tips to think about when setting up.
Wherever you choose to have your record player, make sure you have a comfortable listening space. If you can't chill out and relax to your music, what's the point?
Due to space, you might not be able to set up an exact 'listening triangle' so just do what you can in the room you have. Do the tests with speaker placement as described above to find the optimal sound within the room.
You might not just have to think about yourself listening to music, but others as well. If you have friends over to listen to music, make sure your room is laid out in a way that everyone can benefit from a decent sound. If it's just you, you have nothing to worry about!
Flooring and furniture can have a huge effect on the sound of your setup. Too much reflected sound (where sound bounces off objects and areas in the room) can lead to a loss of clarity and manipulation within the music, so it's best to try and limit this. If you have hardwood floors, a rug between the speakers and your listening space can really help minimise unwanted reflections and absorb needless frequencies.
Keeping the listening area free from big and hard furniture will also lessen the bounce of sound and create a better listening experience. Windows are also something else to think about – you can't really do anything about these apart from shutting blinds or curtains if you really want to optimise your listening. Some would prefer natural sunlight, however!
There we have it, an overall guide to turntable and speaker placement. If you have any questions or comments, please feel free to leave us a message below.