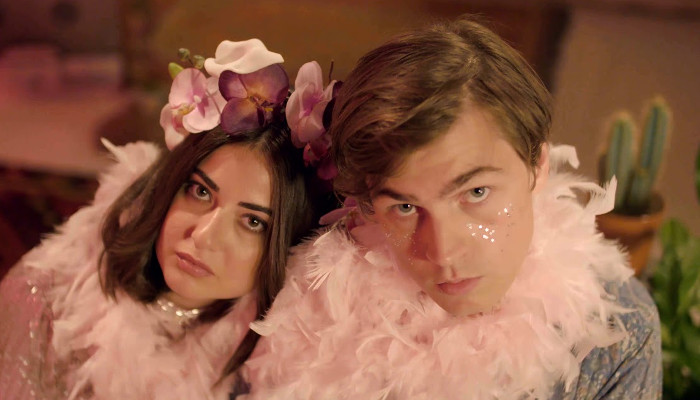 The extraordinary sounds of Kit Sebastian, a band whose time has come.
There are moments in pop music when an artist seizes an opportunity on the back of aggressive marketing and others when the inherent majesty of a sound or an aesthetic rises to the surface with a modicum of hype. The latter surely applies to the stylish multi-instrumentalist duo Kit Sebastian, who are about to deliver their debut album this week on Brighton's excellent Mr Bongo label.
Kit Martin is a graduate of the Guildhall School Of Music & Drama and has been making music since the age of twelve. Dividing his time between London and France, he plays a range of instruments in Kit Sebastian, including keyboards and alto sax. His partner in musical mayhem, Merve Erdem, is an Istanbul-born, London-based artist who provides lyrics, guitar and vocals as well as multi-media visuals. Fired by the sultry eclecticism of sounds emanating from Mr Bongo, the pair blew the label's mind with their unsolicited demo tape recorded in rural France and sent to them in December 2018. The lead single 'Mantra Moderne', a dubby chunk of psych-pop was released to warm reviews earlier this year.
Singing in both English and Turkish, Kit Sebastian's music uses a wide canvas:  dancing between genres, blurring musical boundaries with a trippy elan and drawing upon an array of exotic instruments from tablas and Farfisa organs to darbukas and MS20 synthesisers. Describing their pigeonhole-evading as 'Anatolian Lo Fi Samba', they clearly value and fetishize the magical dimensions and ceaseless exploration of off-kilter, cinematic and experimental pop from a bygone age.  
Now a second single has arrived. 'Tyranny 20' sounds like none of the on-trend music of 2019 but could palpably fit on the ominous score of a Peter Strickland film. Laced with glamour, mystery and menace, there are insinuations of the lulling signature lounge-funk of Serge and Jane Birkin with Jean-Claude Vannier, the baroque breakbeats of David Axelrod as well as the 60's soundtracks of John Barry and even a tinge of desert-funk contemporaries Khruangbin.
Kit Sebastian are culturally literate and omnivorous, dipping into funk, psychedelia, exotica, lounge, Tropicalia, library music, Arthur Verocai and French pop using analogue recording to conjure an authentic whiff of out-of-time fuzz, and are overwhelmingly steeped in crate-digging culture. 
Their forthcoming album, 'Mantra Moderne', lands on the 19th of July and will surely belong in any discerning punter's highlights of the year list.