Vampire Weekend return with new record Father Of The Bride, skillfully dealing with difficult messages amongst a more mature sound.
A long time has passed since Modern Vampires of the City – the last album from Vampire Weekend – was released. There were, therefore, big expectations surrounding new record, Father of the Bride. For this album, Rostam Batmanglij has left the band to pursue his own solo career, although he still had a part in the production and keeps close contact.
Their musical landscape has forever been defined as Indie-Pop with an experimental, eclectic sound, but this record is much more than that. It's a more mature version of Vampire Weekend as they speak about issues that resonate with us all. You can even expect to be questioned about your beliefs and faith in the current social and political construct. The folky good-hearted tone of this album is like an invitation to observe oneself and the world around us: what does it mean to be alive nowadays? Listening to it more than once is mandatory; it's not just an album to listen to, it's an album to reflect upon.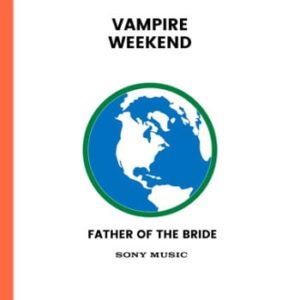 Hold You Now is a prelude to ease us into the 54 minutes that follow, those minutes being a long and pondered journey. The lovely voice of Danielle Haim – mostly known for her work with the band Haim – comes in through a duet with Ezra Koenig where both of them open up the doors and make absolute magic. You can also recognize Hans Zimmer's God Yu Takem Laef Blong Mi sampled in the chorus.
Harmony Hall has a lot of energy in the steel guitar and its gospel-like vocals accompanied by the tambourine. It brings up something pure or "dignified" that became corrupt at the hand of the "wicked snakes" or hateful people. This flows beautifully into Bambina, reflecting on violence and religion with their electronic nuances at the end. The energy continues on in This Life, being quite an existential piece in the sense that both of the parties involved made a mistake, but the first thing Ezra thinks of doing is to look inside and question himself: "Am I good for nothing?". Mellowing down the rhythm in How Long? we hear a reference to global warming, with lyrics pointing to a sort of nihilistic attitude: "what's the point of human beings…the hills will fall eventually". We are so deep in this issue that we need to take a hard look at ourselves and what we're doing wrong.
To have a little window into Ezra's own identity is to listen to Unbearably White. It's been discussed as a tune that echoes the topic of race in the ivy league society, with guitar sounds used like a satire to build-up to a chorus with no actual drop, which is interesting.
I depart this unfairly short review to a massively beautiful album, with a favourite being, Jerusalem, New York, Berlin: a polished, composed piece on three really important capitals for Judaism which, once again, is a very personal topic for Ezra. He and Danielle Haim close this off with melancholic piano, and although it doesn't feel like the end, for now, I hope we don't have to wait so long until another great Vampire Weekend album is produced.
Score: 4/5
By Natacha Cristiana