Singer-songwriter Ryan Adams returns with his 16th solo effort, drawing on his recent break-up to fuel his emotionally charged songs.
Can you believe Ryan Adams in on his 16th album? Time flies when you're an indie-pop, country, folk, rock superstar. Adams has made the most of his time in the limelight, and his new record Prisoner shows off his years off experience, whilst seemingly based around his relationship break-up in 2014. It wouldn't be wrong to suggest he produces his best music around this subject, but does Prisoner manage to stand up against his other great 'break up' albums of the past such as his acclaimed debut Heartbreaker?
The mood of album opener Do You Still Love Me? is a kind of red herring for everything that follows, but a welcome edition to get the juices flowing. Continuous Hammond Organ and sporadic heavy guitar drive the track onwards, showing Adams' disjointedness and heartache as he belts out 'what can I say, I didn't want it to change'. Album-titled track Prisoner is more of a melancholic affair with the rhythm and sound borrowing heavily from his recording experiences on the 1989 Taylor Swift Cover Album, which works really well in setting the album off in an altogether different tangent. The trick is then repeated on the brilliant Shiver And Shake with low monotone mournful lyrics emotionally charged with pain and frailty being rattled out over smooth and sultry acoustic guitar.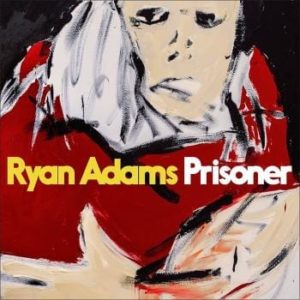 There's a touch of 80s Springsteen throughout the record, with gentle influences littered almost anonymously throughout, but managing to drive the music in the right direction. Anything I Say To You Now defiantly draws from The Smiths with guitar work that Johnny Marr would be proud of, and reminds the listener of Adams' ability to focus in on different styles when necessary.
As we get into the deeper cuts the heartbreak thickens and takes on a more solemn affair. Outbound Train shows the singer's confusion and annoyance in the lyrics, muffled vocals and visibly heavy heart, whereas Broken Away's tale of acceptance tinged with regret speaks volumes about relationships coming to an end.
Ryan Adams is, at this point in time, comfortable with where he is. He's exorcised his demons on Prisoner, and looking forward to the future. Having been around for a while now, you can see his peaks and troughs emotionally throughout his albums, and he's definitely leaving this one in a good place. The songs reflect a cleansing process, and are of high quality emotionally and musically. It's another classic to add to Ryan's list, and a testament to the art that can come out of a broken heart.
A note on the Vinyl
The vinyl edition here is cut on a beautiful dark red, with Ryan's melancholy vocals jumping out in warm and strong tones. The drums provide a resonance that really comes alive on a record player, especially on tracks such as Doomsday being backed with a full band. The album cover shows as much passion and emotion as the music itself (a possible self-portrait) with strong brush strokes, deep reds and a look of pain on the figure's barely recognisable face. Also look out for the special edition 'bong-apple' cover if that's your sort of thing.
I was a little disappointed with the inner-sleeve being only a single sheet with lyrics, but you do get the option to download the mp3 version of the record when purchasing the vinyl, which is always a bonus when out and about.