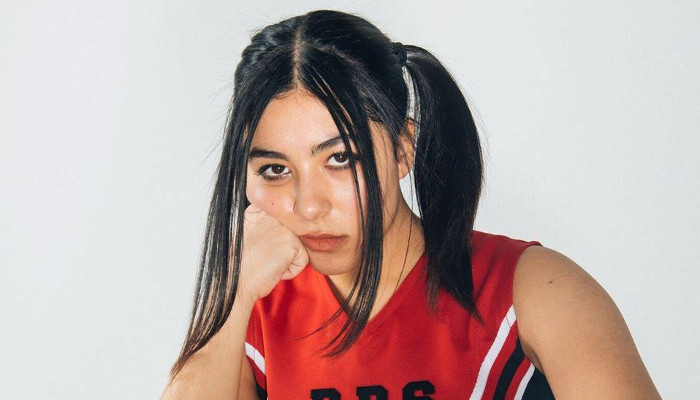 We speak to Mia Berrin, lead singer and guitarist of Pom Pom Squad about their new EP Ow, how their sound came about and the story behind the band name.
Brooklyn-based band Pom Pom Squad feel like they're at the start of something big. With a sound as punk as it is contemplative, their 'quiet grrrl' sound manages to not take itself too seriously, but, at the same time, still touch on hard-hitting issues against a coming-of-age mentality. With the release of their new EP Ow on the horizon, we speak to lead singer and guitarist Mia Berrin about their new material, the basis behind their sound and where their name came from. 
Your new EP 'Ow' focuses on a modern grunge/punk sound. But with this there are more serene sections contrasting with all-out raucous guitars and anthemic melodies. How did you find this sound and what artists would you say inspired it?
I was surrounded by a lot of amazing music growing up – My Dad was obsessed with/on the forefront of early hip-hop and my Mom introduced me to The Smiths and The Cure at a very young age. I think they found a middle ground in alternative/indie music. I inherited a lot of their taste in that way. When I was a kid, I remember gravitating toward singer/songwriters – I love the intimacy of that sound, and I've always been a big lyrics first person. I had a lot of depressing childhood favorites like Tori Amos' cover of I Don't Like Mondays, Neil Young's Harvest, and Leonard Cohen's Famous Blue Raincoat. When I was a teenager I found Riot Grrrl and Grunge – particularly Bikini Kill and Hole – and that was the first time making music felt accessible to me. I think I hear a lot of those eclectic influences on Ow – they're all the layers of radiation that have seeped into the DNA of my songwriting. 
The 'Quiet Grrrl' movement has been growing continuously over the last few years. Why do you think this is happening and in what direction do you think it will go next?
I think people are ready for a wider range of stories. When I was a teenager, I felt gate-kept out of the DIY scene in my hometown because I thought I wasn't  "skilled enough". There weren't a lot of non-men making music in my town – or rather, there probably were but they were making music that never left their bedrooms. Now, young musicians have unprecedented access to any space at any skill level in a way they never have before because of the internet/social media. There's this entire network of interconnected bedrooms where young women can communicate with each other and create without the pressure/stress of imposter syndrome. I don't know where it'll go next exactly, but I'm really interested in the way genre lines are blurring.  
New single Honeysuckle really kicks off in the chorus. That must have been a fun track to record?
It was. We recorded the whole EP in a really tiny, dusty, practice space with a friend of ours named Tommy Ordway, who co-produced the EP with me and engineered the whole thing. We were all pretty much on top of each other, and it was nearly impossible to avoid sound bleed, but it was important to me that we captured the live feel of the songs. My bandmates and I really found the sound of the EP in our rehearsals together, and I loved the way it felt too much to record any other way. 
Is the songwriting a band effort or do you write all the tracks?
I always come to the band with the lyrics, main chord progression, and structure of the song already written, but anyone who says that they dictate every note/beat/moment of a song to their bandmates is probably lying. One of my favorite things about the writing process lately has been hearing what my band brings to the table, and they always, undoubtedly elevate everything I put in their hands. Honeysuckle is actually a perfect example – when our old guitarist, Alex Mercuri, who played lead on nearly every song on the EP (but no longer plays in the live set-up), brought that riff to us, the whole song snapped into place.  
The song's lyrics often hit on intense, coming-of-age topics. Do you draw a lot from personal experiences or is there a degree of artistic license to them as well?
On this particular EP, the songs are undoubtedly very personal to me. In a way, it's the most unpoetic group of songs I've ever written, but it's not like I'm literally reading my diary.  It always takes a degree of artistic license to turn a stream of consciousness feeling into a thing with structure. 
Have you got a favorite gig you've performed so far and why?
We recently played a show for my 22nd birthday – it was on the roof of a bar/venue called Our Wicked Lady in Brooklyn, and it was just a really beautiful night. I could see the moon from the stage, my bandmates surprised me with a cake… I'm a huge sap. 
We also got to open for Soccer Mommy at her Gov Ball after-show, which was really inspiring. I love Sophie's writing.  
What's your favourite thing about performing live?
Everything. I love the energy of it – it's a really cathartic experience for me. 
Is there a story behind the band name Pom Pom Squad?
Sort of. I moved around a lot when I was young and spent all four years of high school in Orlando, FL at this very competitive all-American prep school. I'd only been to public school before then and it was a culture shock. It was very manicured – a total movie situation with cliques and uniforms… I hated it. I used to get super depressed having to go back to school at the start of each semester. As a way of coping, I would journal obsessively and watch a bunch of movies and TV shows about high school. Through that, I developed this kind of split-brain mentality – on one side I was existing in the experience of it, and on the other I was analyzing it, watching it. Cheerleaders, for some reason, became this iconic presence in my life. They were these very powerful, terrifying feminine figures that seemed completely untouchable and totally distant from me – not even the people themselves but the concept. I think, for me, the name represents the distortion of an archetype – taking a character that is typically perceived as desirable or vulnerable or weak and flipping the connotation completely. 
Are you or anyone in the band into vinyl at all? Are there any favourite records you own and can we expect your new EP to be released on the format?
Definitely! At some point over the past year and a half, Shelby, Mari Alé and I have either lived together and/or spent a lot of time in the same house and sort of merged record collections. I'm currently obsessed with this Chuck Berry record from Shelby's Grandpa's collection. The last time I went home, my Dad played the copy of The Talking Heads' Speaking in Tongues he's had since high school and man does it hold up. Some of my other favorites to listen to on vinyl are Heart's Dreamboat Annie, and Karen O's Crush Songs. 
What are the band's plans going forward? Can we expect any more tour dates?
I think we're working on a record next, but mostly I'm super fucking excited for Ow to finally be out. Tour dates to come…
New EP Ow is released on September 6th 2019. Check out the Pom Pom Squad soundcloud page for more details and tour dates.