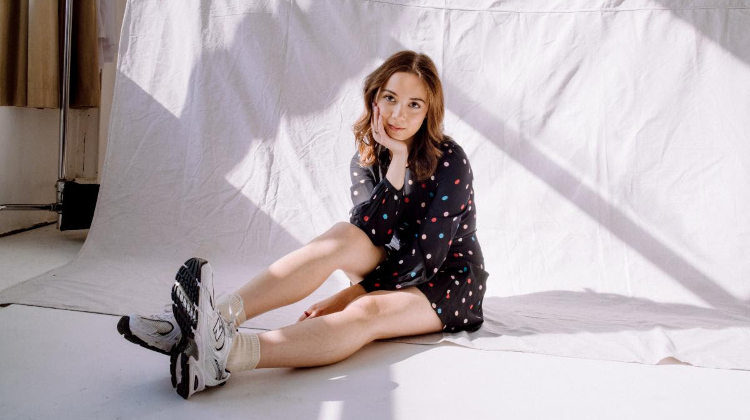 Laufey welcomes us into a flagrant world of warm and classically stylised vocals against flecks of the modern on EP, Typical of Me.
Icelandic-Chinese singer-songwriter Laufey has really made the most of lockdown. Over the last year she's created music that's spread far and wide, going viral on social media and picking up a few famous fans along the way. Being inspired by a love of classical and jazz music at a young age but also being influenced by more modern sounds, Laufey's debut EP Typical of Me allows both worlds to collide in the most pleasing way.
Starting with the already mega-popular debut single Street By Street, it's a track that's already earned praise from both Billie Eilish and Willow Smith, helping it become a viral hit on social media. It showcases Laufey's more lofi, soulful, jazz-infused sound with hints of R&B grooves and beats that gradually unfurl and take it into the modern-day. Laufey uses her classical training to unite the past and present, held together with her stunning vocals and an inviting flow that sounds timeless.
The beautifully arranged track, Magnolia, follows as heavenly acoustic guitar gently unfurls a love letter to women who don't recognise their own beauty and strength. Laufey's vocals, warm and uncluttered, dance over the track with grace and poise, almost feeling like a 1940s era Disney song; you can almost see Laufey staring out a window on a hot summer's day, pondering the vulnerable and contemplative lyrics she's singing: "Magnolia, prettiest girl that I know, stars in her eyes, handpicked from the skies, beautiful soul".
There are actually a few tracks on the EP that really build on that old, romantic vibe and help Laufey show off her influences and passions. Like the Movies is warm, innocent and allow the singer's vocals to dance along against to a trumpet that leads the way forward. A refreshing version of the much-covered track I Wish You Love is given new energy against a slightly faster pace whereas James goes for sultry, distant energy that wouldn't feel out of place in a darkly-lit jazz bar from times gone by.
You can definitely hear influences from legendary singers such as Ella Fitzgerald and Billie Holiday littered through the vocal cues that could help bring this style of music to a new, young generation. Someone New is perhaps the track that leans on this type of music the most. To begin with, at least. Laufey's vocals are allowed free reign to ponder and reflect over jazz flows and classical tones before turning this on its head with modern beats and addictive flows. Lyrics are also inviting for the younger social media generation who will be able to relate: "I have to get off Instagram, I keep on going back, looking at our memories I know you will soon delete."
The EP ends with the playful single, Best Friend which examines the promise and possibility of romance to come. It's a lovely, jaunty, and warm ending to the EP which shows off Laufey's dexterity and penchant for finding rhythms that others would miss. She plays around with the vocal track in intriguingly addictive ways, showing off her pitch and flow against serene piano and layered harmonies.
Typical of Me sounds and feels like Laufey has been doing this for years and should be older than her tender age of 21. To have the skill and dexterity to create tracks with such honesty, prettiness and intoxicating warmth on a debut EP is impressive. The wonderful thing is it just feels as though Laufey is getting started and with more time she will only get better. Typical of Me is an extremely confident debut from an artist that has nowhere to go but up.
Score: 4.5/5