Joni Mitchell is set to release her acclaimed 2007 record, Shine on the vinyl format for the very first time. The release is set to be available from April 2020 via record label, Craft Recordings. 

The best-selling 2007 album will be released on black, 180-gram vinyl, but it's as yet unclear if there will be any additional sleeve notes, photography or special edition material accompanying the record. What we do know is that the record contains an updated version of fan favourite track, Big Yellow Taxi.

Shine was the 19th Studio record for Joni Mitchell. Recorded in 2007, it came after a well-publicised break in music for the singer-songwriter and was influenced by the Iraq war and the social, political and environmental chaos that it caused. The artwork to the record is interesting as it was inspired by the 2007 Ballet, Dancing Joni: The Fiddle and the Drum. This was a collaborative effort between Joni and choreographer Jean Grande-Maitre where performances were set to some of Joni's more prominent songs. The album also received a 2008 Grammy award for Best Instrumental Pop Performance for track One Week Last Summer. The record itself went on to sell 60,000 copies in its first week and was certified Gold by the RIAA.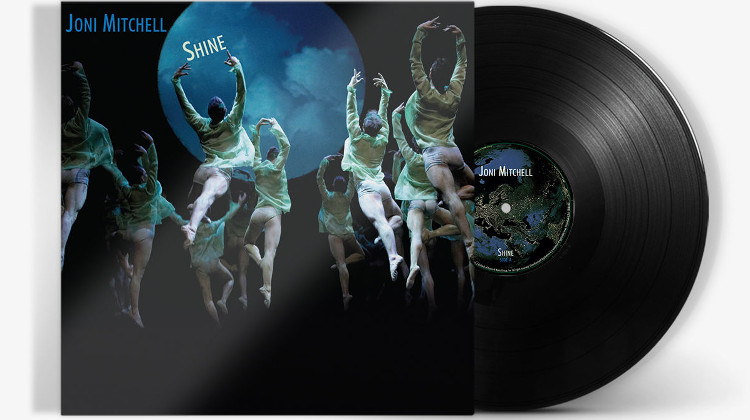 It has also been reported recently that many of Joni Mitchell's master tapes were lost in the now infamous 2008 Universal fire. This plight has affected many other artists including Muddy Waters, John Coltrane and Counting Crows.

You can purchase this vinyl release of Shine from 3rd April 2020, or can pre-order from The Sound of Vinyl.

The tracklisting for the release is as follows:

Side A

One Week Later
This Place
If I Had A Heart
Hana
Bad Dreams
Side B

Big Yellow Taxi
Night of the Iguana
Strong and Wrong
Shine
If