We talk to Australian artist Indigo Sparke about lockdown life, her new album Echo, and performing at this years digital SXSW festival.
Like many artists the world over, Indigo Sparke has been in the midst of a pandemic hit industry that has stifled her ability to perform in the traditional sense. With live venues shut and crowds of fans unable to enjoy her beautifully curated folk soundscapes, Indigo has used this time to really concentrate on her debut album, Echo.
Released in February of this year, Echo is a fascinating, stripped-back album that really allows Indigo's vocals to flow in their naturally exuberant way. It touches on topics of emotional tenderness and also has a dark underbelly that is called upon when needed. 
We recently caught up with Indigo and found her in a contemplative mood – a very laidback and serene attitude against all the chaos that has been happening over the last 12 months. So calm, in fact, that she didn't seem overly worried about missing out on her first performance at Sydney's famed Opera House:
"I think, as an Australian, there are particular venues that you would hope to play at some point. The Opera House is such a beautiful venue and I've seen so many performances there. I definitely was really excited about that. As soon as Covid hit I knew it was going to get cancelled. The whole tour didn't end up getting cancelled at first, just postponed and moved to the Enmore which is another of my favourite venues. But then it did. I think I had prepared myself. I wasn't devastated about it and I just knew what was coming."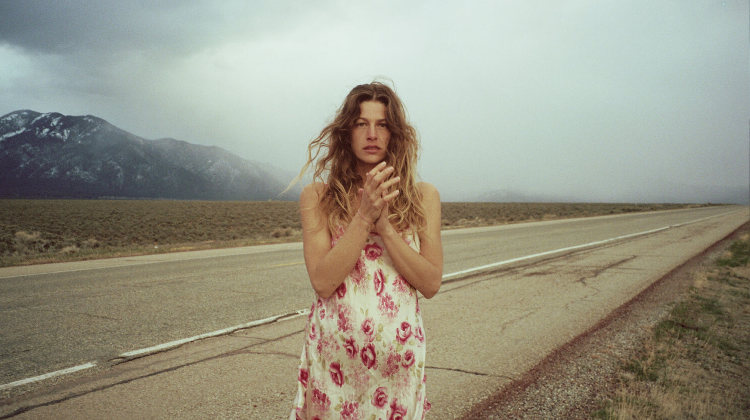 This resolute calm could be to do with her upbringing that eventually led to her career in music. Growing up between Sydney and the Hunter Valley, Indigo went to a Steiner primary school (a system that places a strong emphasis on the creative arts) before eventually joining a performing arts school where she began pursuing a career in acting before settling on the music industry:
"I wanted to be an actor and that's what I majored in. When I finished, I got into an acting school for three years. I was always singing but I was never really pursuing it. I was always happiest around music. It wasn't until much later that I actually realised that's where I felt more comfortable."
The aforementioned cancelled gig at Sydney Opera House was in support of US Indie-rock stalwarts Big Thief, of whom member Adrianne Lenker had struck up a relationship with Indigo. Adrianne even became one of the producers on Echo.
"Adrianne and I had been talking about recording some of my songs to make a record. She was very encouraging and supportive. We were talking about making it really stripped back. We were planning to record in New Mexico, spending some time there, and then it so happened that we decided to do it with Andrew Sarlo in LA. He has this little home studio so it felt very easy to be in this setting and recording."
Echo manages to bring in many different energies and ideas that could be said to thrive on the different creative collaborations and settings in which the album came together. Not only did it feature Adrianne, Indigo, and Andrew on producing duties, but also other contributors, all taking turns to offer ideas and inputs into the creation of the record:
"We did the initial recordings in LA, then we were in Italy. I recorded some of the songs there with multi-instrumentalist Shahzad Ismaily. I then ended up recording the last bit of the record in his studio in New York with Phil Weinrobe who kind of engineered, produced and mixed the songs I had recently written with Shahzad playing on them. James Krivchenia who played a lot of percussion and drums sometimes wore a producer hat, too. He had a lot of brilliant ideas. His synth and ambient world is really beautiful.
Adrianne was holding the thread of it the whole way through. Phill Weinrobe had, again, different ideas of keeping it really close and really intimate. There was this kind of natural intuitive flow. It was this beautiful over-arching thing. It's beautiful because everyone knew each other so well. Somehow it just synced up and worked and fell into place."
Even with all the creative input and different settings in which the music was made, the record is still distinctly based on Indigo's own thoughts and ideas. At times it can get dark with the artist herself even describing it as 'an ode to death and decay':
"I think the place that I was writing from and expressing from was very deeply unravelling and in an experience of witnessing the death and decay of not only myself but also in every minute and in everything in life. It felt very present to me at that time and still does. It's always very present. I'm always thinking about it a lot and trying to reconcile and understand it in some way. 
My music is the tool that helps me go into it in more depth and express how I'm feeling about having to do this; to intellectually and cerebrally speak it out. I find that quite difficult sometimes. When I'm trying to express or articulate a feeling that seems way too big in the breadth of it, it can't possibly be held by words. I think that's what I meant. However, what I mean is always changing, so it's difficult again to articulate. I feel differently about things every minute."
With the music industry having to amend its ways of thinking to help it survive over the last year, gigs and festivals have been at the forefront of innovation. This year's hugely popular SXSW festival, which usually takes over the whole city of Austin, Texas, is going to be completely online. Indigo will be performing digitally at the event but has also performed physically (remember those days?!) at the 2019 festival.
"It was really interesting. I had so many musician friends telling me 'brace yourself'. There's a lot going on. You used to go there just for showcases and now there's a lot more. I don't know if anyone gets all they want out of it, but they still all have a brilliant time. I went with the understanding that it was just an experience and I had a couple of showcases.
It was quite wild because when I did my main showcase I was lucky to do it in more of a venue type vibe. The bar was outside and it was on a proper stage. Bob Boilen ended up being there from NPR. That was a beautiful happening. He invited me to do a Tiny Desk Concert which was really beautiful. I felt really grateful and really blessed at that happening."
With all this digital innovation over the last year, one thing that has thrived during the period is vinyl records. Indigo still enjoys the settled and comforting sound that they bring…even if she suddenly finds herself with only two records at present:
"Somehow all my vinyl disappeared over the years of not having anywhere to just be still. I have two records left. I have Bjork's debut and Joni Mitchell's Court and Spark. I'm on the hunt for this record that I was listening to so much during the time of recording my own record. It's called Robbie Basho, Visions of the Country. It's beautiful. I just want that on vinyl.
Vinyl is so beautifully tangible. There's something that carries weight to it and it carries a particular energy. It's also the ritual of being able to put the record on and put the needle down. It finishes and you turn it over. There's a certain level of engagement that it requires and a presence. You can feel it. It does something to your nervous system. It hits you in a different way. I feel differently in my body when I listen to it. It's one of the more magical things in the world."
So what can we expect from Indigo Sparke in the future? New music is definitely on the horizon, as well as another change of scenery:
"I'm going to start working on a new record this year. I'm also actually moving to America in a month. I'll have to adapt to a new way of life. It's going to be so different. I'm kind of staring down the barrel of a different energy. Recordings are still happening in a safe way. I still haven't figured out where I'm going to base myself yet!"
Indigo Sparke's new album 'Echo' is out now to purchase or stream. You can also catch Indigo performing at this year's digital SXSW festival with a plethora of other talented musicians also taking part. Check out the official SXSW website for more details.