Mixing Colours sees the ambient siblings conspire to produce a contemplative, meditative and therapeutic work that provides a welcome respite from our current anxieties.
If you're searching for a musical balm for our current psychic landscape, then look no further than Mixing Colours, the gorgeous new offering from ambient godhead Brian Eno and his pianist brother, Roger, issued by venerable classical label Deutsche Grammophon. Foregrounded by Roger's limpid, bell-like solo piano and flickering like glitter on a surface, this represents another intriguing chapter for Brian in a multi-faceted career characterised by an inherent curiosity. 
A sound painting consisting of a myriad of tones and textures that shift and bleed into each other, Mixing Colours has been in gestation for some time. Pianist and multi-instrumentalist Roger began the process in 2005 by committing ideas, fragments and sketches using a MIDI keyboard, which he would email to Brian for some digital pruning. The subsequent moulding, treating and re-arranging have created eighteen tracks of inviting, serene and glistening miniatures, Schubert-inspired evocations of abstract art draped in burbling electronics and a burnished melancholy that play out like languid river-side conversations and are best enjoyed as a fluid, cohesive entity.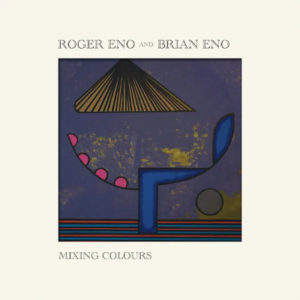 This is not the first time the brothers have worked together; their first collaboration came in 1983 with the stunning landmark, Apollo, a pristine evocation of the moon landings conjured in cahoots with producer and guitarist Daniel Lanois that was revisited for last year's re-issue bonus tracks. They also pooled their talents for Roger's debut Voices in 1985. 
Each piece here travels at a sedate, dreamy and leisurely pace, unencumbered by notions of narrative and song structure and melting together in consummate harmony. Opening with the pillow-soft Spring Frost, a gentle rumination of twinkling keyboard notes, the siblings nail a hazy, somnolent atmosphere that blends a stealthy postminimalism with shimmering drones that recall the work of Max Richter and elicit traces of Erik Satie. 
The sublime Celeste is an undoubted highlight, a ghostly pool of mesmeric electronics punctuated by echo-laden piano melodies and sobbing keyboards. Obsidian is both reverential and graceful, its sighing church organ both intimate and spine-tinglingly sparse. Quicksilver is characterised by a lilting spaciousness that unspools like a flowing river. 
The solo piano pieces, Blonde, Dark Sienna, Snow and Iris showcase Roger's affinity for a weightless melodicism that invites comparison with his work with Harold Budd and triggers an airy, hymn-like atmosphere.
In these days of accelerated chatter and hyperactive news, Mixing Colours manages to "induce calm and a space to think", as Brian put it in the sleeve notes for his 1978 masterpiece, Ambient 1: Music For Airports. Mixing Colours stays true to this mission statement, a subtle tapestry of sound that won't disturb the neighbours, a recording that's noble and transfixing in its becalming simplicity and awestruck loveliness. 
Score: 4/5