boWsER release a rollicking, raging, rock record full of energetic twists and turns through Whispers from the Wicker Man.
Hailing from the Gold Coast of Australia, hard rock trio boWsER bring forward a relentless and explosive sound on new album Whispers From the Wicker Man. Relying on a metal base but also calling on 90s indie and alt-rock for inspiration, the tracks roll forever onwards guided by the intense vocal talents of frontman Brad Weynton.
Starting with Renegade we're thrown straight away into enigmatic guitar riffs and a walking bassline before Brad Weynton's atmospheric and beefy vocals enter the fray. It's an energetic opener that introduces us to the band's often heavy and vibrant sound that grows out of its shell as the music continues. Caught the Raisin follows making use of a more eclectic and punky guitar riff and changes in rhythm keeps you guessing where the track will go next. It makes use of ever-changing guitar riffs that slowly build and fall before a mammoth chorus hits hard and nasty. It has a hint of 90s rockers Placebo in there with a dash of QOTSA but still feels unmistakably original.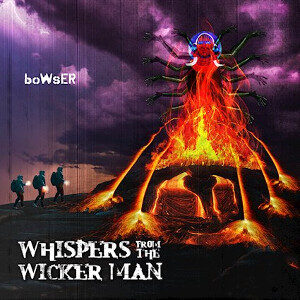 You've got to be brave to call a song Supersonic with the megahit by Oasis of the same name out there, but the track does hit home, even if it is in a completely different way. Some of the best production on the record is used here to really make those guitar riffs stand up loud and proud with the vocals also hitting home hard. Using a higher pitch in the chorus really pays off for singer Brad Weynton, allowing the vocals to breathe before a wall of sound accompanies him to push the track forward. Animals starts off with a bass riff and drums and some nice layered vocals that build in a more punky-pop way as two guitars playfully dance around each other before a fine chorus rounds it all off. 
If you thought this was going to be an all-out metal record, you would be mistaken. It's more rounded with a few indie rock layers that will keep you coming back for more, especially in the deeper cuts. Wicker Man is probably one of the more catchy numbers on the record, rotating between intermittent guitars and a big drum performance, whereas All About the Money is more epic and probably the only track that really leans on metal mentalities. If you thought album-close Fault Lines was going to be a more slow and melodic track like many finish off with, you were mistaken. You're kept firmly in place with a high-energy finish that grows into a rock-enthused monolith. Those higher vocals return in the chorus in a pleasing and effective way.
Whispers from the Wicker Man by boWsER is an intense and energetic album that doesn't let up. It's a great way to get rid of pent-up lockdown frustration and a way to prepare for the return of live gigs later in the year (hopefully!). Stick this album on, let off some steam, and enjoy.
Score: 4/5