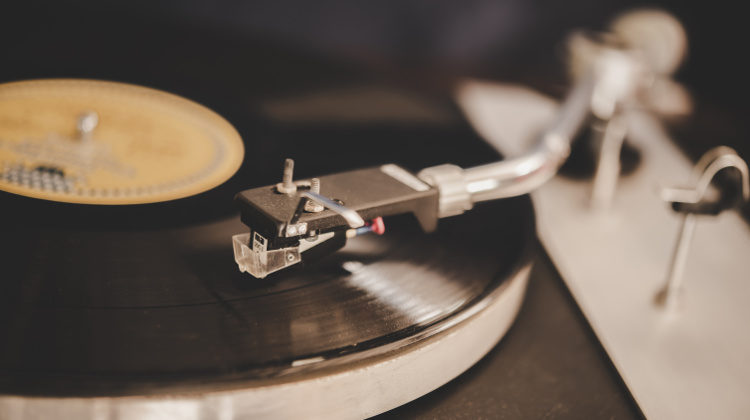 We've all had to start somewhere with vinyl. I'm guessing the majority of people out there didn't get it right when buying their first record player. 
You might be a newbie to the wonderful world of records or have maybe been gifted a 'suitcase' record player and feel that it hasn't got a great sound. Why is that? You might also be worried about spending a huge amount of money on your new hobby but don't know where to start.
Well, a good place to begin is by reading through our 5 mistakes to avoid when buying your first record player. Read on and everything will become much clearer! 
Buying An All-in-one Record Player
All-in-one record players might be visually pleasing and look really cool (some of the Crosley suitcase style record players really do aesthetically appeal to a lot of people) but if you're looking for a decent sound, these may not be the best way to go.
Suitcase record players and all-in-one systems are renowned for using lower quality components which will not create a great sound, and could also damage your records. 
Many of these systems don't include a counterweight on the tonearm meaning the needle is likely to dig into your records more, causing more wear and tear. Also, because the speakers are sometimes attached to the system, you're not able to place them where you would like to create the best sound for the room your set up is situated in.
If you just want something to look cool and retro, then an all-in-one or suitcase record player might be for you, but if you are looking to get into vinyl seriously and have a decent sound, then stay away from them.
Purchasing A Record Player You Can't Upgrade
This is also a negative of many all-in-one systems and cheaper turntables. As with any hobby that you're just starting, you're not likely to go out and buy the most expensive piece of kit possible, but you also shouldn't buy the cheapest.
This is especially true with record players. Some of the cheaper turntables are unable to upgrade. They might come with a tonearm and cartridge that are not detachable, speakers that can't be changed, or missing connections so you can't buy things like a seperate amplifier.
As you get more into vinyl and record players, you might want to upgrade. Make sure you buy a set-up that allows you to do this. Check out our article on beginner turntables for more information and a few choices and budgets.
Not Doing Enough Research
Research is key when buying your first record player. Do you know what components you need? Do you know what your budget is? Are you buying a used system or a brand new set up? 
These are just a few of the questions to ask yourself when buying your first record player. If you have a friend who is into vinyl, ask them for a helping hand. Check out your local record store and ask someone there. Visit online websites and message boards for advice. 
Our article on buying a second hand record player set up can help you decide whether this is the option for you, including a few pointers on why you may also want to buy new.
It's good to just learn a little about record players, how they work, and what you need before you delve in headfirst. This will save you a lot of hassle (and money) in the long run.
Setting Up Your Record Player Incorrectly
OK! You now know your amps from your platters and your cartridges from your tonearms. But do you know how to put it all together?
Many people, when they first delve into vinyl, will buy an expensive new system, shove it in the corner of a room somewhere and drop the needle on a record without setting it up properly. They will then proceed to complain that the sound isn't great.
Record players are all about care, placement, and getting the best out of your system. You'll have to make sure your needle sits at the right weight on your records. You'll have to make sure vibrations aren't causing any issues throughout your system. You will also need to have your speakers in the correct place in your room so they deliver the best sound that they can.
Read the instructions that come with your record player and components. Follow them! Seek out guidance online or from friends. Vinyl Chapters is once more your friend here; we have a great article on turntable cartridges that will help you understand how your record player works. We also have an article on turntable and speaker placement which will help you get the very best out of your system and the room you use it in.
Not Knowing How To Maintain Your Setup
So, now you have your record player set up perfectly and in the best place for the best sound. Many would relax now, but you still have to think about maintaining that great sound!
If you don't regularly clean your record player and check the stylus and turntable speed, you could find yourself having problems down the line.
Make sure when you're not using it that you have a dust cover on the turntable to protect it (especially if you have cats!) Check your counterweight every month or so. Whenever you move your record player make sure to also reposition the counterweight correctly so the needle is sitting on the record grooves at the right weight. Check all connections are secure.
Clean your records! If you have dirty records this can ruin your stylus and damage your records and system. 
That's it! Hopefully this article will help you avoid losing out on time and money when you're getting into record collecting for the first time. 
Record collecting and listening to your favourite music is a great experience; an experience we want everyone to enjoy in the best way possible. Avoid these 5 mistakes and you'll be on your way to vinyl heaven!
Questions or comments? We're happy to answer anything below.