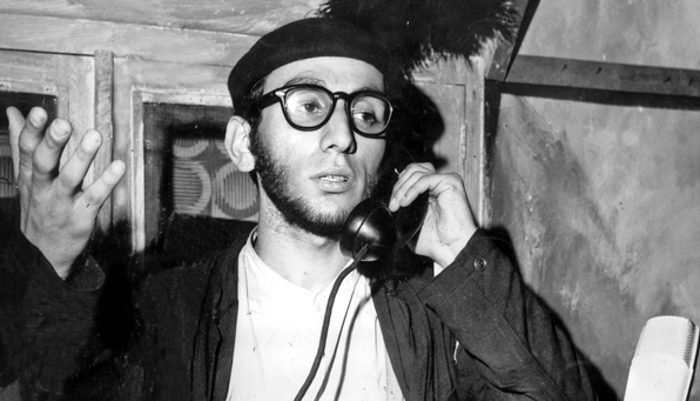 Ziad Rahbani record Abu Ali, a holy grail for disco connoisseurs, gets a welcome vinyl release on the Wewantsounds label.
The Wewantsounds label teased and tantalised seasoned crate-diggers on Record Store Day this year with the boutique, limited edition orange vinyl release of Abu Ali, a mythical, rare-as-hen's-teeth 12" single from 1978 by the legendary Lebanese classical composer, producer, pianist, political commentator and playwright Ziad Rahbani. Whilst originals of this delightful, widescreen oddity – a slab of wax that's obscure even to Arabic audiences habitually drawn to his mainstream, more famous work –  are known to sell on Discogs for up to four-figure sums, it has long been coveted as an underground gem and has now received the full re-issue treatment, complete with original artwork. 
Both tracks on this deluxe release demonstrate a beatific radiance as well as a dramatic sense of tension and release narrative; the wide-eyed bandleader plays keyboards and synthesisers and is aided and abetted by a coterie of skilled collaborators powered by sax, buzok, flute, guitars and percussion. The whole riotous disco is draped in a cosmic bubble of strings, brass and woodwind from a symphony orchestra.
The title track begins with flute and strings like a murmuring from a long-forgotten blaxploitation flick, then storms out of the gate with a sumptuous flourish, patching baroque classical music to the powerhouse engine of a disco strut, marking territory somewhere between Walter Gibbons and Larry Levan's luxurious bass-and-drum re-edits, Gene Page's work for Barry White and Love Unlimited and David Axelrod's Song of Innocence and Songs of Experience. All thirteen minutes of this glorious jam display the tenets of Rahbani's craft at its most graceful: slapping bass, broiling grooves, melismatic hollers from Joseph Saqr, cinematic clusters of sinuous violin and cello, rousing brass and knotty funk guitars tell a wordless story with panache and urgency. 
On Prelude (Theme from 'Mais El Rim'), there's a soaring dance between Rahbani's keyboards improvisations and trippy synth twinkles, Tewfik Farruk's blasts of sax and the dizzy ascent of the string and horn chorus that takes you out of your seat. The play from which the track is taken examines love, family and conflict in all its chaotic pandemonium, and the composer's theme here rides some stunning peaks and valleys, splayed out and providing deep space disco wormholes for stabs of keys, strings and horns. This is a liquid musical state, subtly dissonant and frequently impressionistic, with Rahbani's prodigious mastery twisting musical idioms into his own singular vision but never straying into avant-garde pomposity or bluster.
Throughout this sensual, opulent and wild journey, Rahbani expertly melds jazz licks with scrapings of psychedelia, funk, classical orchestration and Arabic themes into volatile and exciting maelstroms of sound: the result is a dense, stirring and steady outburst of love as layers pile up on top of each other and the glitterball maximalism attains a heady state of grace and salvation on the dance floor.