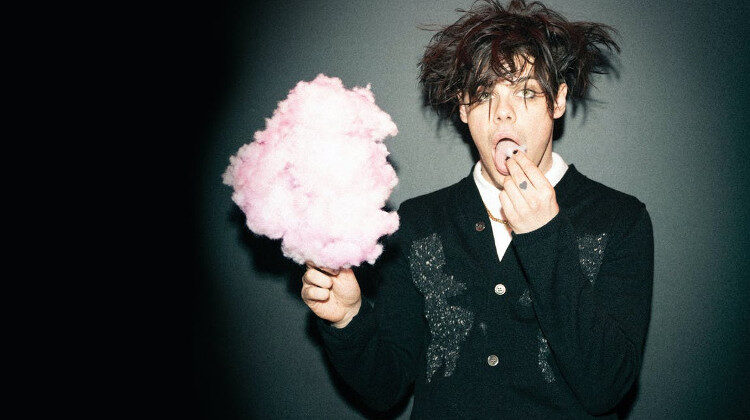 In the promotion for weird!, Yungblud states he wants his fans to love themselves unconditionally no matter who they are. It's safe to say, he has achieved this and more.
Mixing together a cocktail of eclectic musical influences, unique narratives and vivid imagery, weird! packs in heaps of honesty, personality and intimacy; while remaining poignantly frank throughout. If you too are "lost in a supermarket shopping for [your] sense of self" (charity), you will definitely find a small piece of it somewhere in this album.
Yungblud's range of influences and genres is vast. By citing the lyrics and sounds British household names such as Queen (teresa), David Bowie (mars), and Lily Allen (charity), Yungblud's sound is hard to pin down but nevertheless engaging. While the opening track teresa experiments with a glassy, mysterious glockenspiel in its opening, others are denser and more rock-influenced. This is executed particularly well on superdeadfriends, in which the minor/major tonality shift between the verse and chorus allows for the subtleties of the textural play to come to the fore. Despite such vast experimentation, however, Yungblud maintains a sense of grounding, accessibility and vulnerability across all 13 tracks, even when working in genres he is dabbling in for the first time (love song). 
Although much of the subject matter on this album is deeply personal, Yungblud's real talent lies in narrating the stories of others and teasing out common themes in order to convey his sense of empathy and understanding of the world around him. teresa tells the story of a girl whose boyfriend passed away and mars was inspired by a transgender girl for whom Yungblud's music played a crucial role in her parents accepting her.
Yungblud further illustrates this through surreal, rich lyricism and unique, sensorial imagery. Some memorable highlights include "I can't sleep at this time/I got Jesus on my mind/and everybody seems to like him" (weird!) and "There's something about the way/Our bed sheets turn religion upside down" (cotton candy).
Although critical opinion has been divided on this release, it is hard to deny the raw talent and musicality of Yungblud. It's one thing to decry an artist for being too "angsty" or too "Gen-Z", but what is more important is to appreciate the immense range of subjects, sounds and stories one artist manages to occupy in such a short space of time. The closing track, the freak show, triumphantly declares "Welcome to the freak show, I hope you find yourself today", and it's safe to say that Yungblud has captured a bit of all of us; especially in this "weird time of life" (weird!).
Score: 4.5/5