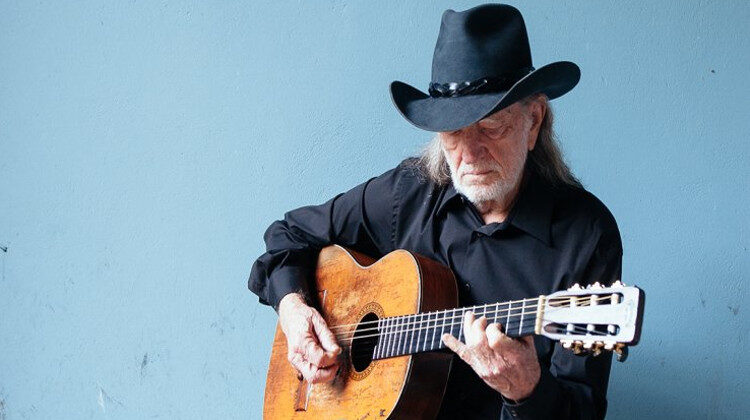 Country legend, Willie Nelson, graces us once more with latest album First Rose Of Spring, not venturing far from what has previously earned him 10 Grammy Awards.
Willie Nelson has outlived most of his peers, but now at 87-years-old, he is still going strong, artistically. Releasing his 70th solo album, there has rarely been a year of his career where he hasn't put out work. A demigod in Austin Texas, his songs have touched generations of listeners, but how does First Rose Of Spring fair?
With only two originals on the album (Blue Star and Love Just Laughed) – co-written with producer Buddy Cannon – Nelson's voice, remarkably, is able to convince anyone the stories are his own. Opening song (and title track), First Rose Of Spring, sets the overall tone of the album with its slow and heartfelt vibe. The song treads along slowly into the following track Blue Star, before stepping up a (very) slight gear in the middle, opening that worn voice box to further pull heartstrings. What is evident is that the other musicians really excel the album, gelling together spectacularly and forming an excellent backbone for Willie to do what he does best.
Though it is all he has ever really done – and what has made him such a success – the slow Country ballads soon become lethargic to listen to with their consistent similarities. Allowing yourself to get lost in the wonderful musicianship and beautifully melodic solos help (the best, by far, being Blue Star's electric keyboard twinkle that would make Billy Preston proud), yet, it seldom saves the unintentionally induced daydream. Thankfully, towards the end of Side A is swing number Just Bummin' Around. Refreshing the ears with its change of genre, it's a welcome breath of fresh air, throwing it back to his 2018 homage to Sinatra, My Way.
Returning to its ballads, closing tracks Love Just Laughed and Yesterday When I Was Young (Hier Encore) are a burst of energy, with both Nelson and the musicians sounding more engaged, enthusiastic and passionate. Could it be joy and excitement as it is finally an original? Or are they just glad the album is near its end? Either way, it makes for a much more pleasurable listen. Love Just Laughed in particular will have you turning the volume up loud for the first time on First Rose Of Spring, with its more modern production and anthemic feeling.
Seventy albums for anyone is an achievement in itself and I don't think anyone expected First Rose Of Spring to be ground breaking; however, Willie Nelson is one of the all-time greats and his genius storytelling ability can still clearly captivate. Producer Buddy Cannon deserves credit for the atmosphere created, as do the musicians for almost stealing the show, but Willie can still make even the most macho of people cry. Hopefully, we will have Willie for years to come and we should all welcome anything he puts out, even if it isn't as exciting.
Score: 2.5/5