Will Jackson gives the listener a delightful Americana world to get lost in with his album, Songs from the Briarpatch.
Nashville-based artist Will Jackson loves his hometown, and it's immediately apparent on album, Songs from the Briarpatch. Featuring a soulful and inviting sound throughout, Jackson manages to both encapsulate and entertain the listener through settled melodies, thoughtful songwriting and really letting loose when it's needed.
Starting with Looks Like Today, Jackson introduces us to his subtle blend of warm acoustic guitar, gradually building flows and heartfelt Americana build-ups. His vocals play tantalisingly around a Hammond Organ as the track moves onward against sincere lyrics of a happy life no matter the weather: "It's a day to remember…to spend a few hours with no reason or no rhyme with this old dog and this old rocking chair". With a beefy guitar solo later bringing it all together, it's a strong opener that sets out the atmosphere for the entire record.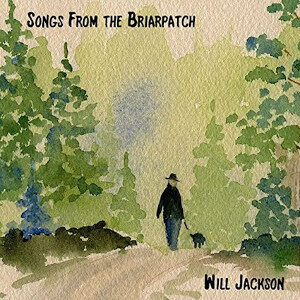 Good Enough pulls in piano to add extra dexterity to more inspired flows and female backing vocals add another flavour to the warmth and meandering rhythms. Polaroid Pirate then allows Jackson to show off his guitar picking against more folk-laden melodies and heart-felt lyrics that you can't help but get lost in: "There's friends that I loved, I can't even name, there's someone's ex-wife cut out of the frame".
As the album meanders forward at its own enjoyable pace, it feels as though Will Jackson becomes comfortable enough to add extra little flourishes here and there, developing those Americana undertones that bring the music alive. Won't See Me In Heaven gives us a glimpse into the artist's compelling thoughts that are littered throughout the record, this time harking back to the soulful production from the opening track. Walking on Fire then slows things down a little in a more contemplative, moody track that shows a more downbeat side to the music, Jackson's vocals following suit and sounding raspier and emotionally damaged. It works well and shows another side to the musician.
The album ends on the wonderfully produced Caroline Calls, one of the most lively and guitar-laden tracks on the record that almost feels like a coming together of everything the record has to offer: strong vocals, soulful escalations and a subtle yet powerful chorus.
Songs From the Briarpatch by Will Jackson is a warm and inviting album that is impossible not to get lost in. It would work well as background music as you potter around the house, blaring out of the car radio or just sitting and drinking in the lyrics. It's this versatility that makes the record so listenable, and lyrics that open up Jackson's life for everyone to enjoy.
Score: 4/5