Vinyl Chapters looks to its writers to choose two of their favourite album releases over 2021.
What a year 2021 has been, eh? It's been a topsy and turvy time with covid craziness, the entry of metaverses and NFTs into the mainstream, and of course…Squid Game. This is just a small part of what 2021 has offered us as a society, but in a music respect, it's also offered up some of the most diverse, creative, and wonderful albums to dive into. Below, our fantastic VC team each handpick two of their favorite records of the year that really hit them in that special place.
Writer: Zoë Andrea-Lykourgou
Foo Fighters – Medicine at Midnight
The long-awaited Foo Fighters album Medicine at Midnight was superb – and well worth the wait. Each song is unique and the album itself is multifaceted and beautifully balanced: 70s-sounding, Bowie-inspired goodness with the titular track Medicine at Midnight, a rock and roll track with searing guitar riffs in the form of Cloudspotter, and the softer, more contemplative Chasing Birds, to name but a few. Foo Fighters have continued to evolve and the result is an aural delight – in line with its name, this record certainly feels medicinal at times.
Duran Duran – FUTURE PAST
When I say I've had this album on repeat since it came out, and that there is not a single track on it that is anything less than spectacular, that is no exaggeration. Simon Le Bon sounds just as good as he did at the beginning of his career, and the band overall have produced a truly innovative, memorable sound. The guest artists just add to the record: the diversity of Tove Lo, Ivorian Doll, CHAI and Mike Garson really tells you all you need to know about this album – and a shout-out is due to Saffron Le Bon for her beautiful backing vocals on some of the tracks. Highlights include WING, NOTHING LESS, and GIVE IT ALL UP – both new and long-time fans of Duran Duran are sure to love this album.
Writer: Caillou Pettis
Taylor Swift – Red (Taylor's Version)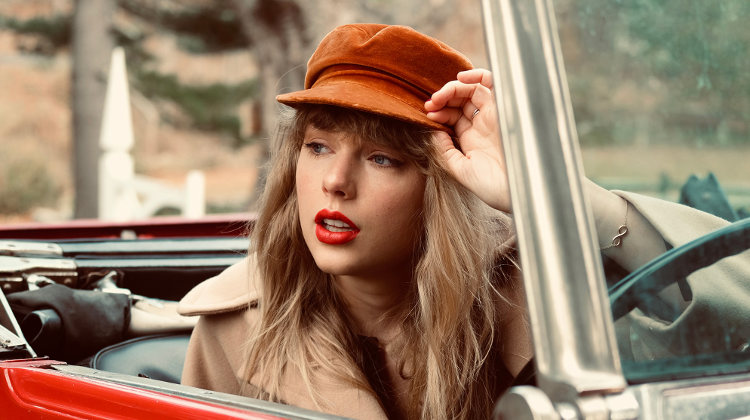 Setting out to re-record one of her most acclaimed albums ever as part of her plan to own back her masters, Taylor Swift had an incredibly difficult mission ahead of her. How in the world could she add more flair to already terrific songs such as All Too Well and I Knew You Were Trouble? Not only did she pull it off, but she also excelled in more ways than one. Red (Taylor's Version) features more lively production with crispier audio and Swift's newer, more mature vocals that give old favorites a terrific retouch. If you weren't a fan of the original tracklist, you certainly will be after listening to "From The Vault" tracks Nothing New (featuring Phoebe Bridgers) and I Bet You Think About Me (featuring Chris Stapleton).
Bo Burnham – Inside (The Songs)
The first time I ever heard of Bo Burnham was after watching his directorial debut film, Eighth Grade. Although I enjoyed the film, I didn't look into him too deeply. That's why when I threw on his Netflix special Inside earlier this year, I was absolutely shocked to hear some of the best music of the entire year. Not only was the film as a whole terrific, but the songs add a ton of variety to the grand picture overall.While some songs such as Unpaid Intern and both Bezos I and II are meant to be only funny (and boy are they ever), others such as the devastatingly haunting All Eyes on Me and Goodbye stand out as truly masterful pieces of music, showcasing that, although Burnham's usually regarded as the funny guy, he definitely has what it takes to thrive as an artist.
Writer: Talia Andrea
Nothing But Thieves – Moral Panic (The Complete Edition)
Stitching together and rearranging the material from their 2020 album Moral Panic and 2021 EP Moral Panic II, Nothing But Thieves' Moral Panic (The Complete Edition) is an ambitious work, bordering on cinematic in its scope and intensity. Conor Mason's ever-impressive vocal performance weaves through a restless dystopian soundscape far greater than the small seaside town the band hails from. Covering a vast spectrum of tones and emotions within their distinctive pop-tinged alt-rock sound, the album makes a good soundtrack for the past couple of years, and an even better addition to a music library.
Silk Sonic (Bruno Mars and Anderson .Paak) – An Evening With Silk Sonic
Bruno Mars and Anderson .Paak's partnership as 'Silk Sonic' is a perfect example of how a collaboration between two greats can take them both to even higher heights. Their creative, tongue-in-cheek lyricism is offset by silk-smooth instrumentals that renew old-school funk and soul sounds into a glittering modern-day masterpiece. It's a seriously good album that doesn't take itself too seriously.
Writer: Louis Grogan
Ross from Friends – Tread
Felix Clary Weatherall, AKA Ross from Friends, has become a pioneer for electronic music and Tread cemented him as one of the scenes finest producers. Unlike many full-length electronic albums, Tread found a way to sound fresh and interesting throughout. The album features 12 tracks, created using Weatherall's homemade software 'Thresho', which automatically records and time stamps any instrument the artists played, cutting out the constraints of traditional recording. 
This experimental way of producing comes across in the record, blending genres and BPM's to create a unique listening experience, but still flowing perfectly. Album opener The Daisy is the real highlight, with Love Divide and XXX Olympiad being the two other standout tracks. Ross from Friends finds the middle ground between club and home listening, and Tread was the prime example of this, a seriously impressive album.
Leon Vynehall – Rare, Forever
Leon Vynehall is a household name in the house and techno scene, with an already impressive discography over the last decade. The eagerly anticipated album Rare, Forever was his most experimental work to date. Taking a different direction from his past 'dancefloor' releases, Vynehall instead leaned towards the work of contemporaries Four Tet and Floating Points, mashing up ambient, classical and jazz influences with his house roots. 
This expansive and unconventional sound is showcased throughout. Modular synth-laden Ecce! Ego! is an excellent opener, the subtle rhythmic progression of Mothra sounding better with each listen and tracks like Dumbo show that the artist can still make tracks that would go off in club. Rare, Forever was ambitious, unique and definitely Vynehall's finest work to date.
Writer: Maia Clews
Jungle – Loving in Stereo
One of my most highly anticipated albums this year was Jungle's third record, Loving in Stereo, and when it finally dropped in August it did not disappoint. Sometimes artists try to create experimental records and they fall flat or alienate you as listeners; yet despite this being their most explorative work so far, it still feels quintessentially Jungle. It's a whirlwind of dancefloor anthems, almost from start to finish, but this time they've borrowed from other places – dashes of disco, hints of hip-hop, fusions of funk, trippy psychedelia, and even a splash of indie-rock. Collaborations include R&B newbie Priya Ragu, Bas, world-renowned Rosie Danvers and the Wired Strings, and Inflo, who co-produced the record – a first for the duo who have never featured other artists before. It's a record that bursts with soul and life; that makes you smile, get up and dance. And honestly, it's their best to date.
Priya Ragu – damnshestamil
The name Priya Ragu had been popping up for a while – BBC Sounds, DIY, The Guardian, even my explore page on Instagram. After she collaborated with Jungle on Goodbye My Love, I knew it was about time I gave her a listen. Even my mother recommended damnshestamil to me – and rightly so. It's a record like no other. Ragu leans into her Sri Lankan heritage to produce a fusion of suave R&B, dripping with old school vibes, and Tamil-folk and 'Kollywood' sounds that are entirely unique. She doesn't alienate or ostracise you with her cultural influences, connecting you instead to a culture you may have only dipped your toes into. And the record couldn't have been timelier as it explores the difficulties of isolation during the pandemic, breaking preconceived gender roles, and celebrates the rich diversity of the world. Produced alongside her brother, Japhna Gold, it's so well-paced, with explosions of South Asian beats that would incite flash-mobs, to languid, moody melodies enriched by Ragu's velvety vocals.