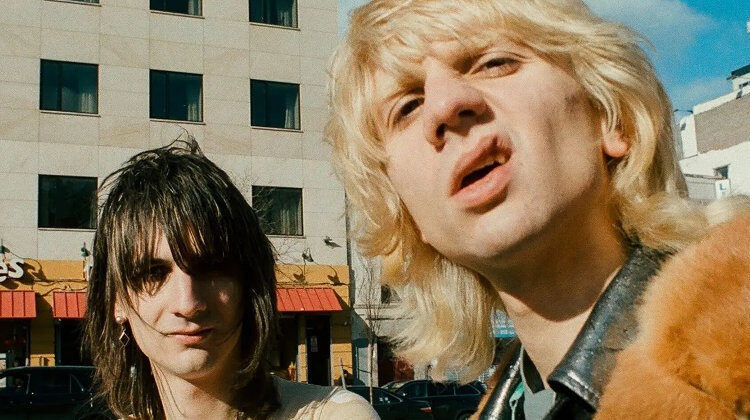 Brian and Michael D'Addario, the brothers who form The Lemon Twigs, take us on a 70s rock-laden journey of fun and entertainment.
If you're looking for over the top performances and epic 70s power rock then The Lemon Twigs may just be for you. New album Songs for the General Public comes on the wave of success from 2016 album Do Hollywood, showing the brothers have, somehow, grown even more confident over the 4 years.
First track up is Hell on Wheels is straight out of the attitude and songbook of The New York Dolls. There is playful gender-bending sexuality at work here that is borrowed from the history books of David Bowie and Marc Bolan. Stand out track No One Holds You(Like The One You Haven't Met) has a similar atmosphere with the boys enjoying their showmanship.
Hog Feels like Roll Away The Stone by Mott The Hoople. It embraces you with a kind of indefinable warmth and would go over brilliantly at a live festival. Why Do Lovers Own Each Other? sounds like a twisted nursery rhyme mixed with a tongue-in-the cheek fairy tale. It wins the race by miles feeling as if it has some kind of meaning.
This album is all a big load of fun, however, it does not always have a lot of depth of feeling to it. There is a strangely disjointed feel to this album. It borrows attitudes and styles from so many different artists from Queen to Elton John and back again, it means that you do not find out who Brian and Michael D'Addario are or what they want to say in their music.
I suppose this style of music is tapping into the attitude of the seventies; it was really about just letting your hair down and having a good time which is not a bad thing. I just can't quite put my finger on what is missing. Maybe The Lemon Twigs don't want to express huge feelings in their music. Perhaps they would rather use their voices as a vehicle to channel Seventies Pop and Rock and create an album that feels like bubblegum for the ears. If this is what they wanted they have achieved their aim. This is not a bad thing.
Does everything have to have a deep and meaningful spin to be enjoyable? The Darkness enjoyed huge success with this very same approach. I have a feeling that if you went to see The Lemon Twigs perform this album live you would have one of the best nights of your life, and perhaps this is what is missing here. I imagine that some of the rock and roll excitement has been lost on this album, which would return when accompanied by on-stage antics and audience connection. Overall, a fun and engaging experience ideal for fans of seventies rock.
Score: 4/5