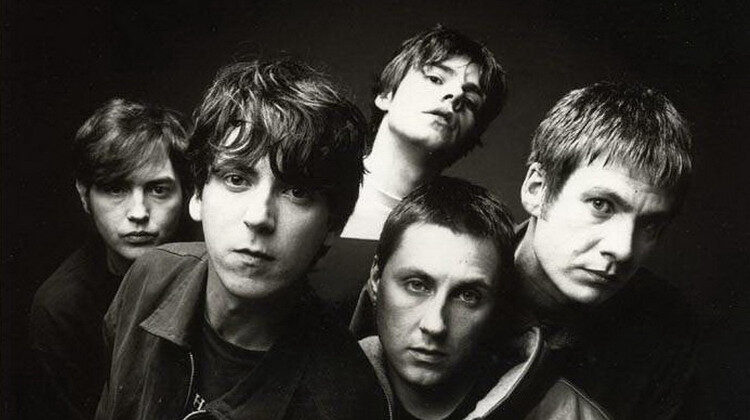 A comprehensive collection of stellar tracks, A Head Full of Ideas cements The Charlatans as one of Britain's great rock bands.
Thirty years on from their debut album, A Head Full of Ideas celebrates the group's impressive discography, which saw 13 top 40 studio albums and 22 hit singles. The record includes 21 of their finest tracks, remastered to sound as clear and sharp as ever. It traverses through the beloved Manchester band's remarkable career, showcasing their distinctive sound; punchy basslines, tantalising guitar work, thumping drums and of course, Tim Burgess's instantly recognisable vocals.
Their journey has not been without tragedy, and after the deaths of their keyboard player Rob Collins in 1996 and drummer Jon Brooks in 2013, it is admirable that The Charlatans are still going strong three decades on. Combining their greatest hits with some back catalogue gems, A Head Full of Ideas perfectly reflects their rollercoaster journey.
It's fitting that the record starts with The Only One I Know, a definitive 90's anthem that will be forever remembered as one of the best songs of the era. The iconic bassline, driving organ, captivatingly rich vocals and a memorable guitar solo coming together to create a truly great track. I'm sure it brings back nostalgic memories for many, and it still sounds as fresh and as relevant as the day it was made.
Moving through the album you can hear the sound evolve, drawing on Northern Soul, house and dub-tinged influences as the years went on. Whether it's feel-good classics like Just When You're Thinkin' Things Over and North Country Boy, or the roaring rock piece One to Another, one thing that stays the same throughout is the distinctive Charlatans sound. 
There are also a number of lesser-known tracks the occasional fan might have missed or forgotten. The smooth rhythm and wonderful keyboard in Weirdo, the loveable charm of Can't Get Out Of Bed and the power piano chords and unique tension of Blackened Blue Eyes. All great and definitely worth a listen. 
The album concludes with some more recent releases such as Totally Eclipsing and Plastic Machinery. The sound is different from their mid-90's glory days, but just as effective. Their most recent album Different Days was probably their best work for some time, and it's good to see it feature.
As well as their greatest hits, the release also includes 13 bonus tracks from memorable live performances. There's something about hearing the roar of the crowds that makes these extra special. A particular highlight is the nine-minute Sproston Green recording from Reading 1999 that sounds even better than the studio version. If that wasn't enough, we are also treated to 11 original demos, and eight banging remixes from artists such as Sleaford Mods, The Chemical Brothers and Norman Cook. 
A Head Full of Ideas is not just a collector's piece for die-hard fans, but a compilation of great tracks and an endearing insight into a legendary Britpop group. The record proves The Charlatans shouldn't be remembered as living in the shadow of Oasis, but celebrated as the great band they are. Whilst some might say that only a handful of tracks are truly memorable, the record shows that they consistently released high-quality music and their longevity should be commended.   
Score: 4/5