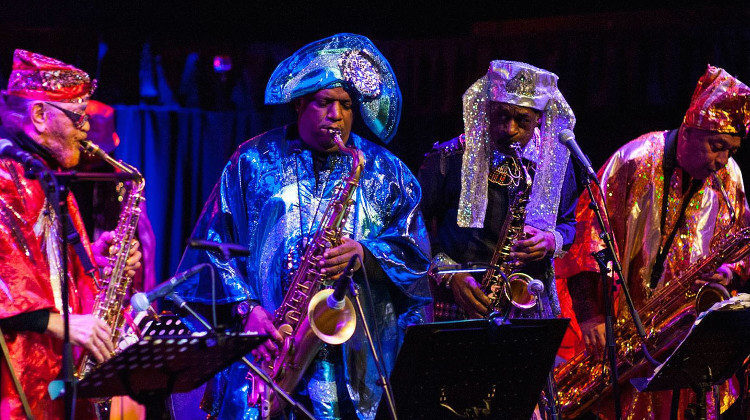 The legendary cosmic explorers' first outing in two decades is an intoxicating, vital and welcome addition to the canon of astral jazz; space still is the place.
Ever since the demise of outsize Afro-futurist visionary and bandleader Herman 'Sonny' Blount' aka Sun Ra in 1993, his sprawling Arkestra has continued to honour his legacy, even weathering the loss of integral members. Long-time vocalist June Tyson and tenor saxophonist John Gilmore have passed away into the celestial beyond, yet the ensemble has ploughed on with a relentless touring schedule, irrepressible, full-blooded and bracing in its evocation of its progenitor's wacky sonic philosophy.
Led by the still sprightly, ninety-six-year-old alto saxophonist and musical director Marshall Allen, Swirling reacquaints us with the outfit's dizzying melange of big-band swing, wonky electronics, furious be-bop, sultry soul, heartfelt utopianism, spiritual verve and rasping, out-there improv.
This first recording in twenty years functions as heady homage to the master, a joyous affirmation of the band's ceaseless invention and a reminder of his enduring influence upon a host of modern acts such as Heliocentrics, Portishead, Radiohead and DJ Shadow. Much of the album's material has featured as staples of the Arkestra repertoire for decades, like Satellites Are Spinning/Lights on a Satellite, Astro Black and Angels and Demons at Play. 
There's some difficulty in finding a tidy way to summarise and categorise this alluring melting pot of sonic exploration: free-jazz elasticity, wistful balladry and finger-snapping bebop weave in and out of the group's enigmatic dreamworld. A front-to-back listen reveals a psychedelia swathed in mystery and adventure, ecstatically controlled between simmering chaos, twitchy funk and serene reverie.
On the album's 1971 opener, Satellites…, violinist Tara Middleton intones that "A better day is breaking/Great happiness is pending/The planet Earth's awakening", a dispatch which feels like a call to arms and a resurrection. Allen decorates the signature melody with a bluesy grace, evoking vast plains and expansive mountains with his breathy alto sax over the honking, drunken din. Elsewhere, Swirling offers ingenious lyricism whilst The Sky Is A Sea Of Darkness is given a dust-down which ditches the original's frenzied cacophony in favour of a stirring acapella chant-along prelude segueing into the Lanquidity-like, triple time lope of Darkness, one of the set's twinkling new tunes. 
Door of The Cosmos is quintessential Sun Ra, a tumbling, oddball waltz, featuring Allen romping on EVI and some rhapsodic piano runs by Farid Barron, that sounds like a soul-splattering collision between The Clangers and John Coltrane's interstellar blowing. A far-out interpretation of Queer Notions sees the troupe trade the original's mellifluous, swinging strains for space cadet uniforms and the goosebump-inducing arrival of Middleton's Tyson-like, honeyed tones raises the hairs on the neck on the incantatory maelstrom of Seductive Fantasy.
As ever with an Arkestra release, there is much to absorb and patience rewards the listener, but Allen and co deliver with time-honoured panache and deftness, bringing a release of cosmic light to combat dark and uncertain times.
Score: 5/5