Storie Grubb releases an eclectic and always interesting record in The Void Struggle, able to call on a plethora of ideas to bring the album alive.

Storie Grubb really doesn't like to sit still. In 2019 he took on the mammoth task of releasing an album each month, all self-produced bedroom albums. The amount of genres the artist calls on to influence his music is overwhelming, but he seems to easily flit from idea to idea without the music feeling convoluted. This is impressively apparent on The Void Struggle, an album of intensity, serenity, strong lyrics and big ideas.

Shine starts the record with happy melodies and uplifting beats that gently caress with a subtle pop undertone; think of a cross between The Strokes and Manic Street Preachers and you'd be on the right track. This is cleverly contrasted by the melancholy but interesting lyrics which offset at first but become a joy to listen to. Grubb allows them to breathe and take shape in a playful way that really works: "They don't like you, so what's new, besides you have proof that you don't suffer fools". If the music comparisons are Strokes and Manics, then vocally and lyrically, you'd be looking towards Bright Eyes and My Morning Jacket.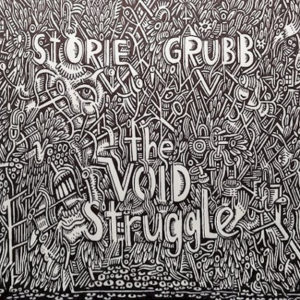 Hold Me Down follows with a fast drum beat before toning it down with a kind of twisted, reggae/ska vibe that keeps that eclectic sound going, and still leaves you wondering what's coming next. The layered vocals bring out a dexterity in the track that powers through on its own wave of diversity.

As the record progresses we're treated to more and more different genres, changes and immersing ideas that fly off in different directions. Washing Away is a downbeat, folky piece steeped in bluesy undertones whereas Ancient Applause calls on settled indie tones to pace the track in a way that brings out its idiosyncrasies, comparably favourable to The Flaming Lips. Winter Garden then once again rips up the rulebook, switching from a fast-paced, rolling country beat to slow and plinking guitars. This switches back and forth but still manages, somehow, to make it work.

As we progress to the deep cuts of the record it surprisingly becomes more upbeat, where many albums have a penchant to try, slower, more melancholy or inventive tracks (I Guess Grubb has done that throughout so once again, no need to abide by the rules). Truce brings out a punk atmosphere, once again switching between a fast and slow pace to create appealing yet opposing ideas. The record ends on Heat o' the Moment, arguably one of the more 'normal' tracks on the record. Its folky attitude wanders along on a walking bassline, finishing on a bright note and the perfect end to the many-sided tracks that preceded it.

The Void Struggle is a pleasure to listen to, always leaving the listener guessing what's coming next. The rough and ready vocals suit the eclectic sound perfectly, able to find rhythms where others would miss and pull out interesting ideas at the drop of a hat. Considering the amount of music Storie Grubb made in 2019, The Void Struggle manages to still sound fresh and leaves us wondering where the artist will go next.

Score: 4/5