Les Techno borrows from the best of the eighties to create a track of confidence and swagger that's fun and frivolous in equal measure.
Les Techno has played and sampled many different types of music throughout his career, and not just as an artist himself, but working with others to bring out the best in their music. Working with genres from hip-hop, to pop, to punk in the past, Les has decided to settle on an 80s pop vibe for new single Closer Look, which reminisces about the very best the decade has to offer.
Closer Look opens with spacey 80s synths that are full of David Bowie swagger and Duran Duran beats. This track really wouldn't feel out of place amongst the greats of this era, but is also brought up to date with some newer production techniques that make it much crisper and emphatic. It even has slight hints of U2 and Bon Jovi as the guitar plays around the track, letting loose in eurythmics outbursts throughout (in fact, saying that, Eurythimics is another influence here).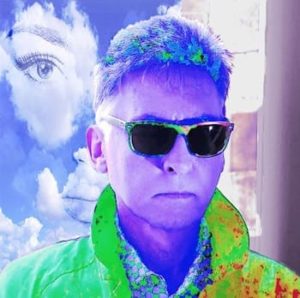 Les' vocals are really on point here, perfectly fitting in with the source material and dancing around the rhythm with a finesse and dexterity, as little hooks and nuances brighten up the track throughout.
Although Les has worked with hip-hop artists such as Run DMC and Mobb Deep in the past, there is no sign of any influence here, and instead he sticks relentlessly to a pop vibe. Maybe if he ventured out a little, it would have given the track more of an edge that it needs to really stand out on its own merits. This isn't to say it's not a decent song, as what it does, it does very well, with catchy pop connotations and a broad melody that really swings it forwards until it ascends into a mighty chorus.
The track ends by fading out in a typically 80s fashion with Les repeating over and over "The closer I look, the "deeper you hide", playing on the record's simplicity, but also getting his message across with verve and guile.
Closer Look is a love letter to everything great, musically, about the eighties, and you can tell the artist is having fun here. He does exactly what he sets out to do in creating a strong track that's light and airy, and will have you looking back to some of the greats that are sadly not with us anymore. It's a reminder of a decade with some outstanding and revolutionary music, and this is where the track undoubtedly draws its powers from.
Score: 3.5/5
By Jamie Parmenter