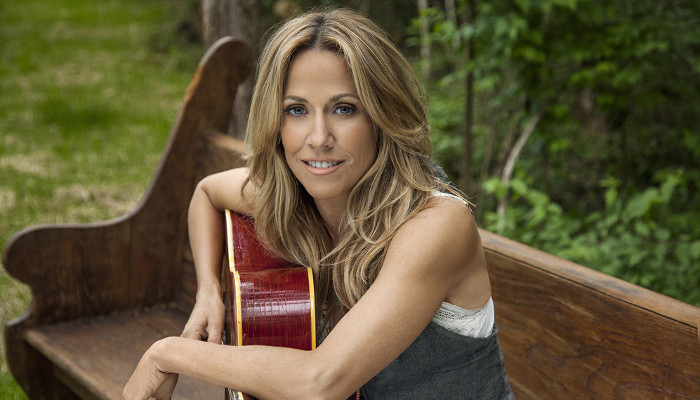 Sheryl Crow gives us a 17-track whistle-stop tour of her musical life on Threads, reportedly to be her 'final' album.
Featuring a roll call of the great and the good from her much-publicised musical and personal life, and serving as a reminder of more than a noteworthy career, Crow bows out on safe musical ground.
It's to Crow's immense credit that she's been able to call on a constellation of 23 star musicians and songwriters on Threads. Fans may be drawn in by the interest of hearing their favourite artists perform the open-top bus parade for Crow that Threads inevitably feels like at times. And whilst there isn't much to dislike about when it goes well (lush country harmonies, raucous blues), it sometimes falls off the dusty Americana tracks when it goes badly (dodgy ventures into disco, rap).     
As this is supposedly the last hurrah for Sheryl Crow, we'll forgive her the trespasses. Story of Everything takes the listener back to All I Wanna Do, height-of-pop Crow, turning her hand to funk-pop, smattered with incoherent mumbles from Chuck D, and clunks along with about as much vibe as a supermarket shopping trolley. George Harrison's beautiful Beware of Darkness is given some unnecessary and rather drippy treatment by Sting and is saved only by dust-on-the-needle guitar licks from Eric Clapton. 
People are of course talking about Redemption Day– A reworking of Crow's own 90s reflection on the USA's ambivalence to the conflict in Bosnia, which was eventually covered by Johnny Cash and included on the sixth and last of his posthumous America series. Crow and her producers have taken the bold step of mingling Cash's vocals with Crow's on this version for Threads. Unfortunately, sometimes calling the greats from beyond the grave can be haunting in less favourable ways. Whilst JR's voice is spectral and reassuringly familiar, the effect and political nuance is lost, and Cash is just one of a myriad of guests at the farewell party. 
Neil Young takes a turn as a troubadour with Crow and Promise of the Real's Lukas Nelson on Cross Creek Road, but ends up nowhere special. It's obviously never a chore to listen to Keith Richards, but his duet with Crow on The Worst has him disappointingly shackled and tamed.
The party picks up though, and the appearance of Bob Dylan's hocus pocus cry of madness, Everything is Broken, is perhaps all the better for the fact that the man himself isn't a guest – instead, Jason Isbell (formerly of the Drive By Truckers) accompanies Crow with swashbuckling ease. It's a stomping cover. Willie Nelson then adds a friendly hand on the shoulder in the wonderfully weary Lonely Alone, which also gives us a reminder of Crow's ability in songcraft. Nelson's voice is a time capsule, distilled and creaking as if soaked in an oak barrel. 
Thankfully, Crow also invited the right people on Live Wire. Bonnie Rait, Crow and Mavis Staples inject a much-needed cocktail of soul and blues, with Staples' voice, in particular, a sheer delight, as the trio celebrate getting to grips with the archetypal 'big bad man' in the room.
Sheryl Crow and her career is a good story – almost too good, as a life often played out in the press showed – starting with radio jingles, playing in bands around being a music teacher, to eventually providing backing vocals for Michael Jackson the 80s. There's lots to enjoy in Threads, although one is left feeling that it brings her back to safety, and a life skirting pop stardom, 90s celebrity culture and anti-war protests, is banished to history. Surrounded by stardom, Crow may finally feel like she's done enough to convince us that, despite the endless interest that followed her personal life in her heyday, she's earned the respect of a great many people along the way.
Score: 3/5