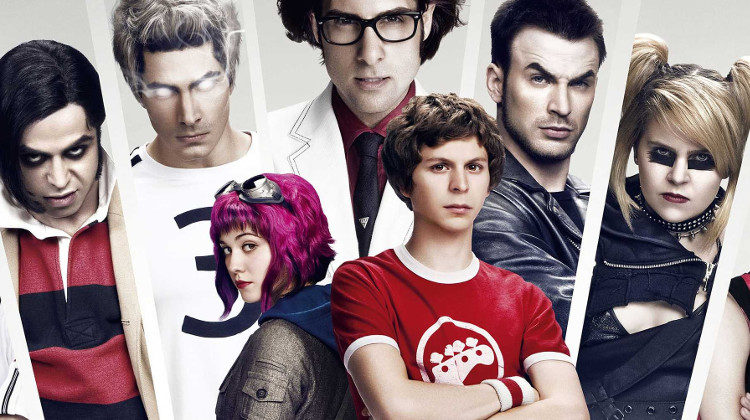 Cult classic movie Scott Pilgrim Vs. The World is getting a vinyl reissue with extra added content fans have been after for a decade. 
Based on Bryan Lee O'Malley's graphic novels, the movie, directed by Edgar Wright, follows the adventures of Sex Bob-omb bass player Scott Pilgrim (Michael Cera) in his pursuit of love interest Ramona Flowers (Mary Elizabeth Winstead). Cue lots of video games references, brilliant geekiness, fights, seven evil exes and, most importantly, some awesome music.
The soundtrack was brought to life with the help of veteran indie stalwart Beck who helped create the manic punk sound of Sex Bob-omb whilst Nigel Godrich, known for his work with Radiohead, brought to life the original score.
The reissue is to celebrate the 10th anniversary of the movie with the OST appearing to be spread over 4 picture discs. The record will feature an additional 24 minutes of unreleased material including a previously unheard song from Beck. The OST will also include the much sought-after Brie Larson version of Metric's Black Sheep. Brie played Envy Adams in the movie before she was mega-famous and, although a short snippet of her version features in the movie, the full version was never released on the soundtrack due to Metric preferring to have their own original version used.
On top of this, Nigel Godrich's score for the movie will also be getting a physical release for the first time ever, meaning it could feel like all Christmases are coming at once for Scott Pilgrim fans.
Both editions will be released through ABKCO with more details to follow, including the official release date and any other versions that will be available to purchase. We're guessing a black vinyl edition will also be released, so we'll keep you updated with any more news that comes our way.