Emilia Cataldo returns with new record Escaping Zion, and with it brings us a taste of everything the artist loves and enjoys wrapped up in a nice little package.
Nehedar is the creation of multi-genre singer-songwriter Emila Cataldo. She's always used her projects to allow a quenching of her thirst for the offbeat and vulnerable, leading to a myriad of creativity coming through in her music; qualities she's managed to maintain in her music since 2003. Escaping Zion sees Emilia enlisting the help of cellist/harpist Elisheva Maister and Trumperteer Jordan Hirsch to really thicken out the sound, also relying on electric guitar and drums to bring everything together.
Survival opens up the record in style; think of a cross between nineties stalwarts No Doubt, Alanis Morissette and Weezer. It feels eerily comfortable as Emilia sings her heart out amidst rollicking guitars, strong melodies and thumping live drums focusing on her discontents with today's world: "Been messing up alot lately…this world is making me crazy".
Mod Civ has a drum beat and structure reminiscent of England's The Long Blondes, and vocal rhythms to boot. The trumpets add another layer to the track and give it its own unique spin on things. As the focus chops and changes throughout, it's kept fresh by constantly evolving rhythms, with Emila's vocals strong and interestingly structured.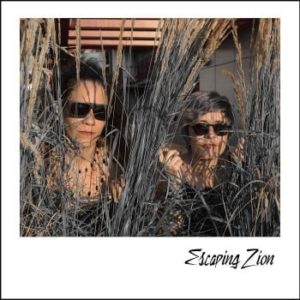 Blind Spot has a slow build up leading into a mature track that feels akin to the indie rock revolution of the 2000s. With a plethora of ideas taken from varying decades, this is cleverly integrated and used to the track's advantage. It does, however, feel oddly empty in areas, but maybe this is intentional, with the harp barely noticeable in the background, but still giving the track a nice atmosphere.
You Were is an acoustic track that strengthens the use of Emilia's vocals, making them shine on their own without the added musical layers covering her little nuances, whereas The Tainted Grain takes on an strange Indian/folk feel in both music and vocals which is simple but poetic, and actually works really well.
They Don't Teach allows the drums to take the forefront with an interesting rhythm that pushes the track forward, and vocals built around it. It's a clever song that will reverberate around your brain after its finished, and you'll find yourself humming to it days later without realising.
Safe has an almost David Bowie feel about it, being set against acoustic guitar and violin with intermittent changes that subtly stand out. Emilia finds rhythms against the music that others wouldn't, with the track tiptoeing around seamlessly before striking you between the eyes.
Escaping Zion is both interesting and seductive at the same time. It doesn't make any attempt to hide its influences, and why should it? It uses them to great effect and makes the record stronger for it. Emilia manages to dance around the rhythms vocally, bringing everything together in an impressive way, whereas the production squeezes every ounce of juice out of the way the band performs together. Escaping Zion is a triumphant record that shows if you stick to what you love, you're always going to make something that others will enjoy listening to.
Score: 4/5
By Jamie Parmenter