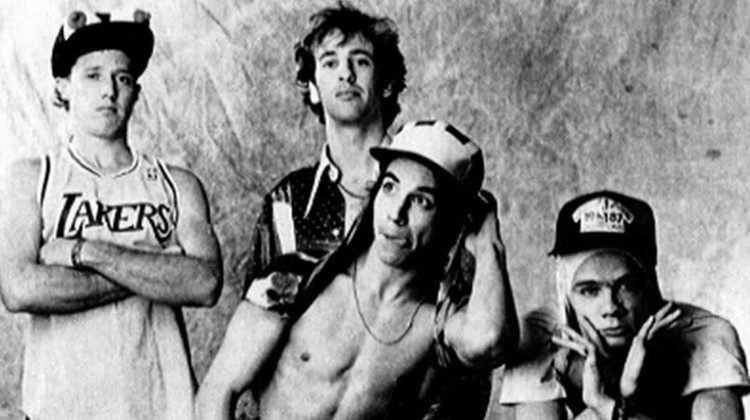 After a recent shock press release on the return of John Frusciante to the Red Hot Chili Peppers' lineup, we take a look at the history of the often changing guitar player position within the band.
zoloft pfizer
Last month the Red Hot Chili Peppers updated their website and social media with a double-edged piece of news that was totally unexpected. With a heavy heart, the Chili's announced the departure on current guitarist Josh Klinghoffer, but in the same press release, they announced with a full heart, the return of John Frusciante. 
No one more than I was surprised to hear the news that guitar legend, John Frusciante was returning to the ranks of LA Funk Rockers; the Red Hot Chili Peppers.  Within the history of the Chili's there have been two staples; singer/poet Anthony Kiedis and bass supremo Flea. In the 37 years since their inception, RHCP's have been through three drummers and eight different guitarists.
From their first gig under the name Tony Flow and the Miraculously Majestic Masters of Mayhem, the Red Hot Chili Peppers had within their ranks Hillel Slovak, Jack Sherman, Hillel Slovak(2), Dewayne 'Blackbyrd' McKnight, John Frusciante, Arik Marshall, Jesse Tobias, Dave Navarro, John Frusciante(2), Josh Klinghoffer and John Frusciante.(3)

The irony of the ever-changing stage right was no more apparent than when Dave Navarro went out on tour with RHCP to support One Hot Minute. His tour plectrum listing many of the guitar players that had come before him. This list finished with a cheeky question mark.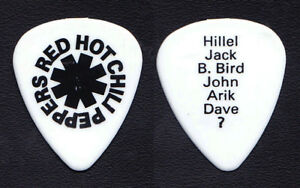 Arguably, the two main guitarists in the RHCP timeline are original player Hillel and the teenager Frusciante, who would replace Slovak after his untimely death. Hillel Slovak was beautiful on guitar. His playing was rooted in Funk and rock, but like all the greats he pulled inspiration from many genres. He was childhood friends with Anthony Kiedis, Flea and drummer Jack Irons and they all went to Fairfax high school together. At the same school but a few years younger was wild-haired axe wielder, Saul Hudson or Slash to his friends. Hillel joined Irons in a band that would become What is This? Later Slovak, unhappy with the band line up, talked his close friend and trumpet player Michael Balzary into picking up the bass and after some tutelage from the guitarist, became the bassist for Hillel & Jack's band. 
All would have been smooth sailing for the soon to be signed band. Unfortunately, one-night Anthony Kiedis wrote a song with best friend Balzary (now known as Flea) who had joined and left both What is This? and LA Punk outfit, Fear. It would be the first time is his life Kiedis had openly expressed interest in music.  A few days later Kiedis and Flea played an extended, jammed out version of their song live with their friends Slovak and Irons, which would be the first Chili Peppers show. But the Chili Peppers were only ever a side project for the guitarist and drummer. When a record deal was on the table for both bands, they chose their original band. 
Both bands stuck their John Hancock on the respective deals. Kiedis and Flea recruited Jack Sherman and Cliff Martinez into the fold for the exiting Slovak and Irons. Both bands recorded their debut releases. It wasn't long before Hillel felt misplaced in What is This? and returned to the Chili's, Jack Irons was not far behind him. Hillel returned to the funk band for the last 4 years before he was found dead of an overdose during the early principle writing process of RHCP's Mothers Milk.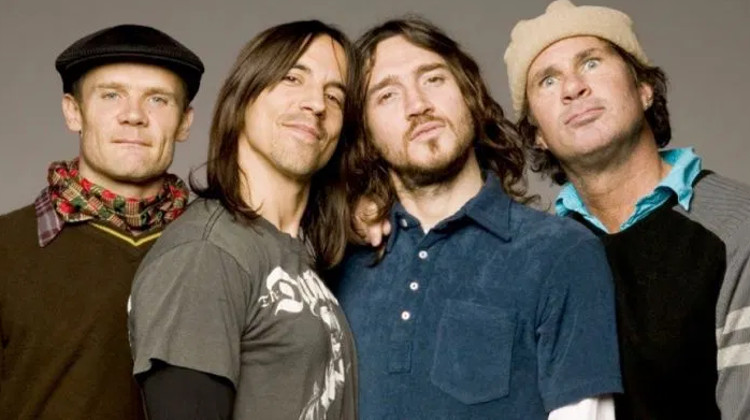 And so the journey brings us to John Frusciante. The key point about Frusciante is that he was a huge Chili Peppers fan from 15 years old and idolised Hillel Slovak. After the passing over Slovak, Jack Irons could no longer continue within the band. The remaining band members were resolute in continuing. After a few false starts, they added the monster that is Chad Smith on drums and the 18-year-old John Frusciante on the six strings. Frusciante readily admitted he was previously not a funk player, instead his background was more blues-rock orientated. Although he knew and learnt every guitar and bass piece from the past three RHCP's albums, before even entertaining the idea of joining his favourite band. In 1989, the new Red Hot Chili Peppers released their fourth album; Mother's Milk. On the record, Frusciante was conflicted in his playing. He tried to emulate the Slovak feel, whilst the producer forced a 'metal crunch' tone upon the young man. 
By 1991, in the recording and release of Blood, Sugar, Sex, Magik John Frusciante had found his groove and voice on guitar as well as the studio. B.S.S.M. can only be described as an absolute masterpiece. But the critical and commercial success of the album took a toll on all the members, especially Frusciante. As a humble and genuine human being, Frusciante despised the new worldwide fame his band had found. The funk masters went from big clubs to HUGE arenas, press days, TV appearances. It was all too much for John to handle. He had started to mismanage a drug habit of his own and during the B.S.S.M. 1992 world tour, he quit the band.  What followed was six years in the wilderness of a raging drug habit. 
In 1998, John Frusciante having survived his drug journey had become clean of all substances. At the same period, The Chili Peppers were in turmoil. Dave Navarro had been fired, Flea was touring with Jane's Addiction with Navarro and Anthony Kiedis were in and out of rehab. After his last stint, Anthony met with Flea; the bassist told his best friend the only way the band could continue is with John Frusciante. The two went to see John and asked him to re-join the band, Frusciante immediately accepted by quickly beginning to cry. He no longer owned a functioning guitar. Every single guitar, amp, pedal, record or possession Frusciante had previously treasured had been sold, stolen or lost in a fire. The three embraced and drove to the nearest Guitar Centre, Kiedis bought Frusciante a 1962 Fender Stratocaster. 
John Frusciante stayed with the Red Hot Chili Peppers for another 10 years before parting ways again in 2009, while the band was on a hiatus. If John didn't prove his greatness and god gifted talent in his first turn, he certainly did on this occasion. He cemented his legacy as a true legendary guitarist and songwriter. After his departure, the RHCP touring guitarist accepted the position of the main guitar player. But I feel like Josh Klinghoffer never managed to escape the shadow that Frusciante cast over the Chili Peppers landscape, a Feat John had to conquer himself in the wake of the death of Hillel Slovak.
The journey has come full circle. After a 10 year absence, John Frusciante has taken up the mantle of Chili Peppers guitarist once again. How long will he stay in the hot seat this time? Frankly, that doesn't matter. The Red Hot Chili Peppers have always had talented and majestic guitarist amongst their ranks. But with Frusciante, they've always tasted their sweetest success. Nothing is guaranteed in this life, but when Kiedis, Flea, Smith and Frusciante get together, Magik happens.