Where Gothic grunge and dusty desert shoegaze meet, you will now find Pixies, making some of their best music in over a decade. And Black Francis is still goading us to jump right into the viper pit of his refreshingly obscure mind. 
With recent lineup changes seemingly now settled, Pixies spent last winter finding a home for a cast of manic 19th Century characters in a set of intriguing Black Francis songs recorded in a converted church for new release, Beneath the Eyrie. Teaming up again with producer Tom Dalgety, who has once more helped to create the sonic space Francis' songwriting deserves, the band continue to stamp their authority on an alternative rock music landscape that sometimes looks increasingly sparse.
On Beneath the Eyrie, the kitchen sink is thrown first. Album opener In the Arms of Mrs Mark of Cain, we immediately get fastidious synth-driven gothica: "I'm not proud, but I know that I'm sane!" yells Francis, his created narrator giving in to the diabolical temptress in the title. It almost has a Kate Bush-esque theatrical nature to it, pulsating with an '80s drum beat and wailing guitars.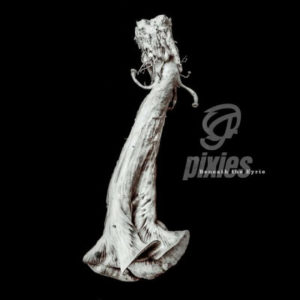 Beneath the Eyrie unmistakably has a standout quality from the Pixies recent post-reunion releases. Catfish Kate, on the surface, is a gruesome story of an unfortunate encounter with a freshwater fish. But it is also thronging with a hazy Americana of mountains, great lakes and blossoms, inhabited by bizarre souls who only want to find each other once again. The song is already winning plaudits in Award-nominating circles. Graveyard Hill is filled with beautiful black-haired ghouls and curses that all come out to play 'in the witching hour'. It's Pixies making a glorious return to 'their' sound, and in a way, goth is the perfect tweak for them in 2019: fizzing guitar stabs, howls and shrieks, winding solos that will no doubt leave fans in delirium. 
The show-stopper on Beneath the Eyrie is Daniel Boone. With a typically-Pixies title, spooky harpsichord licks give way to one Francis' most poignant songs in his catalogue so far – dropping the characters and leaving only his own famously cranky but sentimental psyche to carry the song (which is probably the psyche that makes him so loved). Name-checking the  American frontiersman of the 18th Century Daniel Boone, the track floats in on crashing sonic waves, warming and welcoming like the approach of a galleon to harbour in the night. 
At the rootsy end, Beneath the Eyrie has tinges of Calexico, Slint, Nick Cave and, well, Pixies. With guitarist Joey Santiago sounding as energetic as the early nineties, the band emphatically own their sound and being able to do what they want with it is what continues to help their newer albums thrive. 
Bird of Prey has a saloon-bar tension to it, its narrator vowing revenge after a journey through hell on horseback. Silver Bullet and Los Surfers Muertos bring a dusty borderland middle to the record, like the rattling of flowery skulls in a hoodoo desert shack. St Nazaire will delight the faithful – Francis bellows through the track that he's "..done talking" to those that slight him. The roar is enough to make you worried for those who drive him to such brilliant audible madness.
Francis' voice now also has a power to it that gives his songs a new quality – no longer hidden behind the squeaks and squibbles of earlier Pixies, he's able to add nuance and dynamism to his songwriting. Tracks like Boone and Catfish Kate confirm what the last few Pixies records have hinted to us – Francis' movement into the realms of master songwriter seems to be gathering more momentum. But as always with Francis, it's funny, sweetly innocent and slightly disturbing, all at the same time.
Score: 4/5