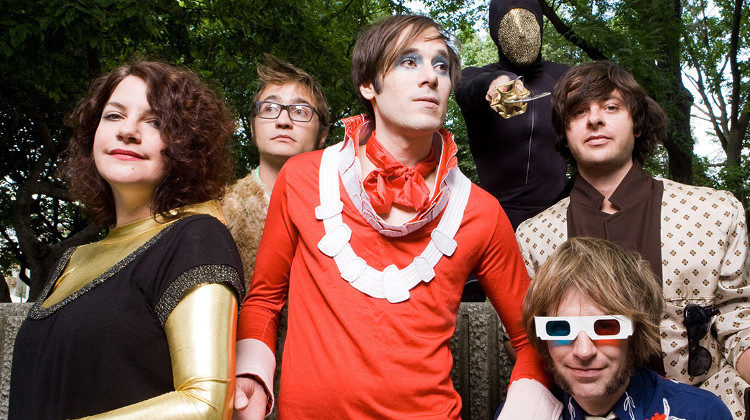 Of Montreal return with their sixteenth studio album UR FUN, bringing with them supersonic synths, warped melodies and a sense of frenetic freedom.
Kevin Barnes et al are back, and they've brought with them the fun and frantic rhythms that have allowed Of Montreal to enjoy such a long and fruitful career. When speaking about new record UR FUN, the band see it as a 'staying in love record', a direct follow up to 2018s White is relic/Irrealis Mood which was based around 'staying in love'. We could all learn how to stay in love, and throughout the synthy pop, dynamic twists and eclectic rhythms and pace, the record does just that.
Peace To All Freaks starts off with floaty synths enticing you inwards before bright, fast-paced drums and plinking keys take over to lead in Kevin Barnes and his always energetic vocals. The track quickly wraps around your brain and caresses your soul as he sings of a restless soul and, perhaps, that we could all look at the world in a different way: "Don't want to holiday, I want to educate myself, not going out tonight I need to educate myself." The feelgood atmosphere continues on single Polyaneurism calling on an addictive beat-driven chorus that ties everything together against an electro-pop sound and supersonic beats.
As the record progresses we get deeper into the emotion of the record and more themes based around 'staying in love' that the record is based around. Gypsy That Remains starts with serene synths before lyrics that seem to be based around a conversation between two lovers, deepens the emotion: "Going mental brings us closer to God…now you've made me a Matador of my dreams". This then leads into a thumping chorus of catchy beats and fun melodies. There's also definitely a Pet Shop Boys vibe hear that works really well. Carmillas of Love then takes on a darker and more off-beat sound that saunters along to its own pace and leaves the listener guessing where it will go next. It's a nice wake-up call that breaks up the record nicely.
Kevin Barnes has never been one to let things linger, both musically and metaphorically. This is seen in the way the lyrics throughout the record are designed to allow him to wear his heart on his sleeve, but also vent his frustrations. The Disco beats of St Sebastian are a perfect example of this stance as Barnes throws off lyrics of shade and self-reflection that echo an inner confusion: "Standing on the edge of sanity throwing insults at the void…I know you think you're better than me, well, maybe you are."
Deliberate Self-Harm Ha Ha then rolls out a slow driving beat steeped in blues, offering another string to the bands bow within the albums deeper cuts. The record then ends on a high with the energetic and indie-pop infused creativity of 20th Century Schizofriendic Revengoid-Man, calling on 60s psychedelia as a base but steeped in 90s indie with a blistering pace. It has a distinct Syd Barrett vibe to the vocals that really help play out the record in an interesting way.
UR FUN is… fun. It manages to tick all the boxes that good music should: it's inventive, interesting, full of tight musicianship and doesn't rest on its laurels. I wonder if the next Of Montreal album will centre around falling out of love? We'll just have to sit tight to find out.
Score: 4/5