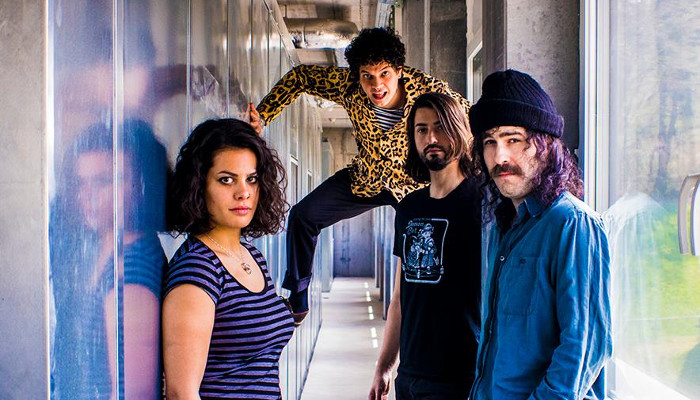 No Me Coman are a band on the rise. Being an Argentinian-Colombian group mostly based in Switzerland obviously gives them a unique outlook on life, and this can be seen in their recently released and creatively poignant second album, The Tide. We had the chance to chat with the band about the record, the trials and tribulations of touring, and what the future holds.
Hi! We recently reviewed your fantastic new album, The Tide. Tell us a little bit about a normal day in the studio while recording the album. 
First of all, we'd like to thank you for Vinyl Chapters lovely review of The Tide! Well, the album was recorded, more or less, in about seven days. We tracked all drums, guitars and keys in the first four days and in the remaining three we recorded percussion and voices.
Honestly, we would have loved to spend more time recording the album, but as Damian and Francisco live outside Switzerland, we were almost forced to do it in this short amount of time. So it gets really intense inside our little studio… we almost kill each other! But at the end of the day, we all go to sleep together as a happy-bear-family and we are proud of this record.
What is your favourite track on The Tide, and why?
All songs are special to us, obviously. But if we have to pick a favourite, it would be the 'A' side of the record, which is actually a medley (The Waves Are Back, Insurrection Army & Won't Forgive Nor Forget). It may also be because playing it live is so much fun. It feels like a journey to us, we have to get really into it, to which the audiences react really positively. It catches most people by surprise when the music doesn't stop but keeps on blooming.
Who handled the majority of the songwriting duties on this record?
Leonardo and Jorge wrote almost all songs, except for the last one (Coche Bomba), which is actually a cover of an old punk band from Mendoza (Embate). It was the first band Leo and Damian saw live on their own when they were 12 years old.
The Tide is a record that incorporates many different musical styles. Can you give us some insight into the creative process used in arranging such diverse songs? How structured are your songwriting sessions, or is it an entirely natural process for the band?
Normally, Leo and Jorge bring the initial music and lyrics, and Damian helps shape into a 'song'. Then Carolina and Francisco focus on arranging the details around it. We are glad you noticed the mixture of different sounds we blend together. When we have ideas for songs or themes, we like to see where we can take them, or where they take us. We have never tried to restrain them or fit them into a "music style" that we think we should be playing. Every one of us comes from different musical backgrounds, so we give each other the freedom to express their influences on our songs.
Speaking of the new record, I assume that a vinyl release planned. Do the members of No Me Coman listen to vinyl, and how excited are you about the vinyl record resurgence? Will it be a black vinyl pressing only?
There is only a black vinyl version being released right now. But to make up for it, the artwork is pretty colourful. All of us are excited about vinyl. We all have our own little collection. Most of our vinyl records we buy at shows; it's a great way to support touring acts and once you take it home and put it on the record player, it feels closer to the band playing live.
Can you name a few bands that you really love and draw influence from?
Just to name a few off the top of our heads: A Place to Bury Strangers, The Bombay Royale, Ghetto Kumbé, Connan Mockasin, The Mars Volta, Altin Gün, Filmmaker and Fruko y sus Tesos.
What is your favourite thing about playing live shows, and do you have a favourite venue you've performed at?
Of course one of the best things about playing live is the people that come to see the show and their response to the music. That's very rewarding. One of the most energetic shows we played was last year at the Sahara Bar in Winterthur. It's a small venue, so it got pumped with people really fast. Sadly, a lot of friends missed out on the show because there was no space. Inside, the people were going crazy, dancing and standing on the tables. The concert was also way too loud.
Another great live experience was playing at this years "Winterthurer Musikfestwochen", which is the biggest festival in Winterthur. It was our first time playing in front of more than a thousand people. It felt huge.
Do you have a favourite song to play live?
Apart from playing the medley of the new album, Feral Dog from our first release La Luz Mala is definitely a favourite when we play it live. The atmosphere created by the audience jumping and dancing to this song really makes it a fun live experience.
What are your plans for touring the new record? What parts of the world will we be able to see a No Me Coman show in 2020?
Right now we are planning a tour around Europe for the first half of 2020. There are still lots to fill, so we will see where this takes us. We would be happy to visit as many cities as possible. For the rest of this year, we still have a couple shows planned in the UK and here in Switzerland.
You can check out our review of No Me Coman's latest record The Tide here.