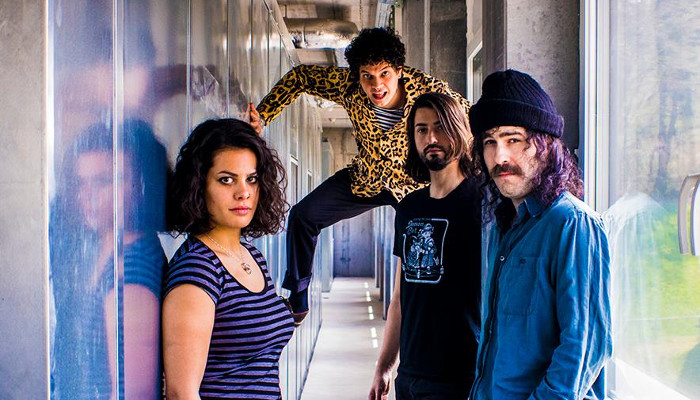 No Me Coman unleash their second record, The Tide, and take us on a wonderful musical journey.
No Me Coman, translated to English simply as 'Don't Eat Me', are a Euro-Amazonian project centered around the songwriting of Colombian/Swiss artist, Jorge Oswald and his Argentinian counterpart, Leonardo Pedrocca. Oswald and Pedrocca welcomed the influence of the Swiss-Argentinian classical musician, Carolina Segui into the No Me Coman family, alongside one of Pedrocca's oldest school friends, Argentinian drummer Damian Lopez, who resides on the invisible line between Switzerland and France. Barcelona-based percussionist Francisco Pedrocca and Leonardo's brother complete the line-up. The Tide is the second record from the band and is an imaginative and captivating effort.
The record opens up with The Waves Are Back, a dynamic and entertaining song with a distinct surf rock feel. The guitar intro slices in with great tone amidst a strong vibe, great hooks, and is simply a fantastic listen. All of the pieces work together flawlessly leading to sensory overload and opening up the record in stellar fashion. Insurrection Army has a driving electronic and Middle Eastern feel to it at times and a catchy and attention-grabbing track that's delivered with purpose. Won't Forgive Nor Forget continues the same feel with a seamless flow as the intro snakes in until the 2:25 mark, then furiously erupts into beautiful wildness. The creativity and brilliance of the band is on full display here. This is the longest song on the record and every second has something to offer. There is nothing about this track that I don't like, and it is a definite highlight of The Tide.
Nos Quieren Callar opens up with a dark poppy feel – think The Cure or Cocteau Twins. It quickly transitions to a wonderfully eclectic and mesmerizing song with power and experimentation. The guitars are strong and the track is phenomenally arranged. I actually thought of the great Mr. Bungle a couple of times while listening. 
Feral Twin blasts in with a clear objective to rip your face off; it's fast and catchy with perfect fuzz and a killer Lo-Fi feel. The drumming is particularly fierce on this track and the bass lays a rock-solid foundation. It needs to be heard with your full attention, and loudly. Down The Rabbit Hole is the closest thing on the record to a typical Indie song, but still anything but typical. It has incredibly listenable elements and great melody, yet the explosiveness and imagination of the band still seeps through. The song culminates at a fever pitch with a great garage rock feel. Coche Bomba closes out the album and is a fitting ending. It is the shortest song on this release and has punk elements whilst being incredibly energetic. It boasts a devastating bassline and an absolutely unforgettable main riff. 
No Me Coman has created an intensely good record here. I was entertained from start to finish and it was a fantastic musical journey to take. Creative, imaginative, and never boring, this album will hold your attention throughout and one of my favourite releases of 2019 so far. Clearly, No Me Coman are a band to watch out for both now and in the future, and with the release of a record as strong as The Tide, the future begins now. 
Score: 5/5