Welcome to the last New Music Fridays before Christmas! This week sees us delve into 4 really interesting tracks, each with its own charm and swagger. From delta blues with hip-hop beats to happy 60s pop, these tracks will really get you in the mood for the weekend. Click the pics to listen!
The Elwoods – You are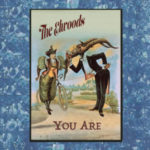 You Are is the debut single from The Elwoods upcoming EP Malted Milk, and if this track is anything to go by, it should be something to look forward to. Strutting guitars float along on a spaghetti western vibe, with the bass going for a walk before the settled and confident vocals slide in. The whole track comes together nicely showing a band that knows how to write a tune and content to let the music do the talking.
D Fine Us – Safe to Disconnect

D Fine Us, the musical project of Tomer Katz, is a unique piece of work that gently unravels as you listen. Mixing Delta Blues, Soul and R & B, there really isn't much out there like it. The beats keep the track steady with Harmonica sliding in and out in perfect harmony with the vocal layers. This is then turned on its head as beats get thicker, vocals get more playful and the track goes off on a hip-hop tangent. Mesmerising stuff.
Nian Tong, Josh Witt – I Do Love You

With vocals by Josh Witt, Nian Tong's love of the 1960s pop sound shines through on track I Do Love You. Sweet and innocent, joyful and enigmatic, the track skips forward on a ray of sunshine amongst distinct layers and a cheery vibe that will have you grinning to yourself in no time. Witt's Cuomo Rivers-esque vocals are just the icing on the cake on this impossible not to like track.
BAIBA – I Believe You

Latvian musician BAIBA produces some of her best work yet on new track I Believe You. Focusing on a story about longing, persuasion and naive submission, BAIBA's rich vocals against the electro-pop sound of the track is pulled off with aplomb. The layers gently build-up to a sound that's tantalising, emotional and also which allows the music to breathe when necessary. A well-produced and catchy effort.