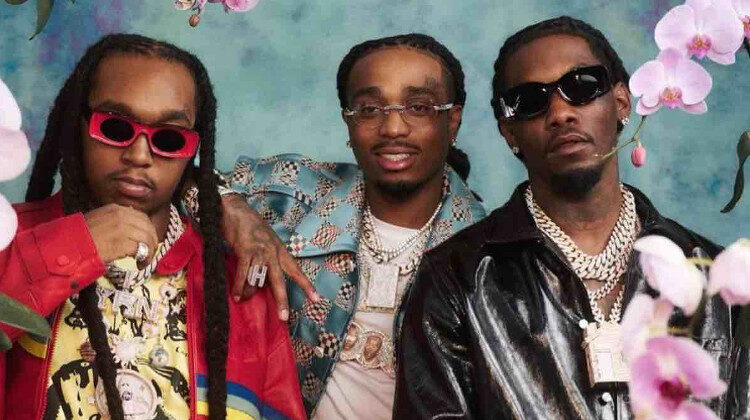 After a long wait and much anticipation from the trio, Culture III from Migos has finally been released, completing their Culture album trilogy. 
While Culture III from offers some refreshing summertime sounds and a strong sense of atmosphere, this appeal is not enough to hold one's engagement across the 19 tracks. The trio quickly descend into, and become dependent upon, hypnotic cyclical triplet flow structures and uninspiring filler lyricism.
From the offset (pun fully intended), it is clear that Migos intend to inject freshness into their signature style, which is very exciting. For the most part, this is successful, as the wistful groove and clarity of Avalanche excellently juxtaposes the mellow, cinematic tones of Picasso feat. Future and Antisocial feat. Juice WRLD. Moreover, the latter collaboration brings out some earnest lyricism, ("They want us to stop taking drugs, but nobody stopping the killing"). The collaborations on Culture III are excellent (mostly – sorry Justin Bieber and Cardi B), as Drake (Having Our Way) and Pop Smoke (Light It Up) are given ample artistic license to execute their own styles whilst being smoothly integrated into the Migos sound. 
As always, the production on Migos albums is consistently very strong, but the lyricism is lacking overall (admittedly, as expected). It feels an unfair comment given the very different priorities of this music compared to other rap subgenres, but it has to be said that Culture III exhibits the classic "rapping about rapping/rapping about predictable topics" trope that this music often gets criticised for. A lot of effort is put into every other element, meaning one can still listen to tracks like Malibu feat. Polo G and enjoy the barrage of ad-libs, interjections and production on offer.
When decent lyricism is hidden underneath all this, however, (on Modern Day, for example) it feels near impossible to uncover. Holding it all together is the linchpin of predictability through the same flows, rhyme schemes, sound, buzzwords (Vaccine exhibiting all of these in abundance, complete with a bizarre Nutcracker sample…).
There is no doubt that Migos will enjoy continued success in their careers from this release, due primarily to their ability to stick closely to their sound and only venture away from it as much as is profitable. Migos's music is its own unique product fitting into a musical lineage that doesn't necessarily match up with that of other hip hop artists.
On the one hand, this is completely valid and it is always encouraging to see what new direction rap will be taken in next. On the other hand, having heard this style many times and still not feeling overly convinced, it's safe to conclude this style has its own merits and standards it adheres to – but it just isn't for me (and that's fine).
Score: 2.5/5