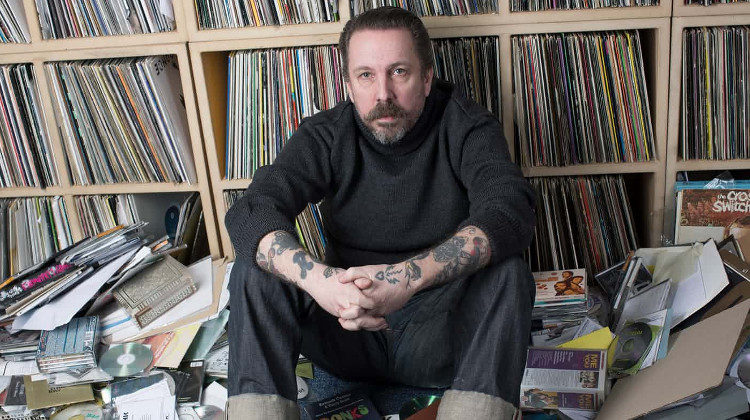 Michael Sumsion bids farewell to Andrew Weatherall, a true icon, cosmic traveller and musical shape-shifter, who ploughed his own furrow and transcended pigeon-holes and boundaries. 

Andrew James Weatherall changed my life in the 1990s, and I wasn't the only one; the bewildering news of his early demise is still sinking in. This influential DJ, producer and remixer, an underground icon of several nom de plumes – Lord Sabre and Audrey Witherspoon to name just two – moved fearlessly between genres, projects and scenes without selling himself to the mainstream and his cerebral taste and imprint remained a constant in the ensuing decades. 
A DJ of ceaseless imagination and technical aptitude and a producer of rare invention and vision, his curious, catholic nature and eager sense of collaboration ensured a career of resolute independence that encompassed art, literature and inhabited the worlds of culture, eccentricity and bohemia: he was a figurehead but with the most humble and self-effacing manner.
Weatherall rose to prominence in countercultural pop circles in the late 1980s via a residency at the London acid house nightclub Shoom and the record label and fanzine Boy's Own. Of course, it was his pioneering work on Primal Scream's epochal, saucer-eyed 1991 masterwork, Screamadelica, an assignment which helped transform an underwhelming indie act into a Mercury Prize-winning, multi-million selling household name suddenly operating at the cutting-edge interface between rock and dance, that made his name and led to a slew of definitive productions: co-authoring One Dove's blissful debut album, sculpting Beth Orton's Trailer Park, remixing Bjork, Chemical Brothers, Saint Etienne, Future Sound Of London and My Bloody Valentine, marshalling seismic electronica under the group alias of Sabres Of Paradise and as Two Lone Swordsmen with Keith Tenniswood. 
Screamadelica was titanic and ground-breaking. By employing samples, loops and fizzing, dub-style production effects and harnessing the buoyancy of the Ibiza house scene, he re-invented the Glaswegian rockers as unlikely godheads of the nascent open-ended, post-acid house sensibility: a marriage of record collection rock and celebratory club beats which resonates to this day. Weatherall always spoke of Screamadelica as a happy accident, an example of his trademark modesty which underplays the bold intelligence and radical, genre-crashing creativity of its soundscape. One listen to his acclaimed 6Music show, The Music That Made Screamadelica, from 2010, re-affirms both his immaculate taste and a wide-eyed immersion in jazz, reggae, folk, soul, post-punk and psychedelia. Just as important for me were his Sabres Of Paradise albums on Warp, Sabresonic and Haunted Dancehall. Glorious tracks such as Wilmot and Smokebelch conjured shards of dub, ambient, techno and trip-hop as imaginary soundtracks. 
Right up to his death, he remained a pillar of alternative music, radio and club culture, wowing a new generation with his NTS residency show, Music's Not For Everyone, and the electronic bounce of The Asphodells, re-uniting with the Primals on Evil Heat and inducing euphoria with his A Love from Outer Space sets. 
Everyone will have a favourite Weatherall moment that can still elicit joy and wonder whenever it's dropped. Weatherall ignored the banal and the obvious and was emphatically a force for good. His death marks the passing of a genuine innovator, a maestro who was never content to rest on his laurels.
Photograph credit: Graeme Robertson