After the success of 2018's release Skeletons, the Southend-on-Sea post-grunge rockers High/Low triumphantly return with their third full-length album, Down the wave. 
As the first notes ring out of High/Low's new studio effort, Down the wave there is a fuzzy warm familiarity to the sound pounding from the speakers. There is a definite 90's feel to the music that these pair of grungers create. But don't let that fool you, the writing is original and intelligent with hook-filled melodies.  
Having made noisy rock for the last eight years, High/Low consists of two members. Steve Weston on vocals, guitar, Drums and Lee 'Fuzz' Yates on bass. The 2/3rd of a power trio call upon friends and favours to deliver their sonic blast whenever they play live.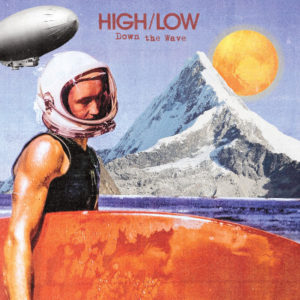 As the surf blue vinyl swirls at 33 1/3 RPM, High/Low come out of the gates strong with Into the Wave. A fast-paced joyride of a song lasting only 1 minute and 38 seconds ending on a distorted guitar solo from Watson. This quick opener feels like a warning shot across the bow of what is to come. The Pair rip through their new material at high speed with the average track length being around two and a half minutes. The pace slows slightly and briefly with The Sludge, a driven groove of a song.  The barrage of music keeps coming, not giving you time to process before the next buzz saw riff kicks in. Watson and Yates have turned their style of songwriting into a fine art. Fuzz Yates demonstrates his bass prowess with the overdriven fuzzy bassline that pins track 12; Wanna see you laugh together while Watson delivers vocally and lyrically. "I wanna see you laugh until you break in half, what would you do when you're broken in two" sings the songwriter. The album closes with the free-flowing Surf City. A pretty little ditty that is the cherry on top of a great album.  Down the Wave is 16 tracks of alternative goodness and lasting just 37 minutes. With a smile on their faces High/Low give you both barrels. 
One of the key points that I admire about High/Low and other bands like them is their courage in their creativity. They have confidence in their conviction to set up their own record label and self-release the music they clearly love to write. To then commit that music to vinyl and cassette is always a big gamble but these boys have pulled it off with this release.   
High/Low wear their hearts and inspirations on their sleeve but don't get me wrong, the Southern fuzz maestros command their unique brand of Low Fi rock. Whether you are old or young, Down the wave will make your body move and your heart sing.
Score: 4/5
By Matt Wand