With Conflict of Interest, Ghetts has created a hard-hitting and career-defining grime album that shows off his impressive talent.
If you know the music of Ghetts, there would have been no doubt in your mind that this album would be excellent. As the opening line "Rudeboy, I'm the certiest" (Fine Wine) attests, Conflict of Interest raises the bar even higher as Ghetts "change[s] grime sonically" (Autobiography) whilst always paying deep homage to the culture. Teeming with knowledge and understanding, Ghetts chooses his collaborators for this release carefully to craft something that will be regarded highly for years to come in Grime and UK rap history. 
This is a grime album through and through, but grime here has a much more pluralised and expanded definition that accounts for the contemporary mainstream status of the genre. With cinematic orchestral textures enriching and expanding the soundscape, those who built one of the UK's most important subcultures have grown up and Conflict of Interest illustrates this by taking grime to a new level.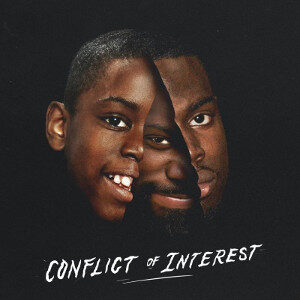 That said, there is no belittling the DIY, East London roots of the genre here, as references, collaborations and samples from grime culture are abundant. From early grime instrumental samples (Mozambique), to a clip of Kano and Skepta from a 2008 Kiss FM show (IC3), grime is built into the sonic fabric of this album. And of course, there is no shortage of lyrical word play ("If I'm out of line, there's a reason my Logic ain't Cubase" Crud feat. Giggs) and 140bpm flows (Good Hearts, feat. Aida Lee). 
Ghetts wants this album to be a continuous, cinematic listening experience and he has achieved just that. As each track segues into the next, Ghetts extends this fluid, cinematic feel through juxtaposing extended verse structures (Autobiography) with fractured flows (Fine Wine) to create a listening experience with clear narrative that is intelligent and honest throughout.
Amongst hard-hitting lyrics ("Don't tell me go back where I came from/While the Queen sits there in stolen jewels", IC3) and pride of heritage (Moonchild Sanelly's Xhosa lines on Mozambique), there is pain (Dead To Me, 10,000 Tears feat. Ed Sheeran, Sonya feat. Emeli Sandé) and pride (Proud Family).
Once again, Ghetts has cemented his legacy, confirming that "Anyone who say I ain't the GOAT: incorrect" (Autobiography). In a time of turmoil and uncertainty for grime (and the world, generally), this is the album that UK rap has been waiting for and deserves. Ghetts is undoubtedly among the UK's finest and has created a piece of work that takes grime to new levels and wider audiences by enriching it, not cheapening the sound.
Score: 5/5