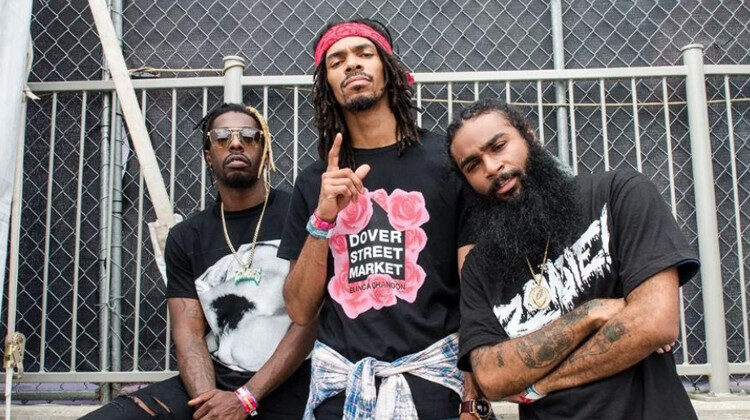 Flatbush Zombies resonate with an emotional year for everyone on the creative and consistent new EP, now, more than ever.
The hip-hop trio have emerged to provide listeners with a burst of energy in their new EP; now, more than ever. This is their first solo project since the release of their second album Vacation in Hell, released two years ago in 2018 and you can't help but feel that it is a record that is fitting with the times it has been released in.
When Flatbush first made the announcement they were releasing this record, they stated that proceeds from sales of EP merchandise would go towards strengthening the fight against Covid-19. However, in light of recent events, the group decided they would now be donating any revenue generated towards other causes such as the ending of systematic racism of all forms. In their announcement of this news, the three speak of releasing this record to start a revolution and, in trademark Zombie way, they do just that.
Track one, herb, hits the ears with a busy sound that's typical of the creative group's sound, it generates a melody that sounds like it belongs on an old school Kendrick record and that is a compliment in itself. For an opening track, it brings an abundance of energy and it demonstrates the individual talents of each member of the trio. This record shows no signs of slowing down when it continues with iamlegend, a tune that is opened with Meechy Darko's usual devilish pitch and unique style. This track contrasts the album opener extremely well and again proves that Flatbush Zombies have an ability to generate an influx of dark and unique sounds.
Erick 'The Architect' Elliott utilises this record to prove that he isn't just one third of the Zombies but he is an extremely talented producer, too. Echoed voices and layered sounds are prevalent in quicksand, a track that boasts an array of experimental beats throughout. Track favourite, dirty elevator music follows quicksand and it does not fail to impress. The constant heavy, dirty beat is consistent in this one and it compliments the group's style perfectly, you can't help but feel that this tune belongs in the playlist's of many hip hop fans around the globe.
As the EP draws to a close, you can feel a stark contrast of tracks creeping in again as track five, blessings, slows the pace down. This seems like the least creative track of them all, however, it isn't one that you'd instantly skip, it simply fills a gap. Following this, the EP moves on to the final track when i'm gone, the only featured song of the six that provides an emotional ending to this short but sweet release. Sophie Faith's voice is more than welcome as you feel the trio letting out many emotions that, in present times, will resonate with listeners. 2020 has been a crazy year filled with a range of hurdles for every single human on the planet and when i'm gone certainly has a way of summing that up.
All in all, Flatbush Zombies have yet again impressed with now, more than ever, it isn't difficult to notice the effort that has gone into this EP and it treats fans to a sample of what is to come in a bright future for the group. The trio have long used featuring artists in their previous albums which is not a bad thing, however this record does make a nice change as hip hop fans are able to catch that pure Zombie sound that shot them to fame in the first place. This is an EP that may not shake the hip hop world but it is certainly a good advert for the genre and a testament to the 'Glorious Dead' that supporters know and love.
Score: 4/5