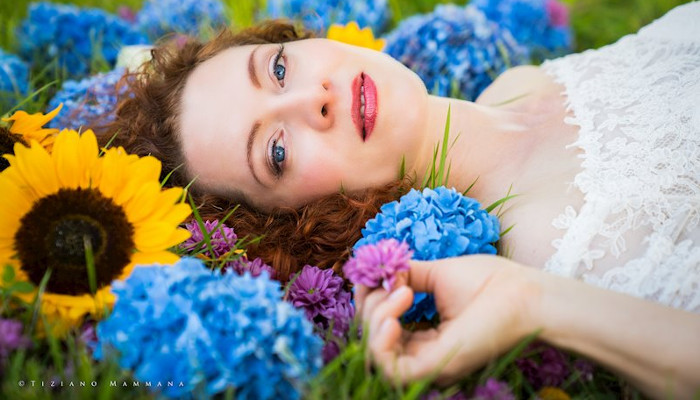 Eva Schubert releases new EP Hot Damn Romance, focussing on a live, vintage jazz sounds amongst flourishes of the contemporary.
Vancouver Jazz artist Eva Schubert has always been inspired by the live, unkempt ability for vintage jazz to evoke emotions and melodies. New EP Hot Damn Romance reaffirms the artist's love for this style, managing to tie in a mix of sultry atmospheres, slow-burning but playful instrumentation and a penchant for the innovative amongst thoughtful lyrics and a few new ideas that help tie the 'love letter to old school jazz' sound together.
Flying High opens with that promised vintage jazz feel as drums jauntily move forwards, guitars gently splice through the track and Eva's vocals pull everything in and around her. Her sultry and soothing singing style suits the music to a tee as she sings fancy-free lyrics of life's great adventures and the open road ahead: "It's not easy to let go, but if you don't you'll never know." The trumpet is given the freedom to join in when it fancies, allowing the track to breath where necessary and making for a strong opener. 
Lead single Brawler is a more funky and strutting affair, with a little malice thrown in for good measure. Eva's vocals work just as well in this atmosphere with trumpet feeling a little more tailored to help balance out the track. There's also a well-defined chorus which brings the vintage jazz sound forward in time, working well to counteract between two styles. EP-titled track Hot Damn Romance draws on the creeping atmosphere of Brawler, delving more into the underground sound of vintage jazz as images of seedy late-night jazz clubs and smokey atmospheres run rampant in your mind as you listen. The way the instruments dance around each other, each taking the lead where necessary leads to some of the strongest ideas on the record and making for an EP highlight.
Sweet Man uses a walking bass line to provide the pace as Eva's lyrics and melodies twist and turn to take it off the beaten path. The trumpet intermittently sizzles to bring the track to life as the live sound benefits the sultry atmosphere. The EP ends with the more atmospheric and slow-paced Water; a serene and gentle piece that proves the artist isn't just a one-trick pony. Deft hints in ideas of grandeur are played with as drums release timely but slow fills to keep things interesting with the track floating forward on its own journey. Less jazz and more melodic and thoughtful, it's an interesting closer that, although is different from the rest of the EP, seems to fit in well.
Hot Damn Romance is a strong EP that brings vintage jazz to the forefront but still offers a few new ideas to tie everything together. Eva's vocals manage to slide over the track in the most natural way, with each member of the band performing admirably throughout to create an atmosphere that ranges from the serene to the sinister to the contemplative. With an array of slightly different ideas played out through the EP, it will be interesting to see what direction Eva Schubert goes on a full-length.
Score: 4/5
By Jamie Parmenter