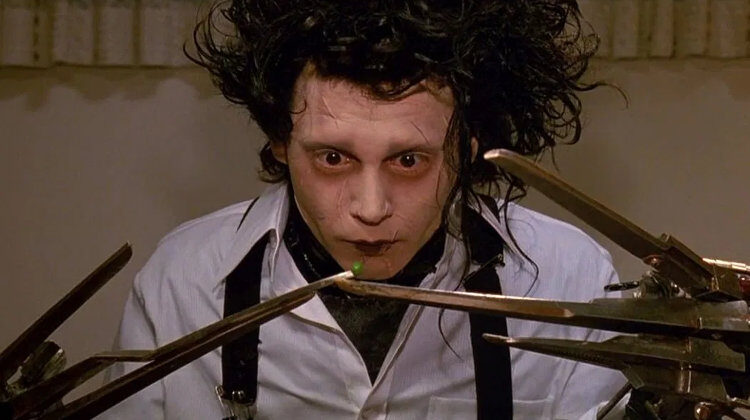 Danny Elfman's score to classic movie Edward Scissorhands gets a 30th anniversary vinyl makeover.
When you think of the great Tim Burton movies, the one that is often top of many people's lists is the classic gothic-comedy-romance, Edward Scissorhands. It's bizarreness coupled with heartfelt moments and dark undertones have strangely made it a Christmas movie-to-watch and often touted as one of Johnny Depp's finest performances. The non-linear storyline and mix of the sinister, laugh-out-loud, bring-a-tear-to-the-eye moments brings out the best in Depp's performance, and the icing on the cake is Vincent Price playing his father..
With its original release in the United States in December 1990, we're in 30th-anniversary territory meaning Waxwork records have released a new edition of the score on vinyl. The special anniversary edition comes on 180 gram 'ice sculpture blue with snow splatter' vinyl and housed in tip-on gatefold jackets and mesmerising artwork provided by Ruiz Burgos. The package also includes an art-print insert with the remastered audio taken from the original masters.
Danny Elfman provides the score for Edward Scissorhands, perfectly setting the tone of the gothic-fantasy with sweeping orchestral melodies, fairytale wonderment, and a keen ear for knowing when to hold back and when to draw on the onscreen chemistry between the two leads of Johnny Depp and Winona Ryder.
Elfman is the 'go-to' composer for many of Burton's movies, working on the score for sixteen of the director's releases including Batman, Alice in Wonderland, and more recently, the live-action remake of Disney classic, Dumbo. The composer has also amassed four oscar nominations, two emmy awards, and a grammy for his memorable compositions in the film industry.
You can pre-order the release from waxworks records, but it is already selling out fast. Hopefully, they'll be getting a few more copies in because this is bound to be a popular release during the Christmas period.