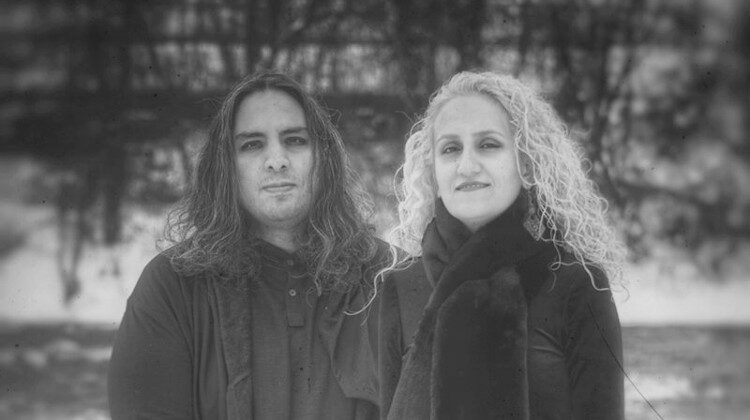 Delusive Relics delve into their Iranian roots by building their album The Blind Owl around the dark and gothic book of the same name.
New Hampshire-based Electro-Industrial duo Delusive Relics felt they needed to create something that harked back to their Iranian heritage. Finding solace in the 100-year-old Iranian novel, The Blind Owl by Sadeq Hedayat, they felt this would be the perfect piece of literature to build a concept album around. With a dark and sinister atmosphere that is coupled with powerfully poetic lyrics, the electronic sounds build interesting structures before demolishing them for more new ideas throughout.
Writing for My Shadows starts off the album with sweeping piano that builds a sombre atmosphere before piercing, poetic vocals enter the fray. This opening carries on for a little while before we're suddenly hit from nowhere by dizzying synthy-pop sounds, unsettling background laughing and offkey sections that warp the mind. It's a jarring sensation but one that piques the listener's interest as the electro-dance beats evolve and pulsate.
The opener throws you into a questioning of what to expect from the album and leaving you open-minded and intrigued. It doesn't disappoint. Woman in Black follows with 80s pop synths and electronic beats creating a sincere sound that's allowed to grow slowly, adding both female and male vocal tracks. Once again, the song comes out of its shell about mid-way through, allowing the music to set a meandering course. It doesn't feel as dark and twisting as the source material of the book suggests, but that is was makes the track such an intriguing idea.
Painting from the Dead Body is where things start to get a little more sinister with reverb-laden sounds and poetic, twisting lyrics providing that deep and foreboding atmosphere: "you were lost, you were gone. Lay down on my bed. You wore black, you were cold as ice. I need your eyes again". Trial By Serpent does well to continue this dark edge later on in the record, skulking along amidst a slow and steady pace, allowing the settled, electronic layers to build, ebbing and flowing between the powerful and malicious.
As we get to the deeper cuts, it feels as though the duo allow their ideas to breathe a little and the music takes on a life of its own. Shade of Owl feels more natural and seems to come alive during impressive vocal parts before dropping back to ethereal sounds that give you that something different. The record closes on Becoming Old Man Dealer, once again starting steady and building mercilessly amongst electronic drums and synthy layers, but this time using a rock-inspired underbelly to draw out the dark ideas against vibrant electronic samples.
Delusive Relics have created an ever-evolving concept record with The Blind Owl that delves into its source material but feels like it's own beast. The way it builds layers before completely changing direction may feel a little jarring to some, but for others, it will be a mesmerising electronic journey and a way to be introduced to the powerful Iranian literature that inspired it.
Score: 3/5