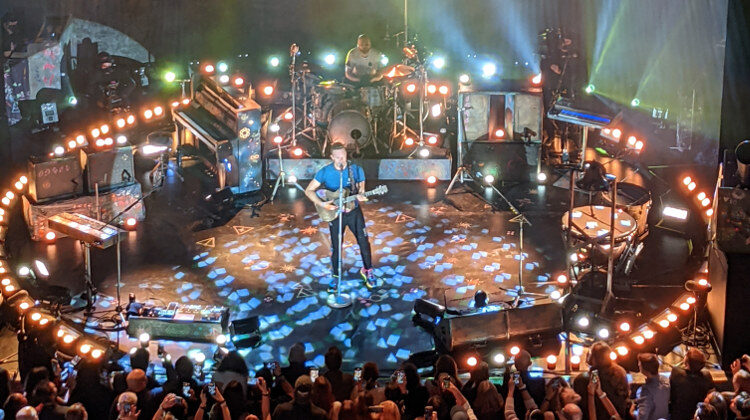 Everything you would expect from the musical behemoths, as well as incredible guest appearances. (Shepherd's Bush Empire – 12th October 2021)
Despite whatever feelings you may have about Coldplay, there is no denying their stratospheric success and ability to put on some incredible performances. Announced less than two weeks before they were set to take to the stage to launch their new album, Music of the Spheres, Tuesday night's show at Shepherd's Bush Empire was no exception; tickets sold out in seconds, at just £20 a head, and fans were there in their hoards hours before doors opened – the promise of being up close and personal with the music moguls too good to pass up.
Despite a setting much smaller than the usual chock-a-block enormodomes, we were not at a loss. From the familiar wristbands handed out by the stewards as you walked in that create beautiful, synchronised light shows – now made from recycled plastic and collected at the end of the show as part of the band's bid to make touring more sustainable; to the explosions of star-shaped confetti that showered down upon star-struck fans; to the incredible laser displays that utilised the entire venue's space – they fit a stadium show into that 2,000 person capacity space.
The guest appearances alone were enough to make you giddy. Ex X-Factor contestant, Fleur East joined Martin and R&B duo, We are KING, for a delicate, ambient rendition of new song Human Heart (or '       ' as it's listed on the album); Simon Pegg popped out for a quick hello and to remind us all of Coldplay's humble beginnings – 'I don't know what I'm going to do if it gets any bigger than this,' Martin told Pegg over 21 years ago, after selling out Shepherd's Bush the first time. But global song-writing sensation, Ed Sheeran really stole the show. I'm not a fan and even I screamed when his ginger head bobbed on stage for a joint performance of Fix You, and again later for the 'actual big hits' Shivers and Shape of You.
They played mega-hit after hit without pausing for breath – Clocks, Viva la Vida, Paradise, A Sky Full of Stars. For a fan who's loved them since childhood, I really had to pinch myself. The Scientist was dedicated to Pegg's 12-year-old daughter and Martin's goddaughter, Tilly; and the ubiquitous Yellow was stripped back, with Martin and Champion alone amongst a sea of amber lights.
For a launch show, however, very little of the setlist came from the new album, and most of the songs had been released already. BTS collaboration My Universe was an absolute certainty, given how quickly it shot to the top of the charts and how many times it has been streamed worldwide. No doubt every member of ARMY was on their feet, shrieking as their UF came up on screen behind the band (I know I was). The only unknown was People of the Pride – a snippet of which had been shared to Instagram that morning and feels very unlike the Coldplay we know, with its raucous guitars and X-rated language.
The beauty of a smaller venue is that it feels intimate, more personal. When Chris Martin points during Higher Power, it feels as if he is actually pointing at you. When he asks the crowd to be his 'new band' as he turns to serenade fellow bandmate, Will Champion, the man who has 'kept the band together for the last 25 years', it feels like a personal request. Everything is looser, freer – from the dance moves to the jokes. Before embarking on the 10-minute sojourn that is Coloratura, Martin gives a last call for all those disinterested to leave 'in the next 90 seconds' before the doors are shut and barred. It is a very long track – the kind of thing you'd expect from Pink Floyd or Metallica – but it's pensive, experimental, and actually a perfect way the close the night. 'Everyone needs a bit of soft rock in small doses.'