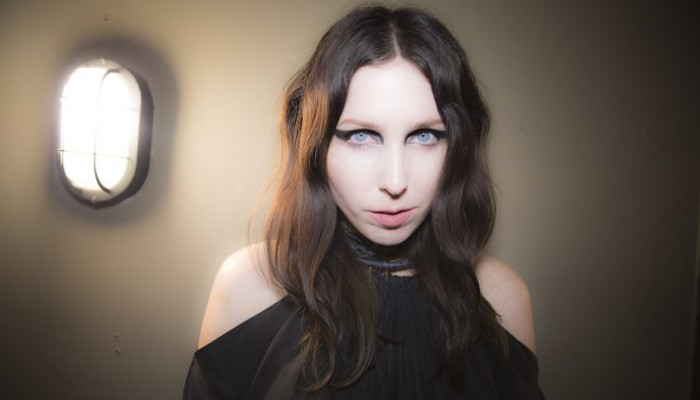 On her latest album, the musically promiscuous witch known as Chelsea Wolfe deftly balances chilly introspection and keen observation on a set of ominous, stripped-down goth-folk laced with dread, coaxing a mood pitched somewhere between incantation and confessional.
Whether dabbling in doom metal, industrial, electronic or folk-rock, a sense of foreboding has always inhabited Chelsea Wolfe and her music. On her sixth record, Birth Of Violence, the Californian singer-songwriter's toy-box embraces the restrained weightlessness and dark angel elegance of her folk-leaning output, brimming with poetic imagery and a smoky languor that recalls the work of Marissa Nadler.
Birth Of Violence is a hermetic, world-weary evocation of seclusion, of retreat from the touring and music biz cycle. It speaks of long drives into the middle of nowhere, ingesting the great outdoors and processing a dusk-laden solitude. It's frequently magical and possesses a sombre eloquence which is impossible not to admire. Her voice is once again a versatile marvel, an instrument that veers between a cooing delicacy, a floaty purr and a brassy howl.
With the help of long-time collaborator Ben Chisholm's arrangements, Wolfe captivates and unleashes spine-chilling soundscapes on every track. "Took the mother road/Down to goddess flesh/I swallowed the key/I want to learn how to swallow my pain", she intones on her opening ode to Route 66, The Mother Road, a graceful, panoramic slice of Americana that builds to an emphatic percussion and strings epiphany in its final act.
Elsewhere, Wolfe subtly weaves between dream states and the finality of death whilst bending the idioms of smouldering campfire storytelling to her own will. The unnerving American Darkness is a quivering ballad cloaked in lugubrious, Burial-inflected atmospherics; it is one of the most compelling songs in her oeuvre. Be All Things, a tale of a Victorian woman who was both maiden and warrior, is the singer at her best: all mournful cellos and witchy folk finger-picking. On the enchanting Highway, desolate wailing collides against a backdrop of otherworldly synths and the flicker of an acoustic guitar. 
Birth Of Violence sees Wolfe spinning a cinematic, fatalistic melancholy from grey-sky folk and country traditions coloured with a heart-rending fragility. It's an eerie gothic fog that merges the richness and searching musicality of her progressive recordings with the wintry starkness of her acoustic work: the spooked intimacy of its scale belies the piercing wallop of its devastating content.
Score: 5/5