Charli XCX's final album with Atlantic Records feels more like the rise of a phoenix than a swan song.
"I crashed my car into the bridge, I watched, I let it burn," Charli XCX chants on Icona Pop's I Love It, one of her most well-known singles as a featuring artist to anyone that owned a radio in 2012. Ten years later, she's rising from the ashes of her burning car like a phoenix for one last, poptastic laugh, with her fifth studio album, CRASH—the final album in the record deal she signed with Atlantic Records at age 16.
The opening hook of title track Crash parallels Charli's vocal performance on I Love It, and references it lyrically: "I'm about to crash into the water, gonna take you with me / I'm high voltage, self-destructive, end it all so lеgendary". While she might not have learnt anything in the past ten years about how not to crash her car, CRASH shows how far she's come in every other way. Gone are the days of her Grimes-esque hyperpop experimentalism with 2020's how i'm feeling now, replaced as they are by a fusion of all of the best, tackiest parts of pop music, glitter-glued together by one of the generation's most iconic anti-pop stars.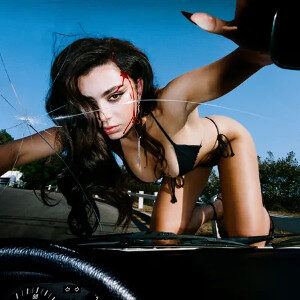 The twelve songs bring together genres from disco to electronica, and eurodance to UK garage, as well as a modest, cherry-picked roster of artists who have defied the traditional image of pop music in their own works (Christine and the Queens, Caroline Polachek, Rina Sawayama). The 70s-80s influence is undeniable—Charli took to describing the album as a 'Janet album' before its release, later adding that it was also influenced by "Cameo, Sister Sledge, Serge Gainsbourge, Steve Vai, Cyndi Lauper, Rick James, Boy Meets Girl, Belinda Carlisle and more". The synth line of lead single Good Ones isn't far at all from that of Eurythmics' Sweet Dreams (Are Made of This), while Used To Know Me directly pulls the synth from Robin S's classic house track Show Me Love.
Luckily, these patchwork sounds and samples come across as more of a celebration than truly commercial unimaginativeness. The album, whose sound was formed in part by Charli XCX's obsession with the idea of 'selling out' as an artist, holds a mirror up to the music industry, while revelling in its raw lyrical exploration of relationships—with other artists, lovers and friends. Tracks like Baby mark the album's high point, and its foundation: XCX has described the song, which combines glitzy disco percussion and vocals with a funk bassline and dramatic string samples, as the "genesis" of "hyper-sexualised, feminine power".
Yuck is a tongue-in-cheek change in tone about Charli seeming to want chivalry to be dead, in contrast to preceding song Every Rule, which she describes as a "really real", personal song about loving someone while in a relationship with someone else. "I think that that's a story that a lot of my friends have also experienced," she stated in a recent interview with Apple Music. "People are afraid to talk about it. People feel shame. … It was a song that I really only felt comfortable enough to make with A. G. [Cook]".
It's her commitment to talking about the good, the bad and the ugly which makes the album so appealing. Charli XCX's sound on CRASH might be more pastiche than original, but the same can't be said for her lyrics—or of what you can hear of them beyond the glitchy, slippery autotune and processed vocoders (Lightning), thumping synths (Good Ones, Beg For You) or trap percussion (Move Me). At times you feel like all her talk of romance might even be a thinly-disguised metaphor for her relationship with record labels like Atlantic, for whom this album is the 'kiss goodbye' ("I'm finally free from your control (Control) / I don't need a kiss goodbye, I'm on my own tonight, oh", she sings on house-pop track Used To Know Me). The following and final track Twice, a charming, dreamy electropop song about the end of the world, makes it clear that it isn't, well, the end of the world for her. It is, however, the end of the album—and while twice might be enough for Charli XCX, her album definitely warrants a few more plays than that.
Score 4/5